Hatena☆Illusion (First Impression)
---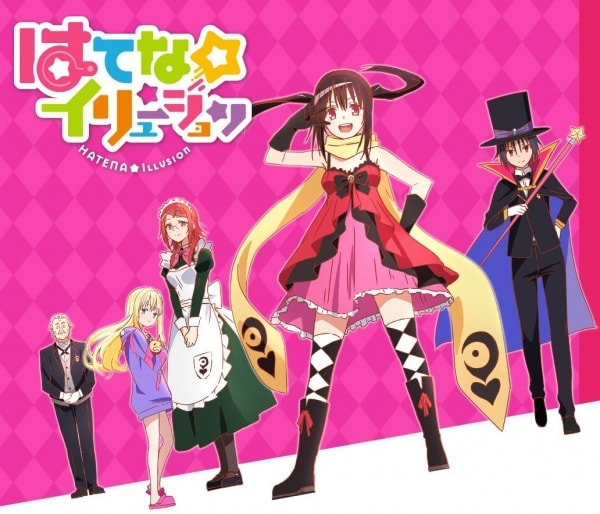 Studios:

 Children's Playground Entertainment

Source:

 Light novel

Genres:

 Comedy, Supernatural, Romance, Ecchi
Synopsis: Makoto Shiranui wants to become a magician and so he seeks to be the apprentice of Mamoru Hoshisato, a famous magician as well as a friend of his parents. Making his way to Tokyo Mamoru reunites with his childhood friend Hatena Hoshisato, who is also Mamoru Hoshisato's daughter. Upon realizing that Makoto is, in fact, a boy and not a girl their relationship sours and Makoto is put in an awkward position. Amidst the excitement, a series of burglaries are taking place that lead to a greater problem.
First Impression:
I'm hoping for a very fun show featuring cute characters and wacky side characters!
5 seconds in and I'm already in love with the Mom.
CUTIE ALERT.
CUTIE ALERT PART 2.

I have a feeling…that this maid is to going to make this show very interesting LOL!
I can't handle how cute these two are!
PLOT TWIST. Hatena is actually a Magical Girl.
Recommendation:
YES
Hatena☆Illusion is quite the fun show! Between the docile Makoto and the energetic Hatena there's tons potential for the show as well Hatena's mysterious Mother and the artifacts within the house. I'm really intrigued at all foreshadowing within the first episode! Personally, I think this show is very amusing with great characters and a very easy show to watch! Beginners may love this for the tsundere Hatena or the fun dynamic between Hatena and Makoto!
---
If you enjoyed this post, please consider buying me a
Or if you want to be on my Patrons page, you can become one on my