KiritoNarukami's Anime Selection (Spring 2021 Edition)
What's up Anime Gang! 
I feel each year goes by faster than the last, how is it March already?! Anywho, it's been a busy couple of weeks while I work on a number of posts at the same time and hopefully I can share all of them with you all soon! While we wait here's the Spring 2021 Anime Preview, featuring a good variety of genres and both new anime as well as some sequels! Let's dive in! 
*This list is in alphabetical order!*
---
Studios:

A-1 Pictures

Source:

Light novel

Genres:

 Sci-Fi, Drama
Synopsis: "The Republic of San Magnolia has been attacked by its neighbor, the Empire. Outside the 85 districts of the Republic there is the 'non-existent 86th district,' where young men and women continue to fight. Sheen directs the actions of young suicide bombers, while Lena is a "curator" who commands a detachment from a remote rear."

-Anime News Network
Starting off strong with a show from A-1 Pictures, which has slowed down their production as this will be the only show that they will be working on this season (surprising as A-1 used to be the powerhouse back in 2017-2018). Nonetheless 86 looks really interesting, playing with the idea of an "utopia" where automated mechs do all of the fighting for the seemingly peaceful and perfect city while underneath the rose colored glasses there are people who are forced to operate these said mechs and risked their lives day after day. It's also good to note that the people who live in these utopian cities all look the same, with white hair and eyes. Is this some sort of allegory or am I reading too deep in between the lines? And as a fun little surprise, the chorus for the trailer hits right at the 1:20 mark with a voice that's recognizable to many anime fans. mizuki's powerful voice rings through the blasts and explosion backed with Hiroyuki Sawano powerful yet articulate music composition. I'm not sure if the duo will be performing just the opening or if Sawano-san will be in charge of the entire soundtrack (I hope it's the latter), but the story and animation shows a lot of promise!
86 will premiere on April 11, 2021
---
Boku no Hero Academia 5th Season
Studios:

 Bones

Source:

 Manga

Genres:

 Action, Comedy, Super Power, School, Shounen
Synopsis: Fifth season of Boku no Hero Academia.
Ah yes, there's no need for words when it comes to anything Boku no hero! With season four's powerful end as well as the new Hero:Rising Movie having been out for a while, the fans are STARVING for more new Boku no Hero content! As you can tell from the Key Visual, this season will focus primarily on the Joint Training arc and will feature our beloved class 1-A as well as 1-B! I'm especially excited to finally see Pony Tsunotori in actions! Ah I can't wait! 
Boku no Hero Season 5 will premiere on March 27, 2021
---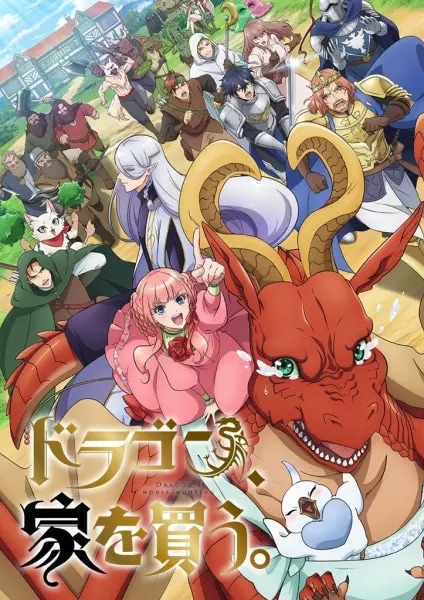 Studios:

 Signal.MD

Source:

 Manga

Genres:

 Comedy, Fantasy, Shounen
Synopsis: "When a dragon fails to live up to the fearsome standards set for him, his family kicks him out. He embarks on a quest to find a new home, but soon finds that life on the road is no place for a cowardly beast of legend. In a fantasy world full of elves, dwarves, and other mythical creatures, where everyone wants a piece of him—literally!—the frustrations of house-hunting reach a whole new level."

-Seven Seas Entertainment
I'm a sucker for a fantasy anime with slick character designs! It's so funny to think about a dragon that is bad at well…dragon things! So bad in fact that he runs away from home and goes to a real estate agent to help him find a new one! All the while running away from "heroes", angry villagers, and even other monsters! The PV shows a fun and wacky cast of character that I'm super excited to see! With all of these fantasy elements, you can expect a lot of references to other fantasy games such as Monster Hunter, Dragon Quest, and other famous JRPGs. Is….is that a monster hunter with a Palico???!
Dragon, Ie wo Kau will premiere on April 4, 2021
---
Edens Zero
Studios:

 J.C.Staff

Source:

 Manga

Genres:

 Action, Sci-Fi, Adventure, Comedy, Fantasy, Shounen
Synopsis: "At Granbell Kingdom, an abandoned amusement park, Shiki has lived his entire life among machines. But one day, Rebecca and her cat companion Happy appear at the park's front gates. Little do these newcomers know that this is the first human contact Granbell has had in a hundred years! As Shiki stumbles his way into making new friends, his former neighbors stir at an opportunity for a robo-rebellion… And when his old homeland becomes too dangerous, Shiki must join Rebecca and Happy on their spaceship and escape into the boundless cosmos."

-Kodansha Comics
Ah I wondering when Edens Zero would get an anime adaptation! It's been a minute since Fairy Tail's anime ended and of course Hiro Mashima doesn't let off on the breaks when it comes to his manga! While I don't know a lot of about the story of Edens Zero (didn't want to spoil the anime myself…) it looks like Edens Zero will take place in the same universe as Fairy Tail, which will prove interesting to see how the two stories will crossover if at all! We even have Happy but is this the same Happy that's part of Fairy Tail or is this some sort of parallel universe Happy? Guess we'll find out! 
Edens Zero will premiere on April 11, 2021 
---
Fruits Basket: The Final
Studios:

 TMS Entertainment

Source:

 Manga

Genres:

 Slice of Life, Comedy, Supernatural, Drama, Romance, Shoujo
Synopsis: Final season of Fruits Basket.
Fruits Basket continues after a seasonal break with its final season! It's been an emotionally toiling story for the entire cast and the curtain will soon close. I'm still impressed with this remake as it continues to remain faithful to the original manga from beginning to end, surpassing the first anime adaptation back in 2001. My heart isn't ready…
Fruits Basket: The Final will premiere on April 6, 2021
---
Fumetsu no Anata e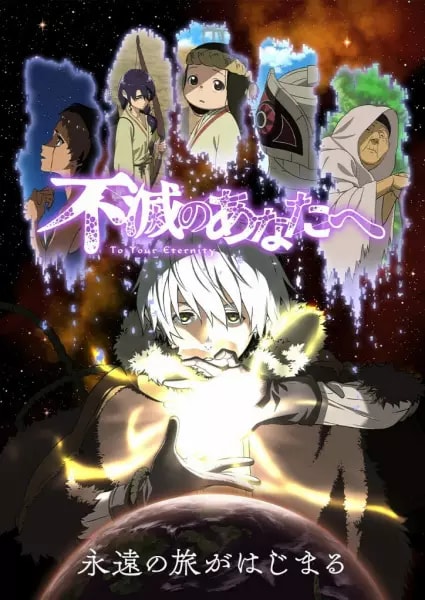 Studios:

 Brain's Base

Source:

 Manga

Genres:

 Adventure, Supernatural, Drama, Shounen
Synopsis: "It, a mysterious immortal being, is sent to the Earth with no emotions nor identity. However, It is able to take the shape of those around that have a strong impetus. At first, It is a sphere. Then, It imitates the form of a rock. As the temperature drops and snow falls atop the moss, It inherits the moss. When an injured, lone wolf comes limping by and lays down to die, It takes on the form of the animal. Finally, It gains consciousness and begins to traverse the empty tundra until It meets a boy. The boy lives alone in a ghost town, which the adults abandoned long ago in search of the paradise said to exist far beyond the endless sea of white tundra. However, their efforts were for naught, and now the boy is in a critical state. Acquiring the form of the boy, It sets off on a never-ending journey, in search of new experiences, places, and people."

-MAL Rewrite
Now this is the sort of story I like to see, the synopsis immediately gets my attention. Its abstract nature provide enough substance to let you imagine the place but not beyond. It's simple concept yet it's hard to imagine how exactly the journey fare. "A mysterious immortal being"…is this a god, or another life form not from this planet, or maybe even simply something that exists unknowingly to others. As it transforms how does it retain the shape, can it learn, how does it learn emotions, movement, bodily functions?! And while the story has your mind spinning questioning the pieces of information it's given, the PV kicks in with its strong and atmospheric artwork. Starting with the monochrome colors of a dark snowy wasteland, which is interrupted by the fireplace that bring warmth and life into the desolate scenery. The composition and colors are poetic and pulls the audience in with an strong symbolism yet still leaves enough out of the picture to keep us guessing each second. AND TO PUT THE ICING ON TOP OF THE CAKE IS AN OPENING FROM NONE OTHER THAN HIKARU UTADA! This show may fly underneath the radar as there are more flashy and popular shows, but I think this will be the dark horse of the season! 
Fumestu no Anata e will premiere on April 12, 2021
---
Ijiranaide, Nagatoro-san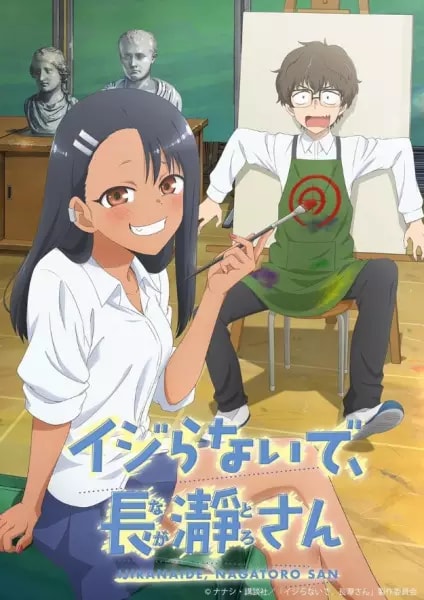 Studios:

 Telecom Animation Film

Source:

 Manga

Genres:

 Slice of Life, Comedy, Romance
Synopsis: "High schooler Hayase Nagatoro loves to spend her free time doing one thing, and that is to bully her Senpai! After Nagatoro and her friends stumble upon the aspiring artist's drawings, they find enjoyment in mercilessly bullying the timid Senpai. Nagatoro resolves to continue her cruel game and visits him daily so that she can force Senpai into doing whatever interests her at the time, especially if it makes him uncomfortable. Slightly aroused by and somewhat fearful of Nagatoro, Senpai is constantly roped into her antics as his interests, hobbies, appearance, and even personality are used against him as she entertains herself at his expense. As time goes on, Senpai realizes that he doesn't dislike Nagatoro's presence, and the two of them develop an uneasy friendship as one patiently puts up with the antics of the other."

-MAL Rewrite
Nagatoro has been ALL OVER my feed (both twitter and tumblr) and I CAN'T GET ENOUGH. I haven't gotten to reading the manga but man does it look entertaining! I'm curious to see the anime and what the hype is all about! Another teasing anime that may be on the more harsher side though not enough to be called abuse/bullying…right? I guess I'll just have to mess around and find out! But I do love these types of show where the female lead is always a step ahead of her counterpart. While humiliating for the protagonist, it makes for a very entertaining show for us as the audience! 
Ijinaranaide, Nagatoro-san will premiere on April 11, 2021
---
Itazura Guma no Gloomy
Source Material: Original
Studio: N/A
Genre: Horror, Slice of Life
Synopsis: "Gloomy is an abandoned little bear who is rescued by Pity. At first, he is cute and cuddly, but becomes more wild as he grows up. Since bears do not become attached to people like dogs by nature, Gloomy constantly attacks Pity even though he is his owner."

-Anilist
OK, so this is a BIG WILD CARD. There's something about this show that gives me the heebie jeebies (that's goosebumps in cowboy). Aside from multiple sites listing the show as horror, there's an eerie quality to the show beyond the bright pastel colors. The PV suggest that the show will consists of these short stories about the adventures of Pity and Gloomy though a series of 2D and CGI scenes but is that all to it? Is there something lurking in the dark waiting for us to discover as we watch this seemingly innocent show about a violent bear and its loving owner? I NEED TO KNOW. Though beware, this show may not be for those that are faint of heart…
Itazura Guma no Gloomy will premiere in April, 2021.
---
Studios:

 Bakken Record

Source:

 Original

Genres:

 Action, Historical, Supernatural
Synopsis: "Set in alternate history Japan in 1931 and the 64th year of the Meiji era, the Tokugawa shogunate was never abolished and Emperor Meiji was never restored to power. The anime will follow the activities of "Nue," an organization of shogunate executioners who enforce the government. The country has developed its own energy source, the "dragon vein," and has achieved a unique development in which science and the Edo period are mixed. However, behind the glamorous city, the dissident organization Kuchinawa strives to overthrow the administration, while the Nue of the Tokugawa regime, who was entrusted with its extermination, are in conflict. Sawa Yukimura, whose family was killed when she was young, continues to search for Janome, the executioner of the Nue."

-MAL News
Original anime are tough to pull off but why is that? That's because there's no source material to refer to and all of the original writing and designs are done in house, which is why anime adaptations are more popular and more frequent. So when I see an original anime I'm both excited and a bit worried, as I am with this show! This is my first time hearing of Bakken Record and they're starting off with an original anime which is a very bold move but not without confidence as the PV showcases a lot of skill and finesse with the story writing and animation. The setting and art style is not unlike the ever so popular Demon Slayer being set in the Meiji Era. The show also jumps between art styles from the traditional anime aesthetic to a more striking style that appears to almost represent a ukiyo-e painting. The opening theme will be performed by Raise A Suilen, which the band continues to blow me away with song that they come out with. Raise A Suilen is a band formed within the story of Bang Dream! a popular anime and mobile game. They've performed another opening for another anime, Assault Lily: BONQUET. The song pulls a lot of influence from traditional Japanese music with the flair that only Raise a Suilen could pull off. I can imagine the soundtrack will follow suit as well. This will be another one that may slip underneath the radar but I have a good feeling that it'll be a worth while watch! 
Jouran: The Princess of Snow and Blood will premiere on Apr 7, 2021.
---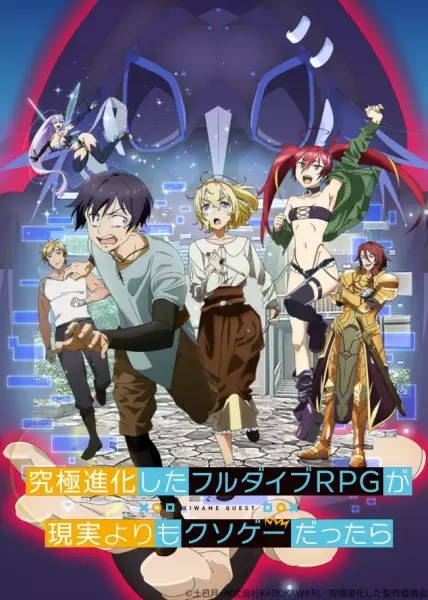 Studios:

 ENGI

Source:

 Light novel

Genres:

 Action, Game, Comedy, Fantasy
Synopsis: "In an unexpected turn of events, dull high school student Hiro Yuuki obtains the full dive role-playing game Kiwame Quest. Created by the best of technology, the game claims to take "reality to its extremes," from stunning graphics, NPCs' behavior, to the scent of vegetation, and even the sensation of wind brushing against the skin—everything was the result of an ultimate workmanship. Except, the game is a little too realistic and messy to clear. Kiwame Quest features over ten quadrillion flags and reflects the players' real-life physical abilities in the game. Being hit in the game also hurts in real life and slash wounds take days to heal. The only reward here is the sense of accomplishment. Conquer the most stressful game in history that can't be played casually!"

-MAL News
By now I'm sure we've all seen our fair share of anime based on full-dive games…some where you die IRL if you die in game, others where your mother joins you in your adventure! But ultimately the idea is that the Virtual Reality is immersive and more thrilling than normal life! Well in this anime's case…it's s**ttier! I love the flip in perspective and am excited to see how everything plays out! From the PV, I immediately fell in love with the character designs as well as the characters themselves! The characters do fall into fairly common tropes, like a yandere, a smug side kick, and a protagonist that doesn't want to get into needless trouble, there's this extremity that revives that tropes and give them a refreshing new perspective! 
Kyuukyoku Shinka shita Full Dive RPG ga Genjitsu yori mo Kusoge Dattara will premiere on April 7, 2021.
---
Mairimashita! Iruma-kun 2nd Season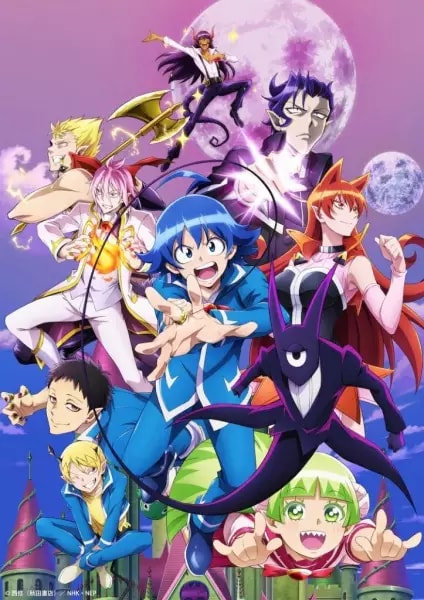 Studios:

 Bandai Namco Pictures

Source:

 Manga

Genres:

 Comedy, Demons, Supernatural, Fantasy, School, Shounen
Synopsis: Second season of Mairimashita! Iruma-kun
I probably don't talk about Mairimashita Irima-Kun enough, there's so much that i love about this show! In a nutshell it's basically a wholesome shounen anime with demons! That being said the show isn't all sunshine and rainbow but as the main protagonist, Irima seems to always be able to find the light at the end of the tunnel and the best in others, all the while his classmates support him in their own unique ways! I'm so happy that this show will be getting a second season and it looks like things are going to get a little crazy! 
Mairimashita! Iruma-kun 2nd Season will premiere on April 17, 2021.
---
Mashiro no Oto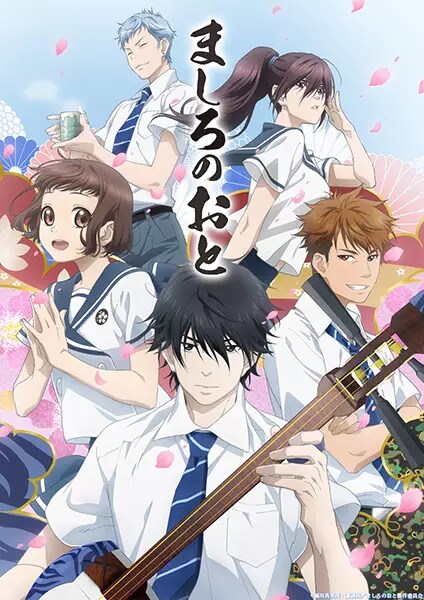 Studios:

 Shin-Ei Animation

Source:

 Manga

Genres:

 Music, Drama, School
Synopsis: "Shamisen is a traditional Japanese musical instrument that looks similar to a guitar. Teenager Sawamura Setsu's grandfather who raised him and his older brother Wakana, recently passed away. His grandfather was one of the greatest Shamisen players and the two siblings grew up listening to him play and learning to play the instrument. Since their grandfather's death, Setsu dropped out of high school, moved to Tokyo and has been drifting, not knowing what to do besides play his Shamisen. That's when his successful and rich mother, Umeko, storms into his life and tries to shape Setsu up. She enrolls him back into high school, but little does Setsu know that he is about to rediscover his passion for Shamisen.

-MU, edited by MAL
The shamisen will always be an interesting instrument to me, with only two strong and a flimsy looking body, how does it create such a unique and rad sound?! The story of Mashiro no Oto revolves around a young man named Sawamura Setsu and his Shamisen, who rediscovers his love for the art of playing after the death of his grandpa. The PV showcases the opening theme and HOLY COW, Burnout Syndromes really never misses a beat with their songs! The art seems a bit dull with minimal contrast but I'll save the art talk for when I actually start the show! 
Mashiro no Oto will premiere on Apr 3, 2021.
---
Nomad: Megalo Box 2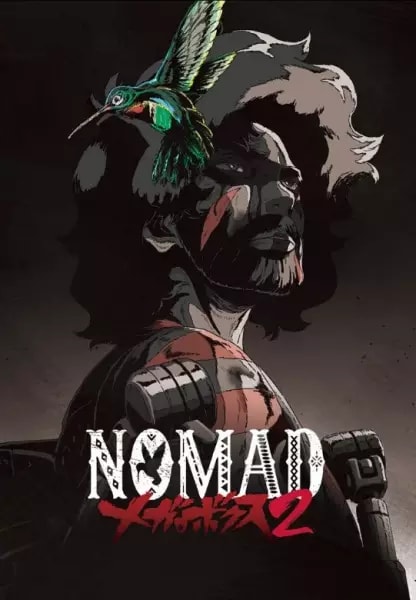 Studios:

 TMS Entertainment

Source:

 Original

Genres:

 Action, Sci-Fi, Slice of Life, Sports, Drama
Synopsis: Second season of Megalo Box.
Now this was a show that I didn't think would actually get another season! Megalo Box was a unique show that focused it's art style around the 90s anime aesthetic (think of Akira and Neon Genesis Evangelion). The cyberpunk theme is very dominant throughout the first season seen within the cities that Joe visits on his way to the top. The use of the metal frames which go over your shoulders and down your arms in Megalo Boxing matches gave the show a flair is hard to match! Though, like I said earlier, the show ended on a good note and that makes me anxious that this season may feel like the story is dragged on. Let's hope that there's some good development here that bring the show to new heights!
Nomad: Megalo Box 2 will premiere on April 4, 2021.
---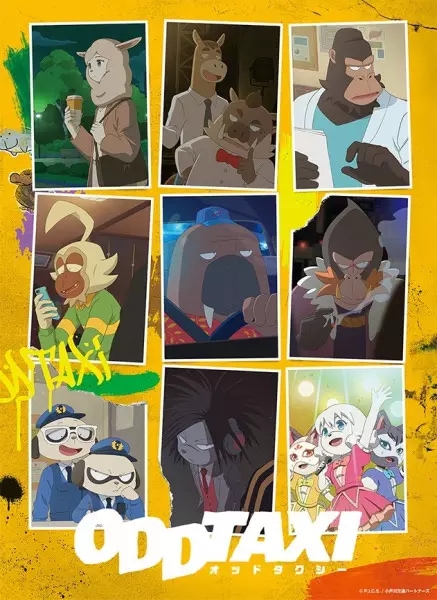 Studios:

 OLM, P.I.C.S.

Source:

 Original

Genres:

 Mystery
Synopsis: "In a city which should be familiar, there is the feeling of something a little different. Kotokawa is a taxi driver who lives an ordinary life, taxing some quirky customers around. A slightly eccentric stranger who has no relatives nor any relations with other people, Kotokawa's hobby is to listen to Rakugo on the radio before going to bed. For the time being, the only people he can consider as friends are his family doctor Gouriki, and his high school classmate Kakihana. Kabasawa, a college student who wants a buzz, Shirakawa, a nurse who's hiding something, comedian group Homo Sapiens, who isn't selling well, the city hoodlum Dobu, and the rookie idol group Mystery Kiss—the conversations with these people, which should not have meant much, lead to a girl who disappeared."

-MAL News
Another original anime from another studio! Odd Taxi got a mysterious vibe that both intriguing and ominous. To be honest it sounds extremely dull and boring on paper but after watching the PV, it had me thinking deeper about the story. I'm guessing the story will jump around hearing different sides of the same story from Kotokawa's customers in his Taxi. As we hear the different pieces of the puzzle will be slowly be able to find the bigger picture and uncover what happens to this "girl who disappeared". This is another wild card for me with the only incentive to watch this is purely out of curiosity. 
Odd Taxi will premiere on April 6, 2021.
---
Osananajimi ga Zettai ni Makenai Love Comedy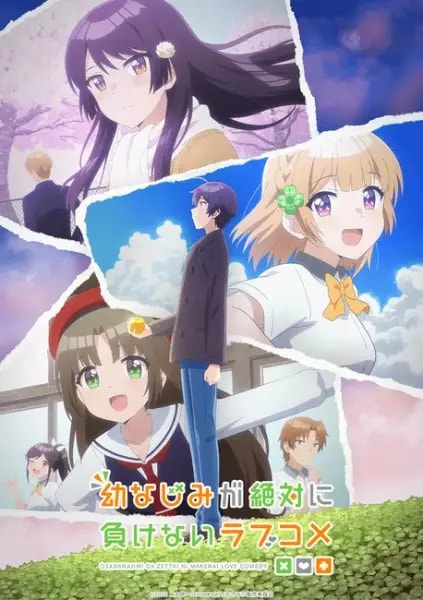 Studios:

 Doga Kobo

Source:

 Light novel

Genres:

 Harem, Comedy, Romance, School
Synopsis: "My childhood friend Shida Kuroha seems to have feelings for me. She lives next door, and is small and cute. With an outgoing character, she's the caring Onee-san type, this being one of her greatest strengths….But, I already have my first love, the beautiful idol of our school, and the award-winning author, Kachi Shirokusa! Thinking about it rationally, I should have no chances with her, but, while walking home from school, she only talks to me, with a smile even! I might actually have a chance, don't you think?! Or so I thought, but then I heard that Shirokusa already has a boyfriend, and my life took a turn for the worse. I want to die. Why is it not me?! Even though she was my first love… As I was drowning in despair and depression, Kuroha whispered.

—If it's that tough for you, then how about we get revenge? The best revenge ever, that is~"

-Novel Updates, edited by MAL
Ah yes, we can't have an anime season without a RomCom anime! As a big fan of Doga Kobo's work I'm pretty excited to see their production of the show and with a cast that includes: Yoshitsugu Matsuoka, Ayane Sakura, Saori Onishi, and Inori Minase it's hard to get it wrong! The focus on revenge will be an interesting as from previous experiences with RomCom's that revolve around revenge, they tend to lead to a number of <hilarious> misunderstandings and embarrassing moments! 
Osananajimi ga Zettai ni Makenai Love Comedy will premiere on April 14, 2021.
---
Sayonara Watashi no Cramer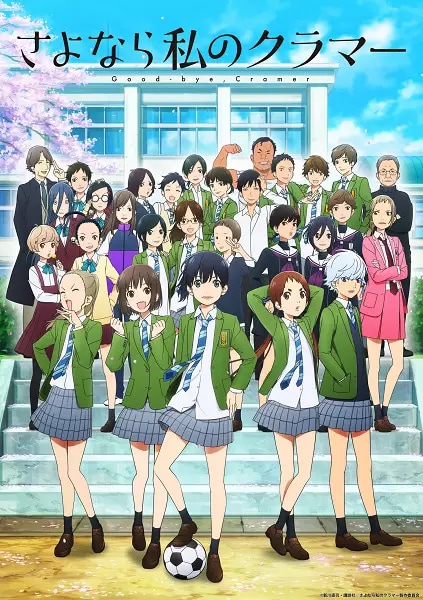 Studios:

 LIDENFILMS

Source:

 Manga

Genres:

 Sports, Drama, Shounen
Synopsis: "With no soccer accomplishments to speak of during the entirety of Sumire Suou's junior high school years, the young wing gets an odd offer. Suou's main rival, Midori Soshizaki, invites her to join up on the same team in high school, with a promise that she'll never let Suou "play alone." It's an earnest offer, but the question is whether Suou will take her up on it. Thus the curtain opens on a story that collects an enormous cast of individual soccer-playing personalities!"

(Source: Kodansha Comics)
From the mangaka of Shigatsu no Kimi no Uso (Arakawa Naoshi), comes another drama story. This time it revolves around the sport of soccer and the girls that play it. Arakawa-san is known best for his dramatic writing and complex character development resulting in a powerful and dynamic story that will leave you in tears. Shigatsu wa Kimi no Uso is a prime example of his work, but it's also fairly high level of expectation as it was a very well written story. And rather than A-1 Pictures taking on the production, it will instead be LIDENFILMS, though from the PV the art style from Shigatsu wa Kimi no Uso does translate to this show with the pastel coloring and the character designs. This will most likely be an emotional rollercoaster so make sure you bring some tissues and ice cream for this one!
Sayonara Watashi no Cramer will premiere on Apr 4, 2021.
---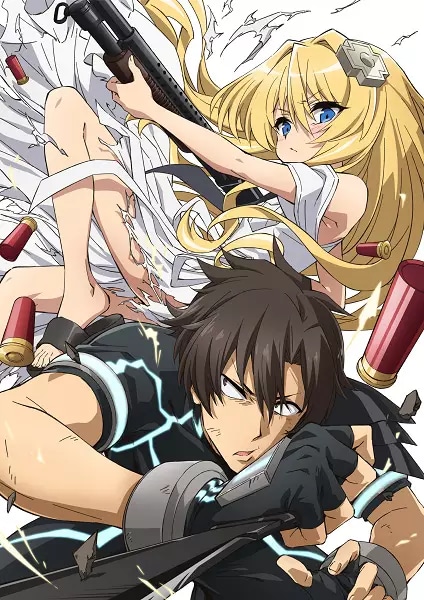 Studios:

 J.C.Staff

Source:

 Light novel

Genres:

 Action, Comedy, Fantasy
Synopsis: "Always bring a gun to a sword fight! With world domination nearly in their grasp, the Supreme Leaders of the Kisaragi Corporation—an underground criminal group turned evil megacorp—have decided to try their hands at interstellar conquest. A quick dice roll nominates their chief operative, Combat Agent Six, to be the one to explore an alien planet…and the first thing he does when he gets there is change the sacred incantation for a holy ritual to the most embarrassing thing he can think of. But evil deeds are business as usual for Kisaragi operatives, so if Six wants a promotion and a raise, he'll have to work much harder than that! For starters, he'll have to do something about the other group of villains on the planet, who are calling themselves the "Demon Lord's Army" or whatever. After all, this world doesn't need two evil organizations!"

-Yen Press, edited by MAL
Natsume Akatsuki, you all know and love him as author of KonoSuba light novel. The devious mastermind is back at it again with another story that has attained anime adaptation status! Sentouin, Hakenshimasu will be as wild and wacky as KonoSuba will be featuring an even wilder cast of character and a main character that may just be as sleazy as Kazuma (oops, did I say that out loud?)! Expect dirty jokes, sexual innuendos, and plentiful moments of fan service! Good thing too as I've been starving for some new KonoSuba content after watching both Season 1 and Season 2 plus the Movie! This will satisfy me in the mean time.
Sentouin, Hakenshimasu! will premiere on April 4, 2021.
---
Shakunetsu Kabaddi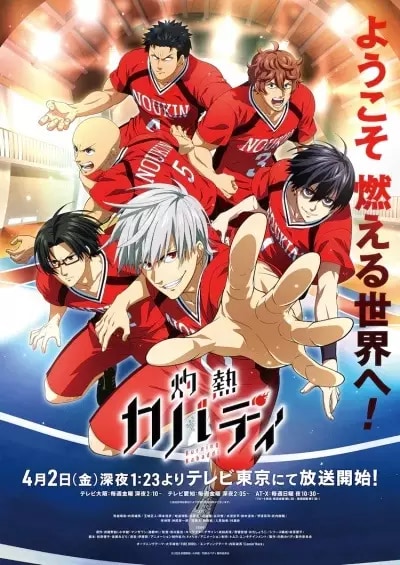 Studios:

 TMS Entertainment

Source:

 Web manga

Genres:

 Sports
Synopsis: "First-year high schooler Tatsuya Yoigoshi, the former ace of a junior high school soccer team who has come to dislike sports, receives an invitation to join the Kabaddi club. Initially mocking the idea of Kabaddi, he takes an interest after watching an intense competition akin to martial arts at a practice session."

-MAL News
I'm going to be honest here, I have no idea what Kabaddi is LOL. So let's do a quick field trip to Wikipedia shall we? 
"Kabaddi is a contact team sport.[1] Played between two teams of seven players, the objective of the game is for a single player on offence, referred to as a "raider", to run into the opposing team's half of a court, tag out as many of their defenders as possible, and return to their own half of the court, all without being tackled by the defenders, and in a single breath.[2] Points are scored for each player tagged by the raider, while the opposing team earns a point for stopping the raider. Players are taken out of the game if they are tagged or tackled, but are brought back in for each point scored by their team from a tag or tackle." -Wikipedia
Holy moly kabaddi sounds like an intense sport! And you know what that means, the anime will be even more intense (long time sports anime fans know all too well)! The story interested me with this interesting sport as well as the striking art and character designs. I've never heard of the source material but seeing that I don't read a lot of web manga, that's not surprising. Either way this is another wild card and I'm watching for sure my curiousity! (I wonder if the cat is ok?) 
Shakunetsu Kabaddi will premiere on April 3, 2021.
---
Shaman King (2021)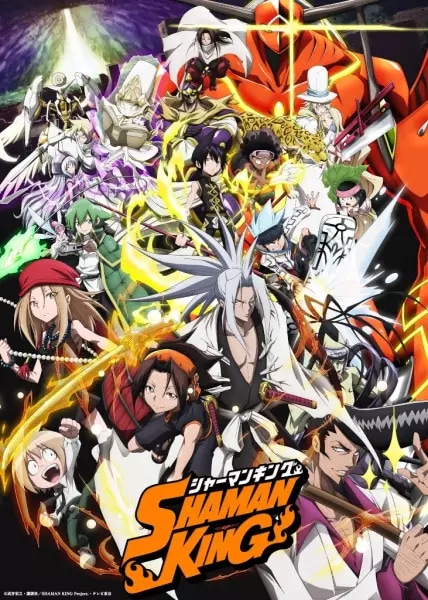 Studios:

 Bridge

Source:

 Manga

Genres:

 Action, Adventure, Comedy, Super Power, Supernatural, Shounen
Synopsis: "Shamans are extraordinary individuals with the ability to communicate with ghosts, spirits, and gods, which are invisible to ordinary people. The Shaman Fight—a prestigious tournament pitting shamans from all over the world against each other—is held every five hundred years, where the winner is crowned Shaman King. This title allows the current incumbent to call upon the Great Spirit and shape the world as they see fit. Finding himself late for class one night, Manta Oyamada, an ordinary middle school student, decides to take a shortcut through the local cemetery. Noticing him, a lone boy sitting on a gravestone invites Manta to stargaze with "them." Realizing that "them" refers to the boy and his ghostly friends, Manta flees the terror. Later, the boy introduces himself as You Asakura, a Shaman-in-training, and demonstrates his powers by teaming up with the ghost of six-hundred-year-old samurai Amidamaru to save Manta from a group of thugs. You befriends Manta due to his ability to see spirits, and with the help of Amidamaru, they set out to accomplish You's goal of becoming the next Shaman King."

-MAL Rewrite
It's finally here! The new Shaman King is finally upon us! This the remake of the classic story based on the manga that was serialized back in 1998, with an anime that aired in 2003. A staple for anime watchers as Shaman King would air on Saturday mornings (the english dub Shaman King opening will forever SLAP)! Bridge will be the studio in charge of bring this beloved story to life and after doing extensive research, the quality that Bridge brings to the table are extraordinary and I have no doubt that it will be nothing less than amazing. The animation and art style from Munou na Nana (Bridge's previous work), is brought over to Shaman King but fits rather well and I have no complaints. And even better news is that most of the original Japanese voice cast will reprise their role for the remake, which is quite a rare occurrence. The most notable change is the recasting of You Asakura's voice from Satou Yuuko (who retired some time ago) to Hikasa Yoko. But Hikasa Yoko is a veteran in the industry and will no doubt do justice as You's new voice. 
Shaman King (2021) will premiere on April 1, 2021. (THIS IS NOT AN APRIL FOOLS JOKE LOL!)
---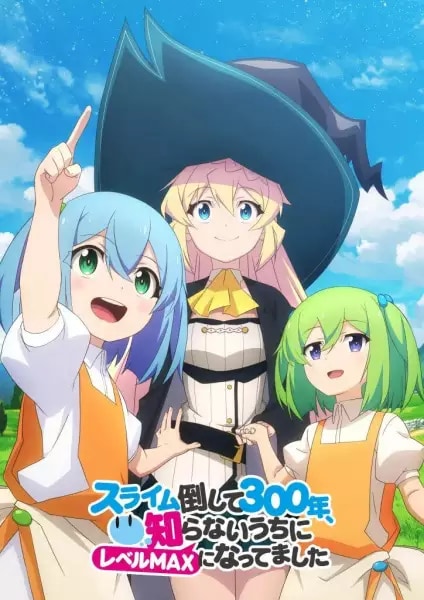 Studios:

 Revoroot

Source:

 Light novel

Genres:

 Comedy, Fantasy
Synopsis: "Suddenly dying from overwork, salarywoman Azusa Aizawa finds herself before an angel, who allows her to reincarnate into a new world as an immortal witch, where she spends her days killing slimes for money on an otherwise eternal vacation. But even the minimal experience points from slimes will add up after hundreds of years, and Azusa discovers that she accidentally reached the maximum level! Fearing that her strong abilities will attract work and force her back to a life of overexertion, she decides to hide her strength in order to preserve her peaceful lifestyle. Despite her efforts, tales of the max level "Witch of the Plateau" spread across the land, and a proud dragon named Raika shows up looking to test their strength against her. Even though Azusa defeats and befriends Raika, problems arise as both friends and foes come looking for the secluded witch."

-MAL Rewrite
Is it bad that I'm laughing?! Just when we finish Tensura's second season…this anime starts airing!? Rimuru better watch out for Azusa! Jokes aside, I'm pretty pumped about the show! I love the slow atmosphere of the characters and story that was displayed in the PV. It's going to be entertaining to see just how strong Azusa is throughout the show as she tried to fend off the challengers and hard work that come flying her way! Revoroot is studio that I don't know very well, some light research says that they worked on FLCL Alternative and Babylon (which I've never seen before) so I'm not sure what their style or uniqueness is quite yet but I am excited to find out! 
Slime Taoshite 300-nen, Shiranai Uchi ni Level Max ni Nattemashita will premiere on April 10, 2021.
---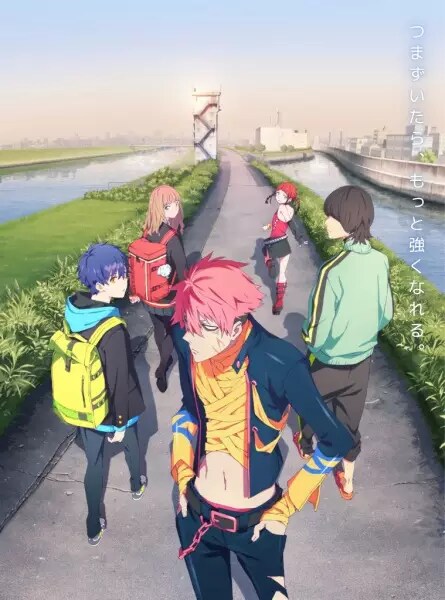 Studios:

 Trigger

Source:

 Original

Genres:

 Action, Sci-Fi, Mecha
Synopsis: N/A
Trigger is back with another SSSS show! Though, I'm really confused! SSSS? I thought the SSSS.Gridman story ended!? Will SSSS.Dynazenon somehow connect back to SSSS.Gridman? Or is it a stand alone? IS THERE GONNA MORE RIKKA?! Ah so many questions and with so little information out there aside from some PVs and general info there's no knowing what will happen! All we know is that it's TRIGGER, more MECHS, more KAIJUS, and the character designs are FANTASTIC. LET'S GO! 
SSSS.Dynazenon will premiere on April 2, 2021.
---
Subarashiki Kono Sekai The Animation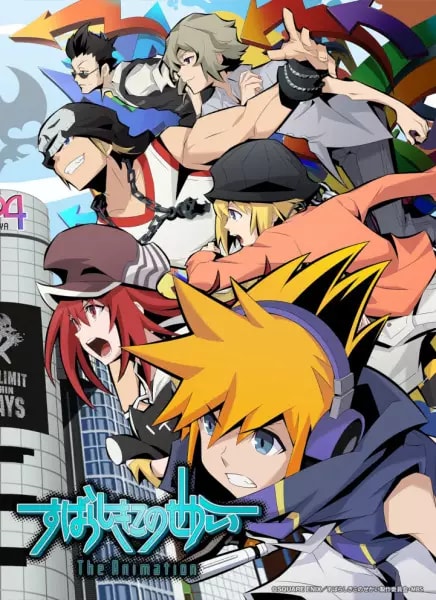 Studios:

 Shin-Ei Animation, domerica

Source:

 Game

Genres:

 Action, Adventure
Synopsis: "Neku Sakuraba, a 15-year-old boy with a hobby for music and graffiti, wakes up in what seems to be the Shibuya shopping district of Tokyo, Japan. With no idea why he's there, he opens his hand to realize he is holding a strange black pin. After flipping it with his hand, the thoughts of the people surrounding him begins to flow into his head at once. Surprised, Neku discovers he is able to read the minds of others and assumes it has something to do with the black pin he is holding. A cell phone starts to ring in his pocket, and he can't tell whether it is his or not. A text message appears: "Reach 104. You have 60 minutes. Fail, and face erasure. -The Reapers." After discovering he can't delete the message, a timer of 60 minutes imprints onto his right hand. Neku is in Shibuya to play the "Reapers' Game," which spans a total of seven days. All Players of the Reapers' Game have a black pin with a skull embedded on it."

-Wikipedia, edited by MAL
American fans will recognize the english title more than not, "The world ends with you" which a game by Square Enix. This anime will be based off of the game and I'll be honest here, I've had an eye on the game for a while but never had the chance to actually play it! After a number of references to the game from Kingdom Hearts 3, I started getting interested! And to my luck this anime adaptation was revealed! While I'm not a fan of game adaptations as most of them typically fall flat, there's a quality to this that shows some glimmer of hope and promise. First off, the art style pulls heavily from the game itself. This is quite a feat as the art style of the game relies heavily on the fact that it's a visual novel based format, meaning a set of 2D sprites for the characters. This forces us to look at the characters from a certain angle and helps solidify coloring and art styles and because the anime will feature the characters from different perspective as the cinematography moves around the style because a bit harder to keep as it may be hard to keep the style in certain perspectives. I think key to success for this show is:
1.) Keeping the signature art style from the game
2.) Being faithful to the story that the fans know and love
3.) Opening up the story to new audiences that may be interested in the game. 
If we can check these marks then I think it'll be a worth while watch! 
Subarashiki Kono Sekai The Animation will premiere on April 10, 2021.
---
Tensura Nikki: Tensei shitara Slime Datta Ken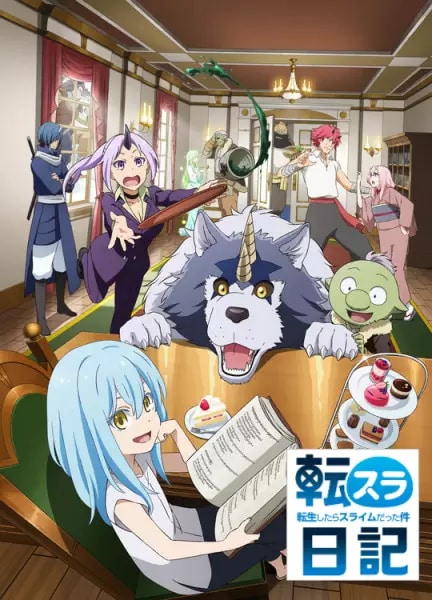 Studios:

 8bit

Source:

 Manga

Genres:

 Slice of Life, Comedy, Fantasy, Shounen
Synopsis: "'Dear diary… I got reincarnated as a slime.' Even in another world, lives aren't always on the line. There's plenty of work to be done, from feeding the community and forging the items the community needs; as well as plenty of play …and hijinks throughout! Join Rimuru and friends as they kick back and enjoy their daily lives."

-Kodansha Comics
Just when you thought you were going to fall into a deep depression once the second season of Tensura ends…you get the great news that a spin off of the show will air! Yay! I'm so excited to be able to get more slime content and while it is a spin off (and more accurately basically a recap of season 1 and season 2 part 1 <– you read that right!) and won't move the main story forward, the break from the last season will be a nice change of pace! While this spin off will also be animated by 8bit the character design and the overall art style will be different, heading more towards a more simplistic chibi style format (AND I LOVE IT). The key visual will give you a gist of what to expect and it'll be a good chance to recap the entire series right before Season 2 part 2 airs in July! (Surprise!). 
Tensura Nikki: Tensei shitara Slime Datta Ken will premiere on April 6, 2021.
---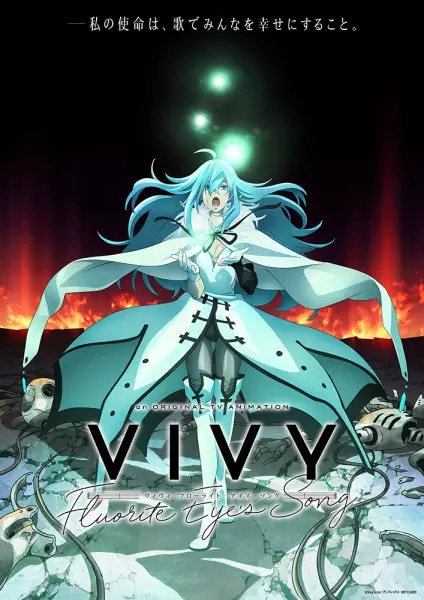 Studios:

 Wit Studio

Source:

 Original

Genres:

 Sci-Fi
Synopsis: "Nierland—an A.I complex theme park where dreams, hopes, and science intermingle. Created as the first-ever autonomous humanoid A.I, Vivy acts as an A.I cast for the establishment. To fulfill her mission of making everyone happy through songs, she continues to take the stage and perform with all her heart. However, the theme park was still lacking in popularity. One day, an A.I named Matsumoto appears before Vivy and explains that he has travelled from 100 years into the future, with the mission to correct history with Vivy and prevent the war between A.I and humanity that is set to take place 100 years later. What sort of future will the encounter of two A.I with different missions redraw? This is the story of A.I destroying A.I. A.I diva Vivy's 100-year journey begins."

-MAL News
All I needed to see to be convinced to watch this show was Wit Studio. Wit Studio time and time again crush every single anime that they work on which includes both TV animation as well as movie and assisting on other popular shows like Attack on Titan. They have a this gritty style that portrays fighting and movement as well as scenery in such high quality that other studio can't catch up to. Vivy focuses on what looks like a futuristic city scape where A.I. and Humans live beside each other…until a war between the two break out. Sci-fi time traveling adventure with a splash of idols and music blend into a story that seems to be both thrilling and captivating! This is going to be one of my favorite shows of the season and I can't wait to see it! 
Vivy: Fluorite Eye's Song will premiere on April 3, 2021.
---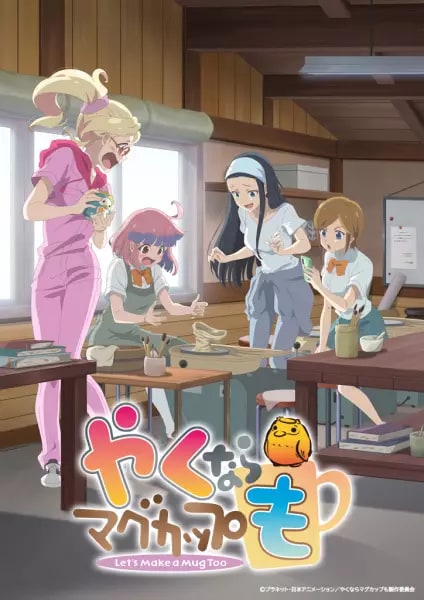 Studios:

 Nippon Animation

Source:

 Manga

Genres:

 Slice of Life
Synopsis: "The city of Tajimi, located in the southern part of Gifu Prefecture, Japan, is famous for Mino earthenware. The city is dotted with historical pottery producers and ceramic art museums. It has facilities where you can try your hand at making pottery, and many restaurants that serve food on Minoware dishes. The story begins when a high school girl moves to a shopping street in Tajimi. Many encounters await her, friends, town folk, ceramic art, etc. What will she discover in a town famous for ceramic?"

-Yakunara Mug Cup mo (manga)
Ceramic and pottery has always been an interest of mine. A professor that I had for architecture school made ceramics in his studio during his past time. I will always remember how simply yet beautiful they were. The process took a lot of time and care and actually taught me the idea of "loving the process". While the result is nice, the process is where you learn the most, even if it's the hardest part. Without the process there's no result! An anime revolving around such a profound art from is more than I can ask for! Yakunara Mug Cup mo is a feel good anime about friendship, doing the things you love, and cherishing the memories that got you where you are. You may or may not see me crying while I watch this and if you do…bring me some ice cream! 
Yakunara Mug Cup mo will premiere on April 3, 2021.
---
Zombieland Saga: Revenge
Studios:

 MAPPA

Source:

 Original

Genres:

 Music, Comedy, Supernatural
Synopsis: Second Season of Zombieland Saga.
Who could forget the infamous zombie rap battle that went viral over night?! Our favorite Zombie Idol group is back with a fire for revenge! The show ended on a high note as the group finally started bond but it looks like our wacky producer has another crazy idea up his sleeve as well as some connection back to Sakura? Will we finally find out the relationship between the two?! I'm so excited to see the second season and it can't get here any sooner! 
Zombieland Saga: Revenge will premiere on April 9, 2021.
---
Annnnnd that's it!
What show are you looking forward to the most? Is there a show that I should be watching?
Let me know in the comments below!