KiritoNarukami's Anime Selection (Fall 2021 Edition)
Hey Anime Gang!
Another season another batch of new anime! It's hard to believe that it's almost the end of 2021 (cause to be honest, I'm still processing 2020 lol!) but it's here and the line up has some pretty highly anticipated shows! Let's dive in!
---
86 2nd Season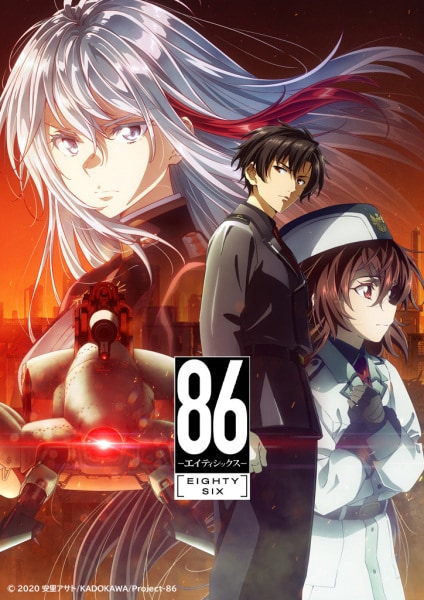 Source Material: Light novel
Studio: A-1 Pictures
Genre: Action, Drama, Sci-Fi
Synopsis: The second cour of 86
The grim fate of the 86 and the state of the devastated Major Milize left me with mixed feelings and several questions which I thought were a well-wrapped ending. It allowed the audience to give some of their own interpretations of the ending without leaving too much to make you feel like there NEEDS to be another season. Though after episode eleven there was another episode that is a recap of the entire season detailing everything that transpired which ended its last 15 seconds with a scene of what looks like a new Legion machine activating and the announcement of season 2. It's going to be interesting to see what happened to the Spearhead Squadron and how Major Milize will act!
---
Blade Runner: Black Lotus
Source Material: Other
Studio: Sola Digital Arts
Genre: Sci-Fi, Suspense
Synopsis: "Los Angeles 2032. A young woman wakes up with no memories and possessing deadly skills. The only clues to her mystery are a locked data device and a tattoo of a black lotus. Putting together the pieces, she must hunt down the people responsible for her brutal and bloody past to find the truth of her lost identity." -Anichart
Blade Runner is one of those franchises where I've heard a lot of good stuff about but never actually took the time to sit down and watch it/read it. The only Blade Runner material that I've actually watched is Blade Runner 2049, which I watched in theaters. Cinematic and composition wise, it's one of my favorite movies of all time! Not really sure how Black Lotus ties into the timeline or if this is just another story in the Universe of Blade Runner, but it's pretty cool to see such good CGI! I'll do some more research later and update this section if I find anything more on this show. One thing to keep in mind, if you're planning on watching the show, is that you'll want to default to the English dub (ugh I know but hear me out!). It looks like the animation is based around the English voices and the Japanese dub is an afterthought so the mouthing and timing are off. You can tell if you watch both the language trailers! Either way, this is something new and fresh so I'm giving it a go!
---
Isekai Shokudou 2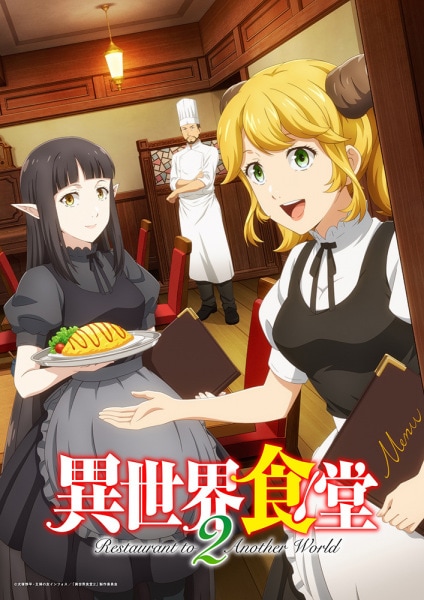 Source Material: Light novel
Studio: OLM
Genre: Fantasy, Gourmet, Slice of Life
Synopsis: Second season of Isekai Shokudou.
Oh boy, when was the last time we heard about this title!? Isekai Shokudou is back with another season with more interesting characters, mouth drooling cuisine, and a warm cafe aesthetic that you can't get anywhere else! The first season featured a great variety of modern-day cuisines which were enjoyed by many customers which including dragons, elves, dwarves, mages, warriors, and adventurers! The show is simple as it is complex in the way that it's able to tell a full-length story through the simple act of eating a meal!
---
Kimetsu no Yaiba: Yuukaku-hen
Source Material: Manga
Studio: ufotable
Genre: Action, Supernatural, Shounen
Synopsis: The second season of Kimetsu no Yaiba.
Finally, the wait is over! Kimetsu no Yaiba is back for another season but there is something you need to know before it starts! The Entertainment Arc will begin airing on Dec 5th, now why is that if the show is part of the Fall 2021 line up? Well, that's because the Mugen Train Arc will be making another appearance for the first half of the season! According to Funimation, the first episode will show the events that occurred before Tanjirou and friends actually get on the train while 2-7 will feature the events of the Mugen Train Arc (I'm curious to see how it flows in episode increments) and then finally episode 8 (which will also be a 1-hour episode) will be the start of the Entertainment Arc! Lots to look forward to! For those of you that have already seen the movie like I did…best get the tissues and ice cream ready for THAT scene.
---
Komi-san wa, Comyushou desu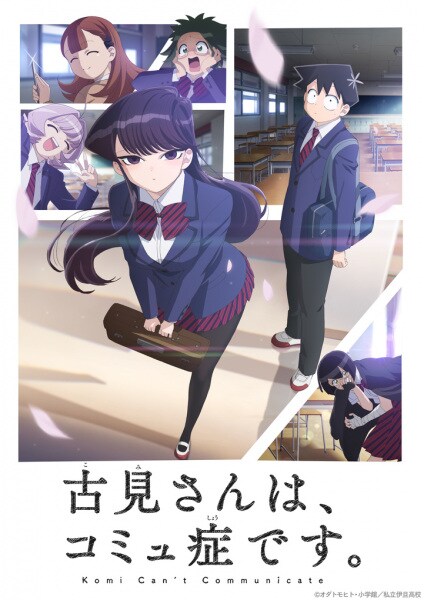 Source Material: Manga
Studio: Half H.P Studio, Shogakukan
Genre: Comedy, Slice of Life, Shounen
Synopsis: "It's Shouko Komi's first day at the prestigious Itan Private High School, and she has already risen to the status of the school's Madonna. With long black hair and a tall, graceful appearance, she captures the attention of anyone who comes across her. There's just one problem though—despite her popularity, Shouko is terrible at communicating with others. Hitohito Tadano is your average high school boy. With his life motto of "read the situation and make sure to stay away from trouble," he quickly finds that sitting next to Shouko has made him the enemy of everyone in his class! One day, knocked out by accident, Hitohito later wakes up to the sound of Shouko's "meow." He lies that he heard nothing, causing Shouko to run away. But before she can escape, Hitohito surmises that Shouko is not able to talk to others easily—in fact, she has never been able to make a single friend. Hitohito resolves to help Shouko with her goal of making one hundred friends so that she can overcome her communication disorder." -MAL Rewrite
Komi-san has dominated your Twitter feed with her adorable manga scenes and now she's back to an anime adaptation that is going to be absolutely beautiful! It's been a long wait for fans of the manga but the wait is finally over and it's going to be the front runner of the season, no question! The trailer showcases beautiful character designs that bring the aesthetic of the manga to life. The scenery, lighting, and coloring all look phenomenal! So if you have never heard of Komi-san wa Comyushou desu, this is the time to get into it!
---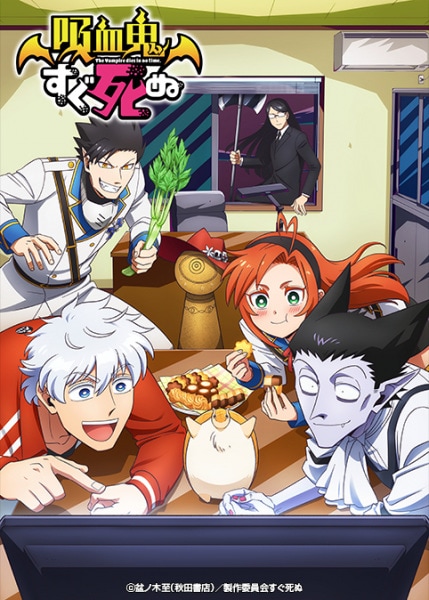 Source Material: Manga
Studio: Madhouse
Genre: Comedy, Supernatural, Shounen
Synopsis: "Vampires are said to have many weaknesses such as garlic, crosses, and sunlight. Game-loving vampire lord Draluc just so happens to be weak to… everything. He dies, turning into a pile of ash, at the slightest shock. After Vampire Hunter Ronaldo learned of a castle inhabited by a vampire rumoured to have kidnapped a kid, he went there intending to take the devil down. However, the vampire turned out to be Draluc, a wimp who keeps turning into ash at the smallest things. Moreover, the kid wasn't being held captive—he was just using the "haunted house" as his personal playground! When his castle is destroyed, Draluc moves into Ronaldo's office, much to the other's chagrin. Despite their differences, they must try to work together to defend themselves from rogue vampires, Ronaldo's murderous editor, investigators, and more—with Draluc dying continuously along the way." -MU (amended by myanimelist)
Apart of Madhouse being the animation studio in charge of this show, the other things that really caught my eye about Kyuuketsuki Sugu Shinu, are its character designs and the vibrant colors! While the trailer shows some very simplistic scenes and somewhat dull animation, the comedy and the dialogue between the characters feel fun and entertaining. I'm sure this will be one of my favorite comedies this season!
---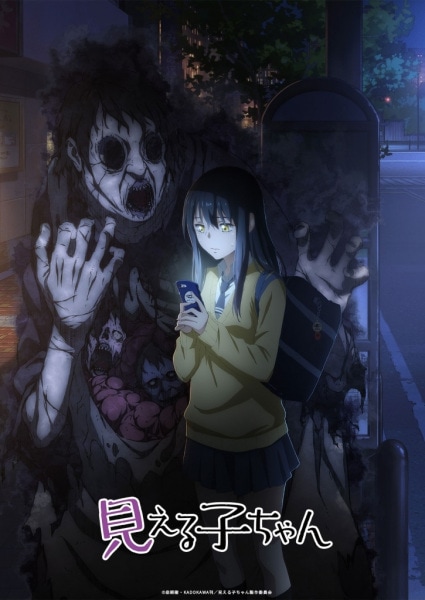 Source Material: Manga
Studio: Passione
Genre: Comedy, Horror, Supernatural
Synopsis: "Miko is a typical high school student whose life turns upside down when she suddenly starts to see gruesome and hideous monsters. Despite being completely terrified, Miko carries on with her daily life, pretending not to notice the horrors that surround her. She must endure the fear in order to keep herself and her friend Hana out of danger, even if that means coming face to face with the absolute worst. Blending both comedy and horror, Mieruko-chan tells the story of a girl who tries to deal with the paranormal by acting indifferent toward it." -MAL Rewrite
There aren't a lot of horror anime out there that can send a chill down my spine but Mieruko-chan, just might be able to do it. The artwork for the "monsters" are just ominous but pair this with the comedic side of the show and to be completely honest…I have no idea what to expect! If you're not into dark horror then this might not be for you. I'm hoping the fear factor will be more about timing and tension rather than cheap jump scare but I guess we'll see which direction Passione will take the show.
---
Mushoku Tensei: Isekai Ittara Honki Dasu 2nd Season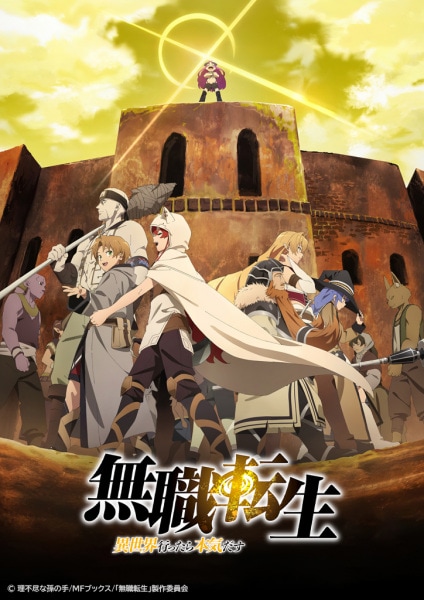 I don't need to say much about this show as the first season can do most of it for me! This unique Isekai took the anime world by storm with its robust story telling and dynamic animation. It is intended for a more mature audience because it explores 18+ concepts as well as delves quite deep into dark themes. If you like the darker isekai where survival means everything and death is one injury away then this is your type of show! There are some sexual themes here and there but if you're OK with that, the story is a really rewarding experience.
---
Ousama Ranking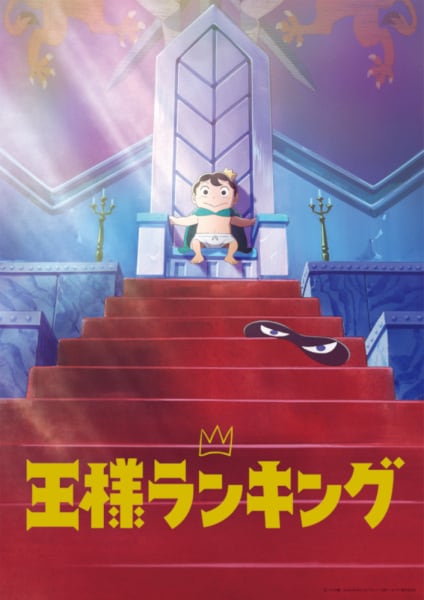 Source Material: Manga
Studio: WIT Studio
Genre: Adventure, Comedy, Fantasy
Synopsis: "The web manga centers around Bojji, a deaf, powerless prince who cannot even wield a children's sword. As the firstborn son, he strives hard and dreams of becoming the world's greatest king. However, people mutter about him behind his back as "a good-for-nothing prince" and "no way he can be king." Bojji is able to make his first ever friend, "Kage" (shadow)—a literal shadow on the ground who somehow understands Bojji well. (Kage is a survivor of the Kage assassin clan that was all but wiped out. No longer a killer, Kage now makes ends meet by stealing.) The story follows Bojji's coming-of-age as he meets various people in his life, starting with his fateful encounter with Kage." -MAL News
I've always been in love with the Studio Ghibli aesthetic and it's so unique it's hard to find in other works, but I may have found the show that will fill the void that I've been missing! WIT Studio is known for its dynamic, and at times, gory animations as we've seen on Vinland Saga, Koutetsujou no Kabaneri, and the early half of Shingeki no Kyojin. Their art style for Ousama Ranking has a softer touch and I'm really excited to see where the story takes us. The trailer showed a lot of powerful scenes so I'm curious about how things progress and how Boiji develops throughout the story! This will likely be an underdog in the anime season as there are really big franchises making an appearance, but don't miss out on this one! It's a certified winner in my opinion!
---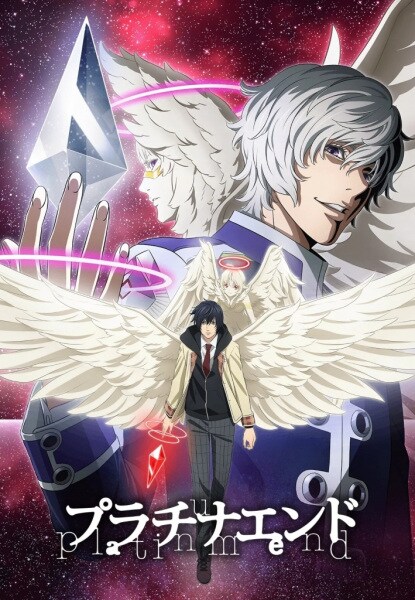 Source Material: Manga
Studio: Signal.MD
Genre: Drama, Supernatural, Psychological, Shounen
Synopsis: "After the death of his parents, a young Mirai Kakehashi is left in the care of his abusive relatives. Since then, he has become gloomy and depressed, leading him to attempt suicide on the evening of his middle school graduation. Mirai, however, is saved by a pure white girl named Nasse who introduces herself as a guardian angel wishing to give him happiness—by granting him supernatural powers and a chance to become the new God. In order to earn the position, he must defeat 12 other "God Candidates" within 999 days. Soon, Mirai begins a struggle to survive as a terrifying battle royale erupts between himself and the candidates looking to obtain the most power in the world." -MAL Rewrite
From Tsugumi Ohba and Takeshi Obata, the creators of the infamous Death Note, comes another psychological drama. I'm actually not too familiar with the premise of the story but if it's the same masterminds that made Death Note sign me up! There's a unique atmosphere that surrounds Death Note and even to this day, I haven't seen a show with that same flare or aesthetic. Though this time around instead of Reapers, we're hanging out with angels! I'm hoping that the battle royal theme is interesting and not another rendition of Mirai Nikki…
---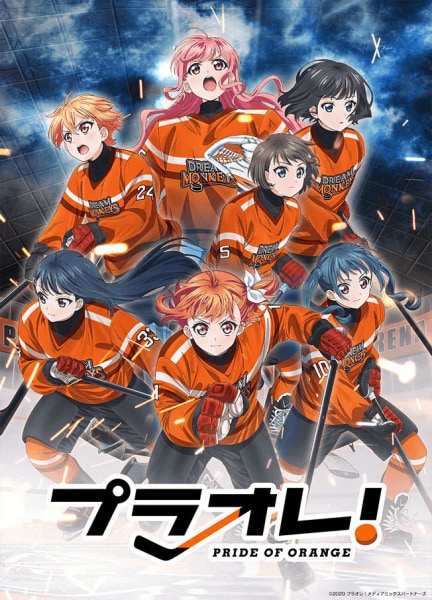 Source Material: Original
Studio: C2C
Genre: Sports
Synopsis: "The story takes place in Nikko city, Tochigi Prefecture, where girls aim for the top of the world through ice hockey. Local junior high school student Manaka and her younger sister Ayaka, whom she forcibly invited, hit the gate of first-hand experience with ice hockey, held by the Nikko-based team Dream Monkeys. The two are joined by their childhood friends Kaoruko and Mami. As the girls practice, they become fascinated with ice hockey and eventually join the team." -MAL News
Do you like cute girls doing cute things?? Do you like hockey?! WELL DO I HAVE THE ANIME FOR YOU! I've seen my fair share of sports anime but I never thought, until this day, that I would need a hockey anime and here we are! Puraore! Pride of Orange is also a mixed media project which will include this anime and a mobile game, so keep an eye out! I LOVE the character designs. Seems like the hockey games will feature a mixture of both 2D and CGI animation but I'm not quite used to the CGI just yet. So it's hard to tell whether I'll like this show or not on the trailer alone, I am excited to meet the characters and possibly try out the mobile game though (do I really need to play another gatcha game though…).
---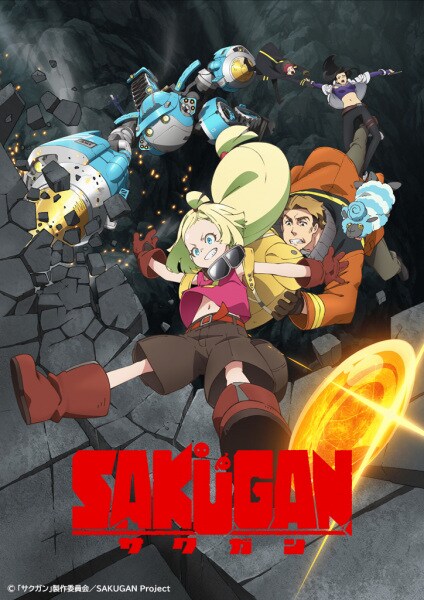 Source Material: Novel
Studio: Satelight
Genre: Sci-Fi, Mecha
Synopsis: "Far in the future, the human beings were pushed into the deep underground world called Labyrinth and they are living shoulder-to-shoulder. The Labyrinth has several colonies with severe settings such as one having an insanely high temperature, while another is full of gold and silver. Among those, in a colony of Pinyin, resides a curious nine-year-old girl named Memempuu and her father Gaganbar. As "workers" aiming for survival, they live with the lowest profession of riding a working robot to dig ore. One day, Memempuu pestered Gaganbar, a cave examiner who makes maps of the internal part of Labyrinth, to go travel together with her to find her mother. As a "marker," Gaganbar holds the most dangerous yet attractive profession. One step outside the colony is already deemed to be a dangerous area and meeting a huge mysterious creature that loiters the cave, one's chance of living will be cut down to five percent. Since it is a dangerous racket to explore the unknown world, the map they hold is valuable and can be sold at a high price. However, is the price for their curiosity higher? What could be the cruel truth that is hidden among them? What awaits at the end of the test? In this travel story between a father and a daughter surrounds adventure with family love." -MAL News
Sakugan is one of the shows that I'm looking forward to the most! It's got an adventurous spirit paired with familial bonding, so we're sure to have an action-packed and emotional story! I think one of the things that will make or break the show is the world-building like how the world operates and the people living in said world. Like what exactly is the "Labyrinthe" and what dangers lurk within? It's going to be fun to discover the world alongside Memempuu and explore the depths of the labyrinth. The mech designs are fun and intriguing, I'm curious as to how the thing operates!
---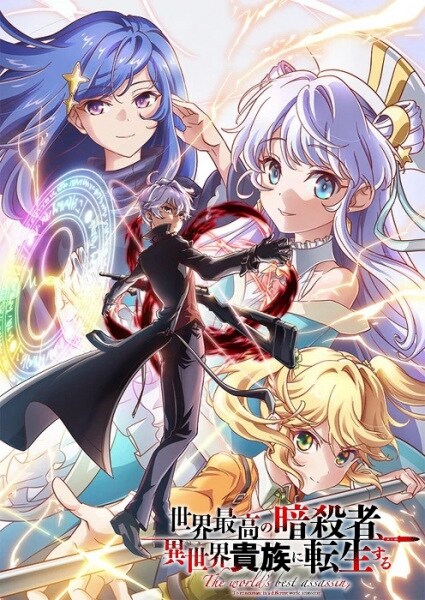 Source Material: Light novel
Studio: SILVER LINK., Studio Palette
Genre: Action, Fantasy
Synopsis: "The greatest assassin on Earth knew only how to live as a tool for his employers—until they stopped letting him live. Reborn by the grace of a goddess into a world of swords and sorcery, he's offered a chance to do things differently this time around, but there's a catch…He has to eliminate a super-powerful hero who will bring about the end of the world unless he is stopped. Now known as Lugh Tuatha Dé, the master assassin certainly has his hands full, particularly because of all the beautiful girls who constantly surround him. Lugh may have been an incomparable killer, but how will he fare against foes with powerful magic?" -Yen Press
The Isekai genre often features a normal high school students who are teleported from their modern-day world to one of fantasy and magic, but not this one! The greatest assassin who is also an old man is reincarnated and is tasked with killing the chosen hero of this fantasy world…what could go wrong? There aren't a lot of times where the main protagonist is already skilled in a certain talent before being isekai'd to another world. The character designs are what got my attention but the story might be the thing that makes me stay!
---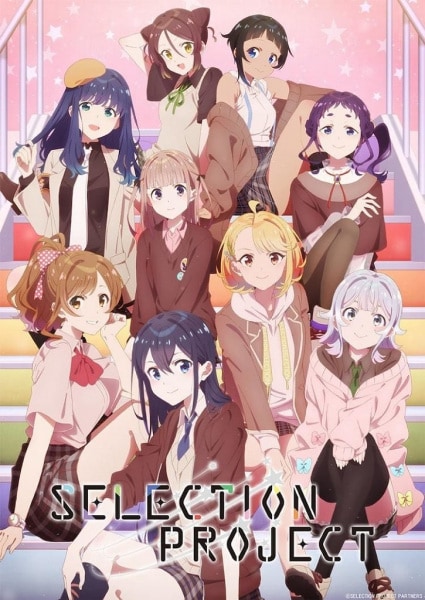 Source Material: Original
Studio: Doga Kobo
Genre: Music, Idol
Synopsis: "Held every summer, the national show "Selection Project" is the biggest gateway for girls who strive to be idols, and the place where the legendary idol Akari Amazawa was born. Suzune Miyama is also one who has longed for such a dream stage. Having been sick since childhood, she listened to the song of the light many times in her bed in the hospital room. Akari's singing voice gave her a lot of smiles and courage, inspiring Suzune to follow in her footsteps. In her last summer of junior high school, Suzune decides to challenge the 7th annual Selection Project to make her dream come true. The girls who challenge Selection all have strong feelings that are second to none, accumulated efforts, and extraordinary charm. Only nine stars are selected from among the thousands of candidates. Now, the hot and harsh "Audition Battle" of the girls begins to make their dreams come true." -MAL News
Long-time readers will know that I'm a sucker for idol anime and Selection Project is no exception! Though Selection Project had one of the most polished PVs I've seen from an idol anime. The CGI for the performance (at least from the snippet that I saw) was REALLY clean so I'm pretty excited to see how the full performances look! The songs are all absolute hits, from the music production to the vocals from the characters, it checks off all of the boxes that I look for in music! The character designs are slick and I can't wait to get to know the characters throughout the show. Though from the premise and the PV, it seems like this is a competition, so there will be some drama and tension throughout. I hope that it's meaningful and not just petty drama!
---
Source Material: Manga
Studio: Doga Kobo
Genre: Comedy, Romance, Slice of Life
Synopsis: "Igarashi Futuba's new job would be great if her senpai, Takeda Harumi, wasn't so incredibly annoying! Futuba hates his laugh, she hates how big he is, and she really hates that he treats her like a little kid. Just because Futuba is short and looks young doesn't make her a kid, and just because she spends so much time with Takeda doesn't mean she sees him as anything but an annoying senpai…or does she?!" -Seven Seas Entertainment
Most anime will lead you to believe that the prime time in an anime character's life is the time in high school. Well this is FALSE, as anime that has a college or an office setting can just be as entertaining! Senpai ga Uzai Kouhai no Hanashi looks like a fun show filled with laughter and embarrassing moments and I'm SO EXCITED. It's almost like Kobayashi-san chi no maid dragon meets Wotakoi! The character designs are simple but expressive at the same time, which I think is pretty hard to achieve so I can't wait to see everything all come together!
---
Shuumatsu no Harem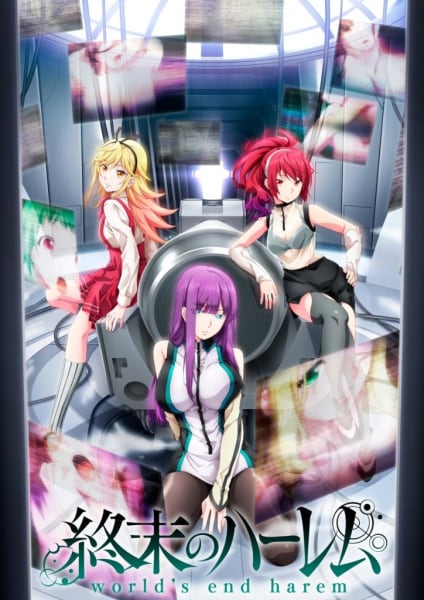 Source Material: Manga
Studio: Studio Gokumi, AXsiZ
Genre: Sci-Fi, Ecchi
Synopsis: "The Man-Killer Virus: a lethal disease that has eradicated 99.9% of the world's male population. Mizuhara Reito has been in cryogenic sleep for the past five years, leaving behind Tachibana Erisa, the girl of his dreams. When Reito awakens from the deep freeze, he emerges into a sex-crazed new world where he himself is the planet's most precious resource. Reito and four other male studs are given lives of luxury and one simple mission: repopulate the world by impregnating as many women as possible! All Reito wants, however, is to find his beloved Erisa who went missing three years ago. Can Reito resist temptation and find his one true love?" -Seven Seas Entertainment
MEN (AND WOMEN) OF CULTURE PLEASE STAND. This is the time for us to rise, and enjoy yet another borderline show! The Man-Killer Virus wipes out all males in the world with the exception of four, which includes our *cough*lucky*cough* protagonist! I'm going to be completely honest, I have no idea where the plot is. I mean there is PLOT but there is no plot, you know what I'm saying?! So part of me thinks this is just pure eye candy with a HANDFUL of emotional moments but I could be completely wrong and this actually has a compelling and profound story! Though it's up in the air at this point so stay tuned for the first impression.
*UPDATE* Shuumatsu no Harem has been delayed until Jan 2022. First episode will still air on the original air date.
---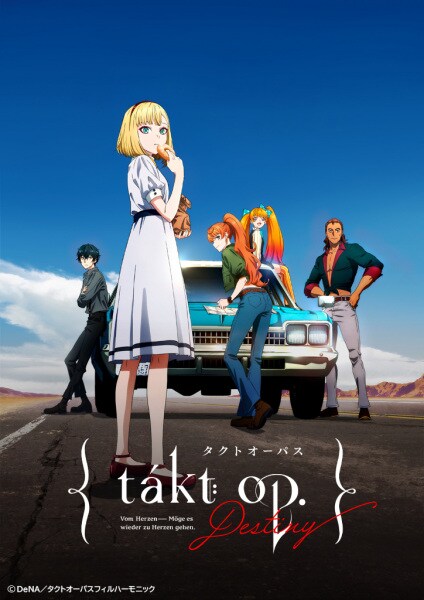 Source Material: Original
Studio: Madhouse, MAPPA
Genre: Action, Fantasy
Synopsis: "In the story of the anime, one day a black meteorite fell on the world, and the world completely changed. The meteorite produced grotesque monsters called D2, which started running rampant. D2 very quickly banned all music, which was the one thing able to overcome them. But there were some people who resisted the D2. They are young women who hold the power of music, the "Musicart." These young women hold "scores" that are able to defeat the monsters. And there are also people who lead these women, the Conductor. The anime takes place in America in the year 2047, which has fallen to ruin thanks to the D2. Takt, a Conductor, is partnered with a Musicart named Unmei. Takt yeans for music to be returned to the world, and Unmei wishes to destroy the D2. Their aim is to travel to New York."
Did I read that right? An ORIGINAL anime by MAPPA AND MADHOUSE? Two of the best animation studios out there are making an original anime?! With the opening being written by supercell!? Someone pinch me! If there was a dream anime that was perfect on paper in almost every way, then this would be it. The pieces are there to make this show one of the most exhilarating shows this year but how will it perform? The PV shows the partnership between Asahina Takt and Unmei (translates to Destiny) with the former being the Conductor and the latter the Musicart. The duo will fight monsters known as D2, though how they get the powers is somewhat unclear. It'll be interesting to see the story unfold as the words "Conductor" and "MUSICart" both points at the show revolving around music but in what way? Oh, I'm too excited and I can't wait to watch the first episode!
---
And that's it!
What shows are you watching?
Which ones are you looking forward to the most?
I would love to know~!