Boku no Hero Academia 3rd Season [Review]
"In a world where superpowers known as "Quirks" grant great power to their bearers, Midoriya has risen from being a Quirkless young boy to a resilient hero-in-training, working alongside his peers at U.A. High School in hopes of one day becoming a true superhero

.

Having clashed with actual villains like Shigaraki and his League of Villains, Midoriya understands the fragility of his world and the speed with which he must rise to defend it

.

In the wake of his recent encounter with Shigaraki, Midoriya and his fellow 1-A classmates will now

be forced

to undergo summer training, all to prepare them for the day when their guardians' protection isn't enough

.

But the League of Villains is also preparing, and the repercussions of their next strike will shake this peaceful society to its core

." -Anime News Network
Boku no Hero Academia continues to be an
extremely
popular anime and with good reason!
This season covers the Forest Training Camp arc all the way to the Provisional Hero License Exam arc and then grazes the Internship arc
.
The arcs that
were shown
were all impactful and shows the continued growth of
all of
the students, not
just
from 1-A but students from the other classes as while as from different schools
. The burden and weight that also comes with the glory of being a hero
is thrown
upon Class 1-A and more so on Deku. And if this season wasn't enough Boku no Hero for you then you're in luck! The 4th Season of Boku no Hero is already in the making, now it's all about when the airing date is!
What I love about Boku no Hero's art is that it is consistent,
consistently
good that is! The art and animation continue to be above and beyond the rest of the anime that air in the same season.
There are already a lot of characters and quirks in the story but the introduction of other schools, as well as the third years, makes the world of Boku no hero bigger and more cohesive
.
This season was a heavy toll on
all of
our favorite character, they've all grown mentally and
physically
through circumstances that aren't in their control
. To see each of them start to grow and build their own ideas of what being a hero means to them.
Sound (OST & Voice Acting):
The soundtrack, since the beginning, has been a powerful and emotional soundtrack. Season 3 is no different and continues to lay even more emotional and powerful tracks.
Boku no Hero keeps getting better.
With Season 4 already in the making, there's no better time to see the movie that has
just
released for North America theaters
! You can read my review on it
here
!
Season 3 encompasses the Forest Training Camp arc to the Provisional Hero License Exam arc and begins the Internship arc
.
Boku no Hero Academia continues to dominate the anime world with an impactful soundtrack and
beautifully
illustrated art
.
Best Girl: Ochaco Uraraka
Out of
all of
the girls in the show, Uraraka has shown the most change.
This may have started because of her desire to be more like Deku but throughout the events of season 3, she begins to find her own path as a hero so that she can stand alongside him
. That attitude change alone made her a much more three dimensional and I'm loving every second of it.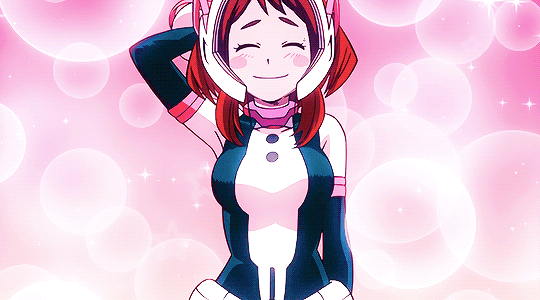 Honorable Mention: Hatsume Mei
BOOBS. Need I say more?