Gunjou no Magmel (First Impression)
---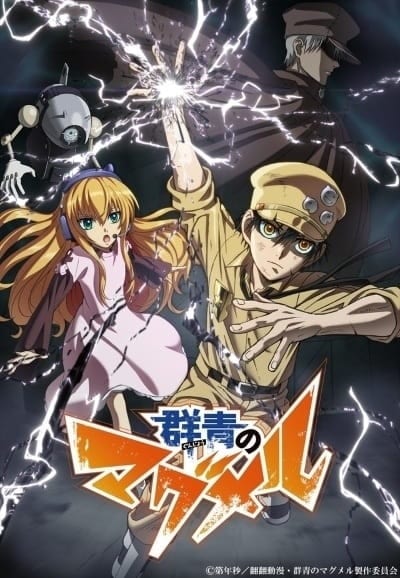 Genres:

 Action, Adventure, Super Power, Fantasy, Shounen

Synopsis: "A new continent named Magmel suddenly appears in the ocean, and a new age of exploration begins. Explorers venture to the island to find previously unknown lifeforms and resources, but experience one disaster after another." – Gunjou no Magmel (manga)
First Impression:
Gunjou no Magmel is….interesting. The opening is the first eye-catching element with a wide variety of colors and flashy animation sequences. The overall animation of the show leaves a lot to be desired as there was a lot of choppy movement even for simple scenes.
While the animation may not be the best, I'm really like the artwork of the show. The different types of creatures that live in Magmel but also the character themselves show a lot of promise. I'm interested to see how crazy these monsters and terrain will get. I'm still trying to understand Inyou's position as an angler, I'm sure all of my questions will be answered as the story progresses but there seems to be something more that going on.
The fighting animation is way better than simple animation, which is weird to me. The fighting animation hints at how powerful Inyou is and it makes me wonder what exactly the black lightning that appears in Inyou's hand is.
Recommendation:
NO
I don't know enough about the source material and I'm not jumping with excitement from the first episode, so at the moment I wouldn't recommend this show. However; that could change as the show develops!