Sword Art Online: Ordinal Scale [Review]
---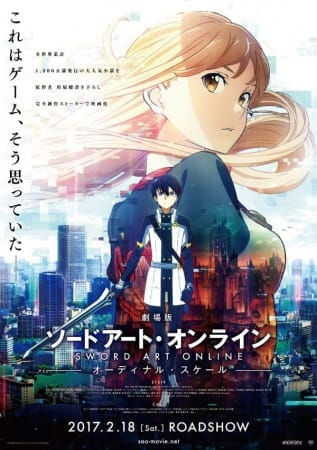 "In 2026, four years after the infamous Sword Art Online incident, a revolutionary new form of technology has emerged: the Augma, a device that utilizes an Augmented Reality system. Unlike the Virtual Reality of the NerveGear and the Amusphere, it is perfectly safe and allows players to use it while they are conscious, creating an instant hit on the market. The most popular application for the Augma is the game Ordinal Scale, which immerses players in a fantasy role-playing game with player rankings and rewards.Following the new craze, Kirito's friends dive into the game, and despite his reservations about the system, Kirito eventually joins them. While at first it appears to be just fun and games, they soon find out that the game is not all that it seems…" -MAL Rewrite
Sword Art Online: Ordinal Scale brings back
all of
our beloved characters into one film.
While the idea of Augmented Reality (AR) is interesting there are a lot of flaws and loopholes that lack make it unbelievable
.
Limitations of the AR
are shown
throughout the show, such as Kirito tripping over and falling down during a boss fight, which is great and creates a difference between AR and VR
. But then there would be moments that don't work, such as the recoils of a Boss Monster's hit. Because this is AR, the boss is
essentially
a hologram which could never touch an actual human.
Maybe
I'm being nitpicky, but details like that should
be flushed
to help with the immersion of the story. The
overall
story itself is simple and predictable.
The antagonists of the show were the biggest let down of the movie, the motives seemed so superficial and lacking that its hard to grasp the idea that they are evil but rather naive and stupid
.
SAO has
been known
to have great art and animation as most of us have seen in the previous seasons.
Ordinal Scale takes it up a notch showcasing
a number of
fluid and articulation battle animations
.
Character designs more or less stay the same, I love seeing more in the characters in more casual outfits as well as the new Ordinal Scale outfits that they have
.
Another thing that the Ordinal Scale lacks is character development for the larger cast.
Kirito and Asuna, as the main characters, get a
substantial
amount of development which is great because this movie leads up to Sword Art Online: Alicization, but neglects our other favorite and that's a letdown
.
Sound (OST & Voice Acting):
The
overall
soundtrack has a darker tone but it fits well with the setting.
There are much more electronic based sounds and songs that also fit well as they're in reality with access to this advanced technology
.
There are references to iconic tracks from the previous seasons which create a sense of nostalgia for longtime fans
. The couple of songs performed by Yuna are catchy and hype up the boss fights.
I've been a huge Sword Art Online fan since the moment it
was released
, even with a large number of flaws that came with it
. The story has a character to it that wasn't shown in anything else at the time.
This movie felt like a culmination of all those experiences that we had during season 1 and 2 and
ultimately
leads up to the latest season Alicization
. I thought it was good but could've had some tweaks to improve some things.
As a lead up to Alicization, Sword Art Online: Ordinal Scale aimed to culminate the previous season to create an ending that could bring forth a new chapter for the series
.
A lack of character development and
a number of
loopholes within the new Augmented Reality system dragged the movie down, despite having fantastic art and a thoughtful soundtrack
.
---
Best Girl: Yuuki Asuna
Is anyone surprised at this point? Asuna only ever lost this spot in season 2 when Sinon was the queen in Gun Gale Online.
Asuna returns and reclaims her spot as the best girl because of her great character development and her determination to protect her friends
.