Hinomaruzumou [Review]
---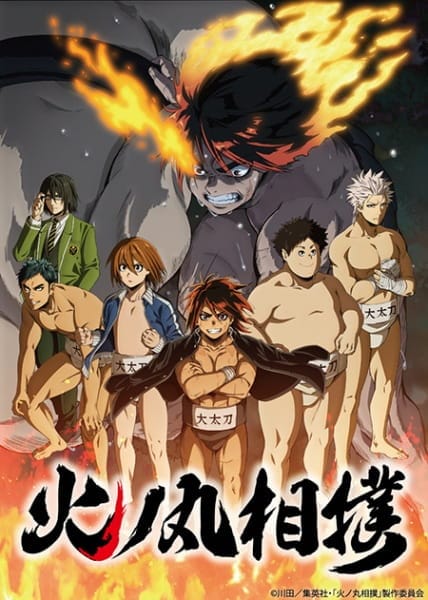 "A "small" new student, Ushio Hinomaru, appears before the weak little sumo club of Oodachi High School. The words "big" and "heavy" are the rules to this sport, which does not fit this newbie one bit, but Ushio surprises everyone. Ushio and the small sumo club climbs its way to the top with a goal to reach the highest rank, Hinoshita Kaisan." Hinomaruzumou (manga)
---
Underdog stories are quite popular and for good reason. We see ourselves in them and tend to want to cheer and root for them. Hinomaruzumou takes sumo head-on with one of the best underdog stories I've seen in a while. Sumo, itself, was interesting to see and learn about. The amount of detail and the importance that it holds in Japanese tradition was a moving aspect of the show. While it's great to see Odachi go through tournaments and win matches, it lacks a larger development. We don't see much outside of sumo, such as them hanging outside of the ring or the club.
Hinomaruzumou took on the challenge of creating art that would represent the intensity that sumo brings to the table
.
The representation of sumo and the articulation in the different moves were profound, creating a larger meaning rather than simply grabbing and tossing
.
There are some cinematic issues that hinder fights from creating the impact that they should've otherwise
.
There is a good amount of character development for each of the teams that Odachi face throughout the show
. Albeit uneven, there is a good amount of development for characters outside of Odachi.
Reina and Hori should've gotten more development as they are the managers of the team, making them an essential part of the Odachi team
.
Sound (OST & Voice Acting):
The soundtrack is as big as the characters in the show.
Featuring a variety of percussions and horns that create a large and heavy impact for these powerful songs
.
Traditional Japanese music had a big influence on the soundtrack which again ties back to sumo being a traditional Japanese sport
. There is a modern flair by adding electric guitar riffs here and there to create an edginess to a song.
I enjoyed Hinomaruzumou despite some of the hiccups that occur throughout the show.
It has me interested enough to start reading the manga and from what I can see it looks like the story continues in the manga
!
Taking sports anime to the intimate realm, Hinomaruzumou is all about passion and camaraderie
.
While it's too zoomed in on the development of the Odachi team, the story is well developed and is an interesting dynamic that you won't experience anywhere else
!
---
Ah I wished that Hori got more character development aside from being a manager of the Odachi team. She had hints of interesting aspects to her that could've
been elaborated
! I just wanted more Hori-chan!!!