Dr. Stone (First Impression)
---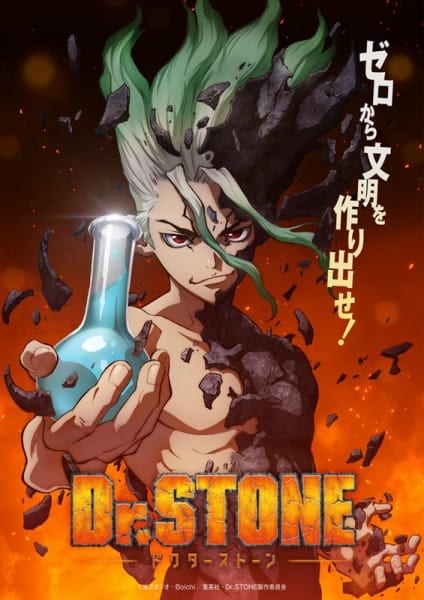 Source Material: Manga
Studio: TMS Entertainment

Genres:

 Sci-Fi, Adventure, Shounen
Synopsis: "One fateful day, all of humanity was petrified by a blinding flash of light. After several millennia, high schooler Taiju awakens and finds himself lost in a world of statues. However, he's not alone! His science-loving friend Senku's been up and running for a few months and he's got a grand plan in mind—to kickstart civilization with the power of science!" – Viz Media
First Impression:
Surrounded by a lot of attention and hype, Dr. Stone is finally here and I can see what the excitement is all about. The story is interesting and the art is really crisp.
I really enjoy the character designs and how they translated from the manga to the anime. The first episode seemed to be moving pretty fast, but I'm assuming that just to get some character and setting introductions out of the way. I'm really excited to see what the rest of Dr. Stone has in store!
The chemistry (pun fully intended) between Senku and Taijuu is great, both each compliment each other as the brain and brawn! Though Taijuu's yelling almost rivals that of Asta's (Black Clover). Regardless, even with just two characters so far the show is very engaging and I'm beyond excited to see more!
Recommendation:
YES
With crisp art and an interesting story, Dr. Stone has me hooked! It's an easy watch and is good for both beginners and veterans of anime!