Mob Psycho 100 II [Review]
---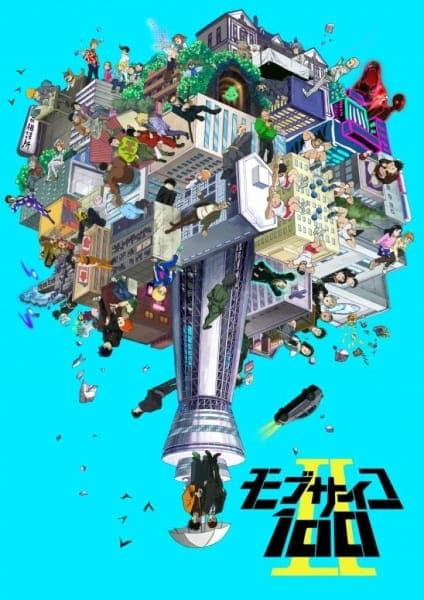 Second Season of ONE's Mob Psycho 100.
The story, as you would expect, continues from the first season.
There is a lot of story development that happens in this season as well as a lot of character development that we'll talk about in the character
portion
of the review
.
I love the arcs that made it into the anime as each has its own profound message and the will influence the way Kageyama's character develops later on
.
BONES DONE DID IT AGAIN WITH ANOTHER MASTERPIECE. Ahem…sorry I had to get that off of my chest.
While the first season of Mob Psycho was already extraordinary, this second season was EXTRAextraordinary
! the articulation and style of animation took the show to a whole new level.
And not to mention the comparison of the source manga by ONE and how it translated into the anime, it's amazing, to say the least
. Bones went above and beyond what they needed to do to bring Mob Psycho 100 to life and they did it, they did it for us.
Immense character development for both Reigen and Kageyama, not only
individually
but their relationship as a teacher and disciple duo
.
Reigen grows to be a mature adult and more dependable teach while Kageyama finds himself as a person and learning what is right and wrong
.
Aside from our two favorites, there's a decent amount of development for the other members of the cast as well, including Ritsu
! The cast almost doubles in this season so be ready for some really interesting characters!
Sound (OST & Voice Acting):
The soundtrack gives off this cool, edgy, yet all at the same time dopey sound.
Then throw a hint of mysterious and unsettling sounds and you got a pretty well-rounded soundtrack
. It embodies the character fo the show very well in both sound and composition.
Mob Psycho 100 II was the favorite in spring and it delivered!
I loved everything about Mob Psycho 100 II: from the wholesome characters to the profound lessons from each encounter and, of course, the art and animation
.
Mob Psycho 100 II is a beloved franchise and BONES continues to deliver the content that we want again and again
.
The quality of the show skyrocketed and leaves fans satisfied with an incredible story, amazing artwork, and with a vast amount of character development
.
---
Best Girl: Emi
While Tsubomi is Mob's love interest this entire show, Emi comes in with a bang and
really
threw the audience for a loop!
The scene where Kageyama and Emi pick up the pieces of Emi's writing was
extremely
moving and
really
sets the tone for the first half of the show
!