Enen no Shouboutai (First Impression)
---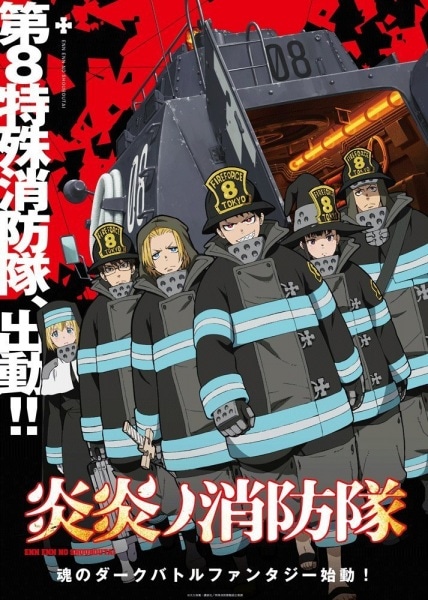 Source Material: Manga
Studio: David Production

Genres:

 Action, Sci-Fi, Shounen
Synopsis: "In the year 198 of the Age of the Sun, Tokyo is a crowded cosmopolis. But the world's most populous city is threatened by devils that cause people to burst into flame at random. The only ones who can stop it are the Pyrofighters, a team of specialized firefighters. The young Shinra, blessed with the ability to ignite his feet and travel at the speed of a rocket, wants nothing more than to be a hero, and knows that this is the place for him. But he's not the best at following orders." – Enen no Shouboutai (manga)
First Impression:
It's finally here! From Atsushi Ōkubo (the mangaka of the beloved Soul Eater), comes a brand new story about Pyrofighters! This show is easily going to be my favorite of the season (sorry Dr. Stone!) because of incredible art and animation alone! The story is bound to be deep and heavy as Atsushi Okube-sensei's writing and illustrations are known to be profound and impactful.
While there's no big antagonist YET, there are enemies that young Shinra must face. The infernals are terrifying and I love the way they're drawn in the anime.
But while the infernals are menacing, let's not forget about the great character designs that we see throughout the show. I mean look at Maki, potentially the best girl of the show!
Need I say more?
Ahem, but back to the show! Both the story and the art are top-class and the first episode showcases just how explosive David Productions can be with their animation and I'm beyond excited to see how the rest of the show come together!
Recommendation:
YES
Yes, yes, yes! I cannot stress enough that you should not be sleeping on this show! This is my pick for the show of the season and you don't want to be left behind in the dust!