Watashi ni Tenshi ga Maiorita! [Review]
---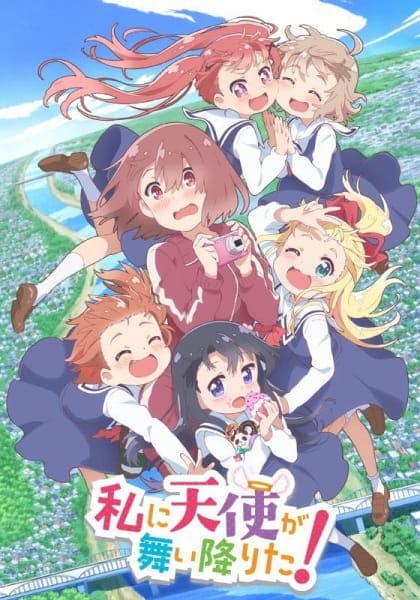 Studios:

 Doga Kobo

Source:

 4-koma manga

Genres:

 Slice of Life, Comedy, Shoujo Ai
Synopsis: "One day, fifth-grader Hinata Hoshino brings her friend Hana Shirosaki to her house, and Hinata's sister Miyako, a college student, falls in love with Hana at first sight. Miyako manages to get along with Hana somehow, but her clumsy behavior and shyness making Hana wary. Even so, Hana gradually opens up to Miyako, who wants to become closer to her." – Japanese Wikipedia
---
The story of Watashi ni Tenshi ga Maiorita! (or Wataten!) is simple and actually overlaps from episode to episode.
Never once did the repeated gags get boring, it was always fun to see Miyako get labeled as a criminal despite having good (or not so good) intentions
.
While there isn't a bigger plot happening in the background, the day-to-day life that Miyako and friends go through is entertaining in itself
.
The character designs were one of the key components of making this a great show. The animation takes the art to another level with its articulation and fluidity. Moe or CGDCT shows like this usually have good animation, but Wataten! hits it out of the park! While the backgrounds were simple, it fits with the flow and mood of the story.
What I love about Wataten! is the subtle character development.
The slight changes in how the characters interact with each other are extraordinary given the context of the setting
.
While it doesn't state it
explicitly
, you can infer and what's happening between the characters and that all thanks to great writing
.
Sound (OST & Voice Acting):
One of the most entertaining and fun soundtracks out there.
While it features a lot of your typical instruments from an orchestra, there's a fluffy and upbeat nature to the songs that don't fit the restraining nature of an actual orchestra
. Both opening and endings are performed by the Wateten! 5, which are the five main fifth graders in the show and it creates a great atmosphere for the show
overall
.
And let's not forget Ueda Rena-san's (Hoshino Miyako) incredible performance, it felt like she was having a lot of fun with the role and that in turn made Miyako that much more entertaining to watch
!
I
literally
had a blast watching this show and I hope that there is enough support on the anime and the source material to make another season cause I need more
!!
Wataten!
fell from the sky, like a gift from the heavens with its entertaining characters and excellent comedy
. One of the best CGCDT type of anime out there!
---
Best Girl: Hoshino Miyako
My personal favorite character of the show, not only she is relatable (it's almost scary) but she's
just
a pure person (…
mostly
) who gets misunderstood
!
---
If you enjoyed this post, please consider buying me a Ko-fi!
Or if you want to be on my Patrons page, you can become one on my Patreon!