Hachigatsu no Cinderella Nine [Review]
---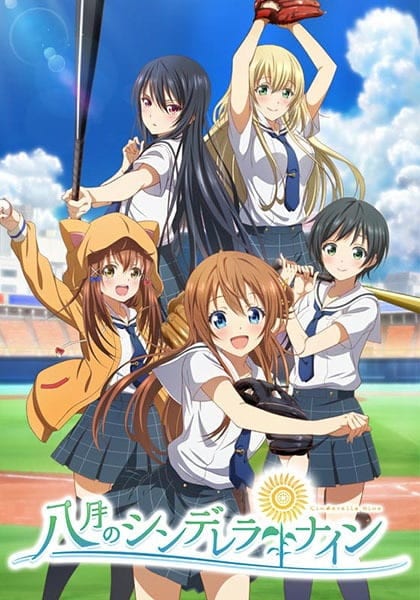 Studios:

 TMS Entertainment

Source:

 Game

Genres:

 Sports, School
Synopsis: "In the game, the player takes the role of an unnamed former little senior league baseball ace who lost his or her baseball career after suffering an unspecified injury. The character moves to his or her grandmother's hometown and enrolls in the local high school, resolved never to enter the world of baseball again. When the character meets Tsubasa Arihara, he or she is persuaded to be the manager of the school's baseball team, and to take the team to the high school nationals at Koshien." – ANN
Story:
Hachigatsu no Cinderella Nine (Hachinine) was interesting to watch with its wide variety of characters and integration of baseball. The anime is actually based on a free-to-play mobile game of the same name. And similar to most mobile game anime adaptations, the anime is meant for the mobile fans rather than newer fans. While the mobile game centers around the relationship of the coach, which is you the player, and the girls, the anime takes a different perspective and removes the coach altogether. The focus now is the relationship of the girls and how they come together to form the team, an origin story if you will. 
Artwork & Animation:
The artwork for Hachinine is rough around the edges, while the character design is great and stay true to the style that is depicted in the game, the movement animation and even some idle animation get sloppy. The baseball games were the most disappointing thing in the show, ironically. Instead of immaculate animations and details in movement, the show takes the easy approach and showcases montages of the match instead, which could be a homage to the mobile game, as it's quick and simple, but doesn't work so well in an anime format.
Character(s):
The characters themselves are quite interesting and each of them has a sense of originality, the combination of the cast seem strange. The interactions and bonds between the characters feel surface level and without any real connection. While most of the character got a decent amount of character development, some of the characters still feel vague and not fully developed, Asada-Senpai for example. 
Sound (OST & Voice Acting):
The soundtrack itself doesn't necessarily stand out and is actually dormant for most of the show. Scenes without any background music can be impactful when used at the right moment, but for Hachinine it happened too often creating these strange moments throughout the show.
Enjoyment:
I enjoyed it, but if you were to ask me to watch it again…I'd refuse you outright. It was an interesting watch but it's not worth the watch in the end.
Overall: Score
5
Based off of the mobile game of the same name, Hachigatsu no Cinderella Nine strikes out as a flop with its rough animation and poor character development.
---
Best Girl: Nozaki Yuuki
Yuuki is the most developed of all the girls, besides Arihara, and I really enjoyed her character throughout the show. I may be slightly biased because I'm left-handed like her but you didn't hear that. Her reluctance and, eventually, determination to be a part of the team made me like her even more than I did at the beginning.
---
If you enjoyed this post, please consider buying me a Ko-fi!
Or if you want to be on my Patrons page, you can become one on my Patreon!