Kenja no Mago [Review]
---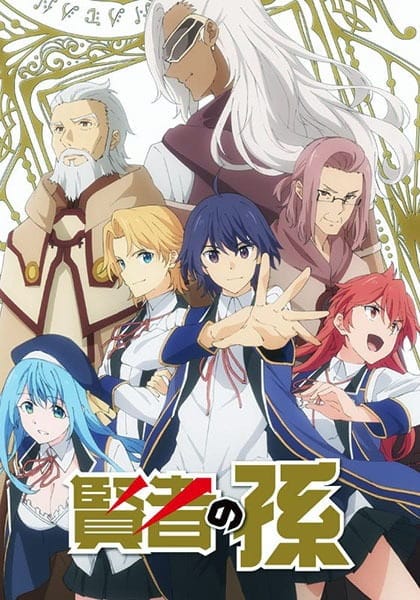 Studios: Silver Link.
Source: Light novel
Genres: Action, Comedy, Magic, Fantasy
Synopsis: "A young man who had surely died in an accident, was reborn in another world as a baby! After that, he was picked up by the patriot hero "Sage" Merlin Wolford and was given the name Shin. He was raised as a grandson by Merlin and soaked up Merlin's teachings, earning him some shocking powers; however, when he became 15, his grandfather Merlin said, "I forgot to teach him common sense!" An "abnormal" boy's unconventional other world fantasy life starts here!" -Myanimelist
Kenja no Mago is like any other Isekai show, modern-day Japanese male gets reincarnated in a fantasy world and gifted with a large number of magical abilities
.
While the overpowered character type is satisfying to watch at first, the same routine gets redundant and we lose that magic that it had in the first place
.
With that comes the problem of setting which lacks any sort of conflict or setback for Shin and his ultimate magicians
.
We get a hint of almost defeat at the end and I want more of that for character development later on if the anime continues
.
The art and animation were 50/50. half of the time it'd look fluid and clean and the other half
was filled
with irregularities in the art.
I'm not a big fan of the character designs in the anime but I am a fan of the animation that
was used
for the fight scenes and anything related to magic
. It looks fantastic and exciting!
Throughout the show we get to see a good number of character, a few were lucky to have a good amount of character development
.
I wish the entirety of the Ultimate Magicians got to have some more development aside from the typical group activities
.
While Shin and
Sicily
get most of the character development, it isn't enough to establish their characters
. The character development seems all over the place, get little bits and pieces but never a full set.
Sound (OST & Voice Acting):
The soundtrack
overall
is pretty solid, there isn't anything particularly good or bad about it
. It features your typical orchestral and piano pieces which can fit a variety of scenes.
The orchestral sound
is emphasized
as invoke the fantasy feeling that the show is conveying
.
As a fan of Isekai anime as well as overpowered characters, Kenja no Mago looked very promising. While overdone, the anime in the Isekai genre usually finds a way to separate itself from the rest of the pack. but Kenja no Mago didn't cut it for me.
Kenja no Mago started off as a promising show with an interesting cast and plot, ended up being a mediocre due to its lack of character development and inconsistent artwork
.
---
Best Girl:

Sicily

von Claude
While I do like
Sicily
, the main reason why is she's the only female character that enough screen time to
be remembered
. The other girls also get screen time but it's usually while in a group where a lot of characters are present.
But regardless,
Sicily
is one of those characters that may seem defenseless but is actually very strong-hearted, the last few episodes featuring
Sicily
healing the wounded made me like her much more than I did at the beginning
.
---
If you enjoyed this post, please consider buying me a Ko-fi!
Or if you want to be on my Patrons page, you can become one on my Patreon!