Bungou Stray Dogs 3 [Review]
---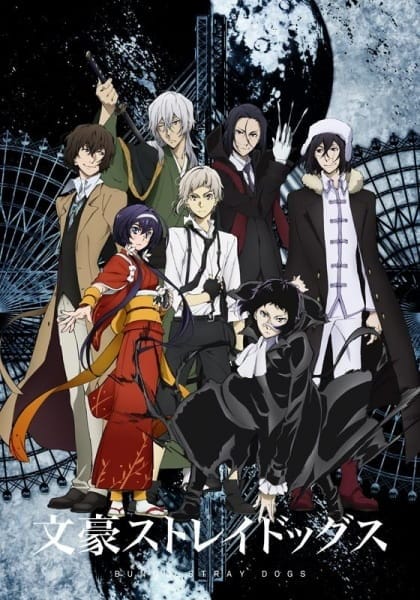 Studios:

 Bones

Source:

 Manga

Genres:

 Action, Mystery, Seinen, Super Power, Supernatural
Synopsis: The third season of Bungou Stray Dogs
Bungou Stray Dogs continues right after Bungou Stray Dogs: Dead Apple, with Fyodor being the main antagonist this time around
.
The first two episodes serve as flashbacks featuring the relationship between Dazai and Chuuya, establishing both of their motives and alliances
.
The story actually focuses more on character development than it does with the events that happen around the characters, featuring more flashbacks and inner monologue than fight scenes, but still successful in its own right as the BSD characters are well written
.
As usual, the art and animation are top-notch and continue to be throughout the show.
That
being said
, there are some scenes where the characters aren't drawn, several scenes show characters without any facial features for example
.
While this is a tactic to increase the quality of more important scenes, become a distraction and
overall
does more bad than good for the show
.
Also a big shout out to the opening animation and the wonderful aesthetic that's created by the use of both CGI and 2D animation
.
As I mentioned above, the characters are well written in BSD and it's no surprise that the character gets better and better with each season
.
Aside from the usual Atsushi and Dazai, Fukuzawa (the President of the Special Detective Agency) and Mori (the Mafia Boss) also get a good amount of development
.
However
; with so much focus on these four the others stay static and hardly development throughout the show
.
Sound (OST & Voice Acting):
The soundtrack sticks to the vibe that was present in the previous season.
The mixture of orchestral pieces for slow and intimate scenes and electronic rock tracks that create high tension within scenes
.
As a big fan of the first two seasons and the movie, this was great to watch and see all my favorite characters! I can't watch for the next season and see how the story continues to develop!
Riding off the hype train that
was fueled by
the success of the movie, Bungou Stray Dogs continues to amaze its audience with incredible art, animation, characters, and bring them all together in an impactful story
.
---
Kyouka never fails to make an impact and also make me cry because of her character and backstory.
OK. BUT LIKE IF YOU WATCH THE SHOW, YOU'LL NEVER EXPECT THIS. GIN DESERVES EVERYTHING.
---
If you enjoyed this post, please consider buying me a
Or if you want to be on my Patrons page, you can become one on my