Ore wo Suki nano wa Omae dake ka yo (First Impression)
---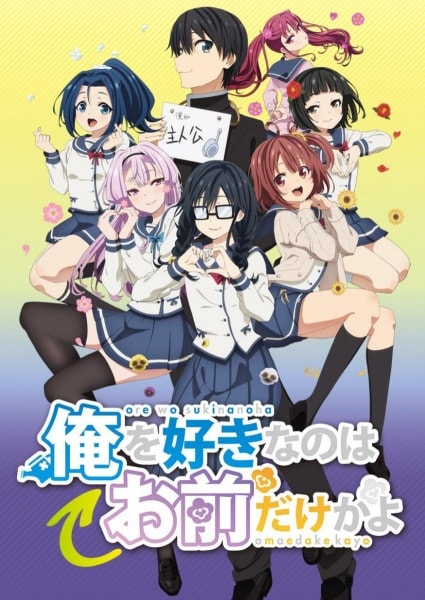 Studios: Barnum Studio, Connect

Source:

 Light novel

Genres:

 Comedy, Romance, School
Synopsis: "Amatsuyu Kirasagi is invited out alone by the cool beauty upperclassman Cosmos and his childhood friend Himawari. Expecting to hear their confessions, he triumphantly goes to meet each of them in turn. But Cosmos and Himawari both instead confess to Amatsuyu that they like his friend. Amatsuyu fights this lonely battle, but there is another girl who is looking at him. She is a gloomy girl with glasses and braids. Amatsuyu finds that he hates her, because she's always turning her sharp tongue only on him and finding enjoyment in his troubles. But it turns out that she's the only one who actually does like him." – Ore wo Suki nano wa Omae dake ka yo (manga)
First Impression:
Woo! I'm super excited to be watching this new show! The trailer shows a lot of potentials, a great cast of character, an unpredictable story, and of course wonderful character design and art. Just the 5-minute preview made me giggle a lot so let's see how good it actually is! (I'm also going to try a new way of doing first impressions, so let me know what you think in the comments below!).
IT'S BEEN SIX SECONDS. SIX. SECONDS!
BIG CUTIE ALERT.
BIG CUTIE ALERT PART 2.
The introduction of the characters is good, I'm still confused about how Joro comes up with these nicknames but maybe I haven't learned enough Japanese…
Ah the bench scene, what a cliché!
Is this……Deja vu?
…oh my god.
MY GUY ASKING THE REAL QUESTIONS HERE.
Annnnnnd I think I hit my limit for adding screencaps. Any more and I would've ruined all of the fun!
Recommendation:
YES
This is a must if you love ecchi comedies with a pinch of romance! Even if you don't this seems like an easy and fun watch that could get you into these types of shows! A great comedy that does require some prior knowledge of anime clichés to enjoy but still watchable, even without it.
---
If you enjoyed this post, please consider buying me a Ko-fi!
Or if you want to be on my Patrons page, you can become one on my Patreon!