No Guns Life (First Impression)
---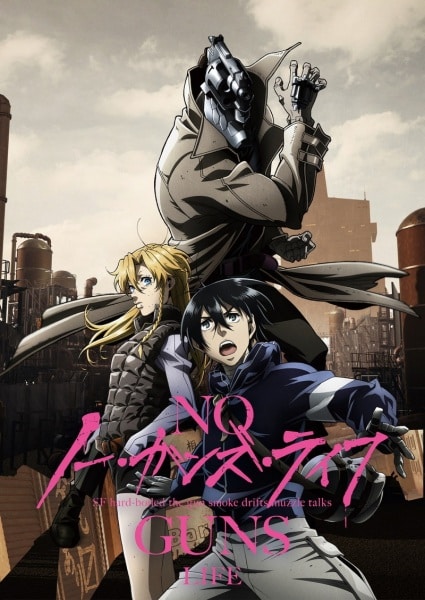 Studios:

Madhouse

Source:

Manga

Genres:

Action, Sci-Fi, Seinen
Synopsis: "Ex-soldier Juuzou Inui has one question—who turned him into a cyborg and erased his memories? After the war, cyborg soldiers known as the Extended were discharged. Juzo Inui is one of them, a man whose body was transformed, his head replaced with a giant gun! With no memory of his previous life—or who replaced his head and why—Inui now scratches out a living in the dark streets of the city as a Resolver, taking on cases involving the Extended. When a fellow Extended showed up in Inui's office—on the run from the Security Bureau with a kidnapped child in tow and asking for help—Inui should have just thrown the guy out. But Inui's loyalty to a brother Extended makes him take the job. Keeping the child safe won't be easy, since everyone seems to want to grab him, from street punks to the megacorporation Berühren, who have sent out a special agent that knows exactly how to deal with the Extended…" -VIZ Media
First Impression:
Not really sure what to expect from this one but I'm pumped to see what it has to offer!
I know I said it's going to be a hard-boiled show… but dang that was smooth and so hard-boiled…
I really love this nitty-gritty sci-fi aesthetic that the show has established within this first episode. Great use of CGI as well to quickly create backgrounds. It wouldn't have been that noticeable if they didn't do the slow pan, but the dynamic cinematics are great regardless.
The art and character designs are wonderful, I really enjoy how the rendering/shading.
Recommendation:
YES
No Guns Life had an unexpectedly good first episode. I didn't know what I was going to get from it, but what I did get…I like…a lot! Taking the well-known hard-boiled, detective/handyman trope and inserting it into this gritty sci-fi setting creates a rather complex and interesting plot that keeps my attention. I think this one has a lot of potentials to be a fan favorite this season. I would give it a try if you like darker stories with a splash of comedy.
---
If you enjoyed this post, please consider buying me a
Or if you want to be on my Patrons page, you can become one on my