Tenki no Ko [Review]
---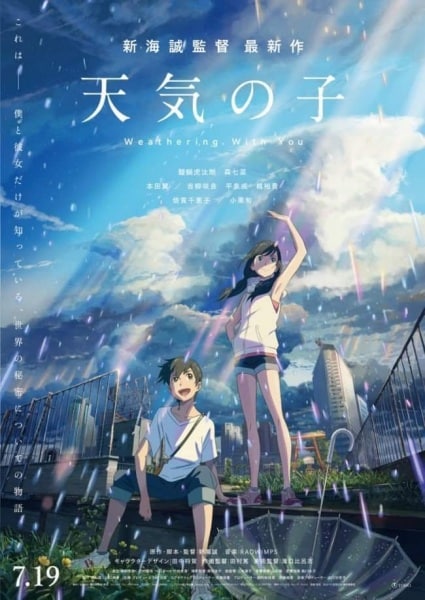 Studios:

 CoMix Wave Films

Source:

 Original

Genres:

 Drama, Fantasy, Romance, Slice of Life
Synopsis: "Tokyo is currently experiencing rain showers that seem to disrupt the usual pace of everyone living there to no end. Amidst this seemingly eternal downpour arrives the runaway high school student Hodaka Morishima, who struggles to financially support himself—ending up with a job at a small-time publisher. At the same time, the orphaned Hina Amano also strives to find work to sustain herself and her younger brother. Both fates intertwine when Hodaka attempts to rescue Hina from shady men, deciding to run away together. Subsequently, Hodaka discovers that Hina has a strange yet astounding power: the ability to call out the sun whenever she prays for it. With Tokyo's unusual weather in mind, Hodaka sees the potential of this ability. He suggests that Hina should become a "sunshine girl"—someone who will clear the sky for people when they need it the most. Things begin looking up for them at first. However, it is common knowledge that power always comes with a hefty price…" -MAL Rewrite
Story:
Makoto Shinkai learn from the mistakes that he made in Kimi no Na Wa (they weren't bad mistakeS, mind you!) and with those lessons in hand, striving for something better and that resulted in Tenki no Ko. The story combines both global warming as well as Japan's culture of shrines and gods to create a mind boggling story revolving around our protagonists: Hina and Hodaka. A well balanced mixture of story elements and buffer scenes allow for an excellent pace throughout the movie. While Hina and Hodaka get a bulk of the screen time, other characters also get their time to shine throughout the story.
Artwork & Animation:
It astounds me just how much detail is put into this movie. From the way a character eats, to the way they walk, to the rain droplets, to the plant that in the corner, everything is so detailed and rich and the overall balance of the composition and movie is incredible. In past Makoto Shinkai movies, weather (especially rain) is use to convey emotions, usually gentle and serene. Tenki no Ko takes a different approach and showcases weather as an aggressive force to be reckon with. Thus expanding the emotions that are associated with the weather such as happiness, trust, and acceptance. And we can't forget about the beautiful depictions of Tokyo within the movie. The architecture and the landscape are breath taking to say the least.
Character(s):
I think this movie thrives off of the theme of acceptance: accepting your flaws, accepting others, and accepting the choices you make. Each character goes through trials of acceptance and being able to accept things for what they are or not accepting them creates a plethora of growth within a character. Making a mistake is what makes us human and we see ourselves in these characters as they stumble through the story. Personally, I think that's what makes this film so engrossing, the fact that I can put myself in Hodaka's shoes and see the world through his eyes creates a dynamic plot that feels natural and organic.
Easter Egg: Characters from another very popular Makoto Shinkai also make an appearance…so keep an eye out!
Sound (OST & Voice Acting):
RADWIMPS return as the masterminds of the beautiful soundtrack that envelops the world of Tenki no Ko. The wonderful lyrical songs as well as the simple piano pieces blend together seamlessly to set the tone for the movie. I also would like to point out the distinct voice acting direction that are always apparent in Makoto Shinkai films. The natural and full dialogue create these vibrant and passionate scenes that really let the characters shine.
Enjoyment:
I absolutely loved every second of the movie and can't wait to be able to go watch it again! I rarely ever buy blu-rays but this is one of those movie that you need to see again and again! Also being able to watch the movie in theaters was a dream come true as that experience is one in a life time, especially if you live in a country outside of Japan! In addition to it being in theaters, there was also an interview with Makoto Shinkai about the thought process for the movie that was very informative!
Overall: Score 10
Looking back at the successful (and not successful) elements from his past work, Makoto Shinkai rises to new heights with Tenki no Ko. While similar to Kimi no Na Wa, Tenki no Ko takes a different approach to story telling and surpasses all expectations
---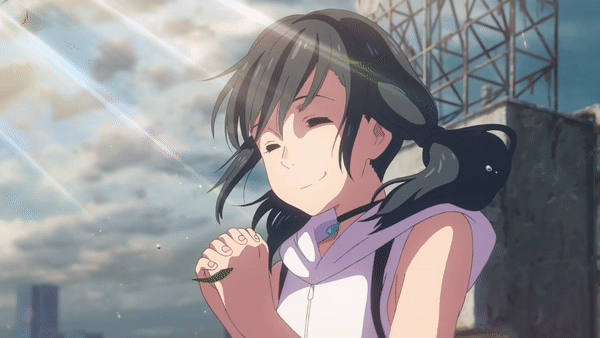 Best Girl: Hina Amano
As the poster girl of the movie, Hina Amano easily takes the best girl position. Her relentless dedication to keep both her and her brother financially stable as well as her desire to bring smile to other people's faces really makes it hard not to give it to her!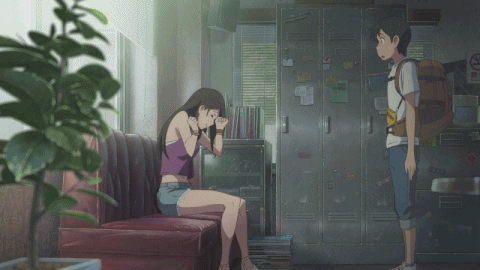 Honorable Mention: Natsumi
While Natsumi doesn't have as much screen time as Hina, her personality and presence within the movie create fun comedic effects as well as a big support for both Hina and Hodaka making her an essential part of the puzzle that is Tenki no Ko
---
If you enjoyed this post, please consider buying me a
Or if you want to be on my Patrons page, you can become one on my