Runway de Waratte (First Impression)
---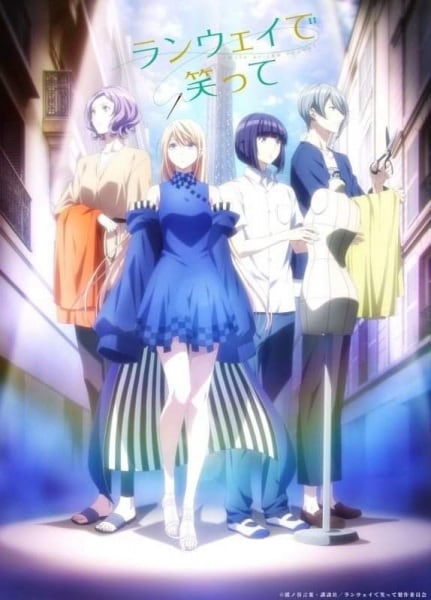 Studios:

 Ezόla

Source:

 Manga

Genres:

 Slice of Life, Drama, School, Shounen
Synopsis: "Chiyuki Fujito has a dream: to become a Paris Collection model. The problem is, she's too short to be a model, and everyone around her tells her so. But no matter what they say, she won't give up. Her classmate, a poor student named Ikuto Tsumura, also has a dream: to become a fashion designer. The two decide to combine their dreams and overcome the naysayers." – Runway de Waratte (manga)
First Impression:
I'm been looking forward to this one, I really love the idea of a story that based off of the fashion world. It'll be interesting to see the world through the eyes of an aspiring model and designer
Annnnnd we're off to a great start! The dynamic between these two is very awkward but it's slowly becoming something….I don't know what…but I'm excited!
Beyond the seemingly happy go lucky surface, Runway de Waratte has a darker side. A side of fear of failure and commitment. I love this dose of reality that pierces through the rose-colored glasses of the story.
YO THIS WHOLE FAMILY A WHOLE CUTIE ALERT.
While the characters and the story are already interesting enough, the art and animation take the whole show up a notch with wonderful colors, cinematics, and atmosphere.
Recommendation:
YES
As you can imagine, Runway de Waratte is a pure drama about a boy and a girl chasing after their respective dreams with a lot of hardships along the way. The story itself is pretty straight forward and it lets you know the ending from the beginning. But the biggest part of the journey of getting to the top. I'm curious to see how the rest of the show pans out and how all the characters interact with each other! I think this is a pretty hard show to watch just because it feels like it's catered towards a very specific audience. If you love dramas or are interested in the fashion industry then this show is for you!
---
If you enjoyed this post, please consider buying me a
Or if you want to be on my Patrons page, you can become one on my