Kimi to, Nami ni Noretara [Review]
---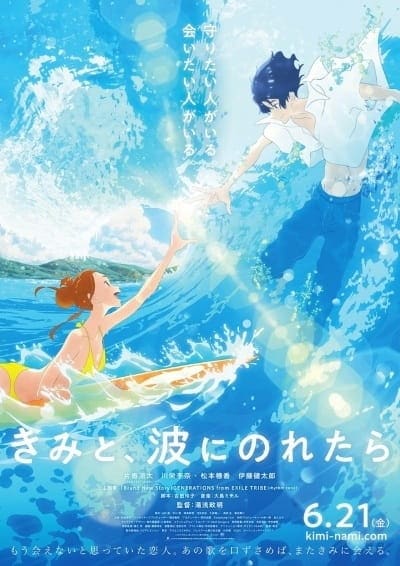 Studios:

 Science SARU

Source:

 Original

Genres:

 Comedy, Drama, Fantasy, Romance
Synopsis: "Entranced by surfing and the sea, Hinako Mukaimizu is a spirited girl who attends college in a coastal city with no consideration for her future career. Her life takes an unexpected turn when a fireworks mishap sets the apartment building she lives in ablaze, where she is saved by a talented firefighter named Minato Hinageshi. Upon meeting, the two quickly become acquainted with one another—Hinako is instantly enamored by Minato's reliable personality and passion for saving others, while Minato is intrigued by surfing and is eager to learn how. As Hinako begins to teach Minato about surfing, the pair eventually fall in love and begin a gentle and devoted relationship. However, while surfing may seem fun and carefree, it can still be a dangerous and unpredictable activity. This is what Hinako learns when a surfing incident completely changes her life, leaving her forced to contemplate her undecided future. In search of her own calling, Hinako begins her journey of self-discovery, keeping Minato by her side as she gradually attempts to find her purpose and ride her own wave." -MAL Rewrite
Story:
Conceptually the story has a strong theme and the elements are tied together very well…that is…if the movie was longer. There are a lot of plot points throughout the movie and not quite enough time to refine those points to make them part of the story. A large portion of the movie felt like a montage, things happening in quick succession. It also misses a lot of key moments by brushing them by without emphasis or a slow down.
Artwork & Animation:
There's a sense of freedom within the art of Kimi to, Nami ni Noretara. The art isn't constricted to one shape or form. Like water, it takes in different kinds of shapes and sizes throughout the movie. It was a blast to watch the different aspects of the art, from the movement of the ocean waves to the making of coffee and food.
Character(s):
The character development was the strong point of the movie. Even when you thought you understood a character, you would find another part of them that made them more interesting. The cast itself is tiny, only about four characters had more than ten lines within the show. The rest of the characters were abstract and didn't contribute very much to the overall story itself.
Sound (OST & Voice Acting):
The soundtrack for the movie has a very young and vibrant sound. Focusing on tropical background music as well as "Jpop" insert songs that bring out the energy that the characters exude. The voice acting cast overall did a fantastic job with the characters, except for Minato's voice. It felt too flat at times, which seems to contradict Minato's upbeat and hardworking character. It headed towards a more apathetic character and that didn't sit too well with me.
Enjoyment:
I had a hard time getting into the story and finding some sort of connection with the characters as the story was chopped up into small segments that didn't make a strong impression on me. That being said, I still love the dialogue between all of the characters, the intricate artwork, and the movie as a whole.
Overall: Score
7
Kimi to, Nami ni Noretara (aka Ride Your Wave) is a tragic love story that focuses on perseverance and hard work. The chopped up story and fast pace are kept afloat by the upbeat and youthful soundtrack as well as the free-flowing artwork and animation. Solid character development and dynamic story elements bring the loose plot points close enough to create a satisfying story that'll make you shed a tear or two.
---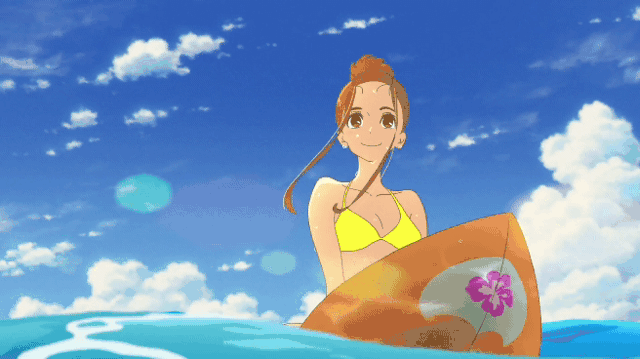 Best Girl: Mukaimizu Hinako
As the poster girl and protagonist of the show, Hinako gets a lot of screen time and thus a lot of character development. Her bubbly personality and love for Minato are endearing and you can't help but want the best for her!
---
If you enjoyed this post, please consider buying me a
Or if you want to be on my Patrons page, you can become one on my