Youjo Senki Movie [Review]
---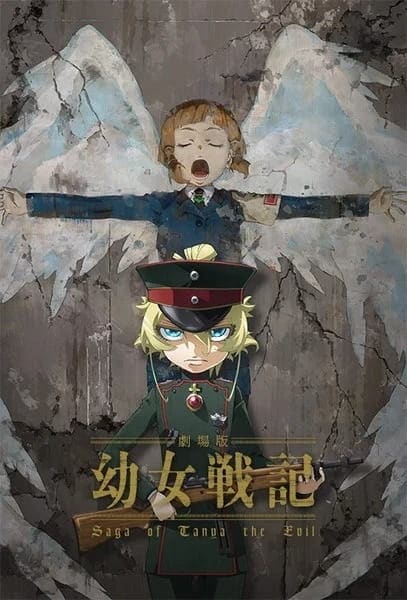 Studios:

 Nut

Source:

 Light novel

Genres:

 Action, Military, Magic
Synopsis: "With its armies sweeping across the continent, the Empire seems unstoppable. After securing victory over the remnants of the Republic's army, the Empire's ultimate victory is finally within reach. However, dark clouds are gathering in the East. The communist-led Russy Federation is mustering troops on its western border, preparing to enter the war. Supported by a detachment of Allied volunteer magicians—among whom is Mary Sioux, the daughter of a soldier killed by Tanya Degurechaff—the Federation is determined to spread the communist creed and bring the Empire to its knees. Meanwhile, Tanya and her battalion return to the imperial capital from the southern front. Upon their arrival, they are tasked with investigating troop movements on the border with the Federation. Any escalation of violence at this point may lead to new conflicts, plunging the world into a devastating global war." -MAL Rewrite

Story:
Youjo Senki Movie revolves around the war between the Empire and the Russy Federation, more specifically the conflict between Tanya and Mary Sioux. Well-paced and continuing along with the same aesthetic as the TV series, Youjo Senki Movie begins to build the stepping stone for the troubles that Tanya and her soldiers will face in the coming future.
Artwork & Animation:
One major aspect of the movie was the art and animation. The fight scenes were always fast and intense  (as all battles are!) and the animation really brought the conflict to life. The force from each blow really hurt and make your skin crawl! There are moments throughout some fight scenes where the art quality takes a dip and creates these strange moments but overall the art and animation are very successful!
Character(s):
While most of the characters didn't receive a large amount of development in the movie, the introduction of the new antagonist, Mary Sioux, is an interesting one. While I'm not a fan of her character, Mary's existence starts to change Tanya's rationale and push her to the edge. This is movie is a great set up for what would be the story of season two (if it ever airs).
Sound (OST):
The soundtrack sticks very strictly to orchestral pieces and if it deviates from that sound then there are orchestral instruments slipped in the song very subtly. The haunting soundtrack uses a lot of dark vocals accompanied by ominous strings which creates what I like to call…EPIC BOSS MUSIC. Now that I think about it…what genre IS Epic Boss Music? If you have any idea let me know in the comments below!
Enjoyment:
I really enjoyed seeing more of Tanya's and her squad! Mary Sioux was not my favorite antagonist…While I like her dynamic with Tanya and her motive to hate Tanya is strong…her actions are sloppy and uncalculated, opposite of Tanya which isn't sit right with me. But maybe that's the goal? Someone that lives on emotion and impulse rather than calculation and rationale? Is that Tanya's downfall?
Overall: Score 8
The story of Tanya the Evil continues with this wonderful film filled with more Tanya, more carnage, more enemies, and yes more instances of Being X! Bring the aesthetics of the TV series onto the big screen, Youjo Senki Movie comes in with a bang and blew me off my feet!
---
Best Girl: Serebryakova, Viktorya Ivanovna
She was best girl during the first season and she's still best girl now! I'm sad we didn't get any more character development from Viktorya but I'm glad to see her still kicking butt nonetheless!
---
If you enjoyed this post, please consider buying me a
Or if you want to be on my Patrons page, you can become one on my