Carole & Tuesday [Review]
---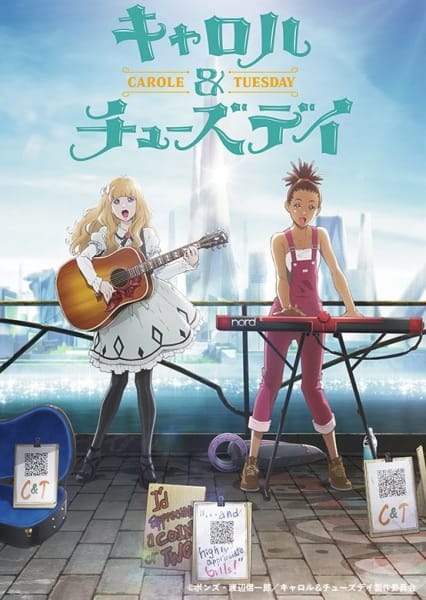 Studios: Bones
Source: Original
Genres: Sci-Fi, Music, Drama, Romance
Synopsis: "Fifty years have passed since mankind began migrating to the new frontier: Mars. It's an age where most culture is produced by AI, and people are content to be passive consumers. There's a girl. Scrapping a living in the metropolis of Alba City, she's working part-time while trying to become a musician. She's always felt like something is missing. Her name is Carole. There's a girl. Born to a wealthy family in the provincial town of Herschel City, she dreams of becoming a musician, but nobody around her understands. She feels like the loneliest person in the world. Her name is Tuesday. A chance meeting brings them together. They want to sing. They want to make music. Together, they feel like they just might have a chance. The two of them may only create a tiny wave. But that wave will eventually grow into something larger…" -Official Page
Story:
Music has been something that the world revolves around since…well forever! It's a source of entertainment, and for some, emotional release. Carole & Tuesday tackle the difficult task of creating new music from the heart and soul in a world where most things are taken care of by artificial intelligence. It's a story about the emotions that songs hold behind the lyrics and notes and how music is something that transcends beyond social status and upbringing. It was really entertaining to see the journey of Carole & Tuesday, from their first song together with all the way to performing with big artists for all of Mars. That's right, Mars because Carole & Tuesday is set in the future where humanity has occupied and inhibited Mars. While focusing mainly on Carole & Tuesday and their growth in the music industry, the show also has pivotal moments about the political aspect of life on Mars. Eventually, music and political matters collide and create a high tension point in the show which doesn't ever get fully resolved such as Carole's family situation, Tao's whereabouts, and the aftermath of the final concert!
Artwork & Animation:
There are highs and lows to the artwork and animation of Carole & Tuesday. The highs were the performances and the articulation of movement. A great example is in the first episode when Carole and Tuesday start working on their first single "Loneliest Girl". The articulation in both characters' movements was immaculate from Carole's soft touch on the keys, to the Tuesday's hesitant yet curios strumming. But that wasn't in every scene mind you as there were other times where the art deteriorates into what I like to call "simple polygons".
Character(s):
The diversity of characters in Carole & Tuesday is, needless to say, very impressive. The different backgrounds, voices, lifestyle all seem so distant to each other but also shows how wide and vast the world of Carole & Tuesday is! The characters are also a glimpse into the world outside of Carole & Tuesday's view, hinting at the tension that is building between Mars and Earth. Of course, Carole and Tuesday are still the main focus of the show their growth results in something bigger than just self-satisfaction for them, it results in the accumulation of artists around Mars coming together and singing not for themselves, but the world.
Sound (OST & Voice Acting):
Easily, one of the most ambitious anime soundtracks I've heard to date. Something that should be noted is that all of the vocal tracks are sung in English. This means that each character that sings has two voice actors: one for their dialogue voice and one for their singing voice. And as a music buff…I'm at a loss for words on the star power that's on the list. Here are some of my favorites…
Steve Aoki  (helped produced Ertegun's "Lights Out")
Alison Wonderland (helped produced Alisa's Breathe Again)
Denzel Curry (Ezekiel's singing/rapping voice)
☆Taku Takahashi(m-flo) (produced Ertegun's "Who am I the Greatest")
Lido (produced Alisa's "Not afraid" and "Move Mountains")
And that's just FIVE that I personally have heard of prior to the anime. The talent in the soundtrack is mind-boggling!
Enjoyment:
Carole stole my heart time and time again with each of the songs that were performed throughout the show. The magic never disappeared after the first song, the whole soundtrack is incredible and wonderfully produced. I really did enjoy Carole and Tuesday's growth but I wish there were better transitions between the episodes. They seem disjointed at the beginning when each episode was venturing into different aspects of music (making a music video, playing at a small venue, etc.)
Overall: Score 8
On Mars, there lives a duo that will unknowingly change the world that they live in through the power of their music. Carole & Tuesday is about finding the beat of your own drum in a world full of different rhythms and instruments. A stellar and star-studded soundtrack makes this show a must-watch!
---
Best Girl: Tuesday
How can you not fall in love with this little ball of sunshine! I fell in love with Tuesday since the first episode. Her songwriting skills to her soft and fluffy personality never wavered through the show and it made happy so see her and Carole perform together!
---
If you enjoyed this post, please consider buying me a
Or if you want to be on my Patrons page, you can become one on my