Uchi no Ko no Tame naraba, Ore wa Moshikashitara Maou mo Taoseru kamo Shirenai. [Review]
---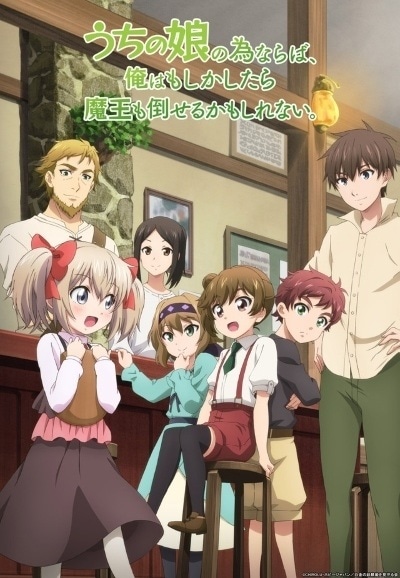 Source Material: Light novel
Studio: Maho Film

Genres:

 Slice of Life, Fantasy
Synopsis: "Dale is a cool, composed, and highly skilled adventurer who's made quite a name for himself despite his youth. One day on a job deep in the forest, he comes across a little devil girl who's almost wasted away. Unable to just leave her there to die, Dale takes her home and becomes her adoptive father. Devil or not, Latina is beyond adorable, and the adventurer soon finds himself head over heels with being a parent." – ANN
Story:
With the fantasy genre, there are a lot of things that come to mind: dragons, magic, and of course powerful demon lords! Dale is an adventurer in such a world and he stumbles across someone who would be the shining light of the show, Latina. I really enjoyed the daily life of Dale and Latina as well as Latina's growth throughout their time together. While the story is heavily focused on Latina and her interactions with the different characters, I would have liked to see more of Dale during his quests.
Artwork & Animation:
This was probably the hardest to endure throughout the show. I thought the character designs were decent but the overall artwork is what really held me back from fully enjoying the show. It's not the most colorful or detailed and it gets the job done, but there's a lot to be desired. Even simple actions like walking felt a bit awkward.
Character(s):
Here comes the juicy segment of this review! Yes, as you can imagine the main attraction to this show are the characters. It's a very wholesome atmosphere but the subtle change in each of the characters is what makes this show so satisfying to watch. Latina's growth in both her spirit and mind is one example but the same can be said about Dale and his approach to raising Latina. While spoiling your cute demon daughter may seem like the best thing to do, moderation is key as well as scolding when needed! The other characters aren't left behind as they also grow in their own ways as they interact with Latina and with each other. And while there is a satisfying amount of character development throughout the cast, there are a lot of mysteries that are left unresolved! Fingers crossed for another season so we can find out!
Sound (OST & Voice Acting):
A fantasy world means a fantastic soundtrack! I did enjoy the soundtrack quite a bit! A typical medieval sound to emphasize the fantasy as well as more formal orchestral pieces when in a more civilized area. A wide range but nothing out of the ordinary!
Enjoyment:
The biggest reason why I wanted watch this show was the studio that was animating it. Maho Films was an unfamiliar studio and I wanted to see what they had in store for us. For their first TV series, this wasn't a bad debut, in my opinion. Sure there were mishaps throughout but overall the direction of the show is rather enjoyable.
Overall: Score 8
If you happen to run into an young orphaned demon girl what would you do? Would you run away as if nothing happened or take her in and raise as your child? Well, Dale chose option 2 and we couldn't be happier. UchiMusume is a wholesome show about the bonds you build with others even if they're a little different from you.
---
Best Girl: Helmine
While she doesn't have that much screen time, Helmine quickly became one of my favorite characters in the show and never failed to make me smile when she pops in. Her tendency to tease Dale, as well as her kindness toward Latina, was really entertaining to see. Her existence also hints at Dale's past which we don't exactly get a lot of and make her even more mysteriously charming.
---
If you enjoyed this post, please consider buying me a
Or if you want to be on my Patrons page, you can become one on my