Sounan Desu Ka? [Review]
---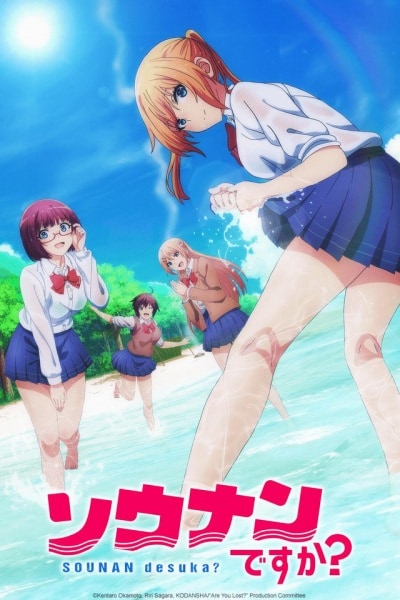 Source Material: Manga
Studio: Ezόla

Genres:

 Adventure, Comedy, Seinen
Synopsis: "Because of a plane crash … starting today, we're spending the springtime of our lives on a desert island!! There's nothing here, so we have to make everything!! And eat everything!! (Ugh!) Check out our high-school-girl survival story of courage and knowledge. We're actually doing pretty well! We learn how to eat cicadas, how to build traps, a simple allergy test, how to eat hermit crabs, etc." – Sounan Desu ka? (manga)
Story:
Have you ever wondered what it would be like to get stranded on an island with three of your classmates? Well, look no further because that is exactly the scenario that Homare and her classmates are in! This fun group of very different individuals makes each episode of survival as entertaining as the last. The plot itself is self-explanatory as each episode follows the daily lives of the girls. Homare's experience serves them well but…maybe not the way that the others would like! The practices and methods that Homare showcases throughout the show are quite informative (though how truthful they are is a mystery to me…any survivalist out there?!). Between trying to get help and learning the ways of their new lifestyle, there are endless amounts of laughter and tidbits of information to spare!
Artwork & Animation:
The artwork and animation isn't something to write home about. The characters' designs are great in my opinion and translate very well from the manga but the animation is a different subject. It's choppy most of the time and the in-between animations are awkward. Everything else is fairly simple and gets the idea across.
Character(s):
You know, I didn't have a lot of expectations coming into the show because 1) there are only four characters, 2) the show simply follows the girl's daily struggles, 3) there's not that much other than the first two. But I've been proven wrong many times before and this is one of those times. Homare, Asuka, Shion, and Mutsu start off as typical tropes but quickly develop as surviving on a deserted island is going to take more than staying in your character. The girls each grow in their own unique way as Homare teaches them how to survive. Asuka, Shion, and Mutsu learn their own strengths and weakness through trial and error resulting in a quite developed cast. It's a rewarding experience to see them all grow as they spend more time together.
Sound (OST & Voice Acting):
I love simple and down to earth soundtracks and that's exactly what we get with Sounan Desu ka, the tropical vibe is prominent throughout the show. My favorite parts are the steel drums, fun little vocal parts in some of the songs, and the full-blown orchestral piece with the main melody being played by the recorder. Are you lost, because that first part was a joke! The soundtrack is actually quite intricate and the sounds with a good range of genres populating the tracklist. Who can hate on a soundtrack with a steel drum in it?!
Enjoyment:
Overall, I thought that this show was quite enjoyable and I wouldn't mind another season! Homare's survival instincts and knowledge paired with the well-developed cast made for quite an entertaining show!
Overall: Score 8
Short shows tend to shy away from a large amount of character development and meticulous soundtracks, but that isn't the case here! Sounan Desu Ka packs quite a punch and delivers not only knowledgable information on surviving on a deserted island but also gut-busting comedy and interesting/dynamic characters!
---
Best Girl: Onishima Homare
As the face of the show, Homare is an easy favorite in the show but what I love the most about her is her straight forward personality! The blank faces and logical answers that she gives the rest of the cast when they react to her absurd survival tactics are priceless!
---
If you enjoyed this post, please consider buying me a
Or if you want to be on my Patrons page, you can become one on my