Dokyuu Hentai HxEros (First Impression)
---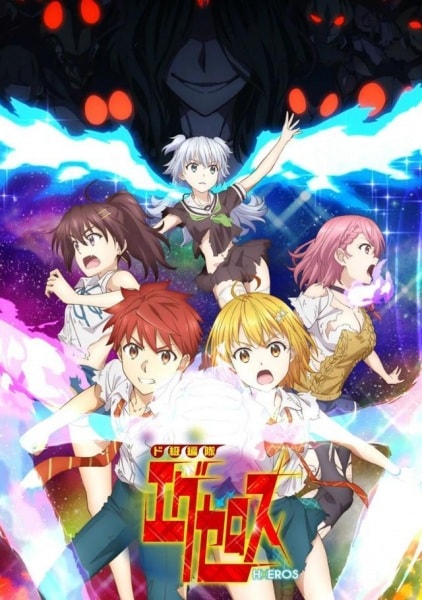 Studios:

 Project No.9

Source:

 Manga

Genres:

Action, Comedy, Supernatural, Ecchi, School, Shounen
Synopsis: "In a world on the verge of a great disaster that began five years ago, heroes who, with the help of a device called HxEros, use the power of Ecchi (H) and erotic power (Ero) to save the planet from libido-devouring monsters! Enjou Retto and Hoshino Kirara are childhood friends who have drifted apart from each other. One day, they're caught in a battle against a "Censor Bug" that feeds on human's sexual energy to evolve. After successfully taking down the enemy, they join a group of heroes like them, using the erotic power of the HxEROS force to fight off monsters."

-Dokyuu Hentai HXEros (manga)
First Impression:
Alright, now hear me about this show. I know "hentai" is in the title but it isn't actually hentai! In this sense, hentai is used in the context of "perverted" or "erotic". As you can imagine those are the themes that the show thrives on. One thing is to keep an open mind when watching this show and to not take it too seriously. It's meant to be a fun comedy and the ridiculous things you see are in fact gags and jokes.
This slideshow requires JavaScript.
This, ladies and gentlemen, is single handedly the lewdest scene I have ever laid my eye upon. Please erase these images from your mind. To think they would start with this?! What else is in store for our innocent eyes?!
This slideshow requires JavaScript.
The Kiseichuu, as the doctor mentions, are extraterrestrial beings that have invade Earth in order to absorb our H-energy, in other words: pent up sexual energy.  The further we go in, the more I think this show is the illegitimate child of To Love-Ru and Power Rangers LOL.
This slideshow requires JavaScript.
If you didn't "crack" up laughing at that last screenshot then unfortunately this show may not be for you. Maybe it's just me, but the idea of using sexual frustration as a one-hit kill to aliens is absolutely hysterical to me! AND YOUR CLOTHES EXPLODE BECAUSE THE FORCE IS TOO POWERFUL?! SIGN ME UP LOL.
This slideshow requires JavaScript.
It's….surprisingly realistic LOL.
And just like that we've reached the end as well as the very quick introduction to our heroine characters. Where these battles will take them no one will know…unless you decide to join the party and watch it with me!
Recommendation:
NO
I guess this recommendation depends on your anime power level. If you've seen a fair share of anime and are confident in your interest in anime then give this a try. Though this is a type of show that isn't meant for casual watchers. To really enjoy it you'll have to understand the fundamentals of Japanese culture and the why ecchi anime is well…ecchi anime. Those new to anime will be weirded out while those who don't understand will condemn for being too sexual. Either way, I will be continuing on this journey, for anime science! Though if you do end up watching this…I would NOT recommend watching this in public LOL.
---
If you enjoyed this post, please consider buying me a
Or if you want to be on my Patrons page, you can become one on my