Sentouin, Hakenshimasu! (First Impression)
---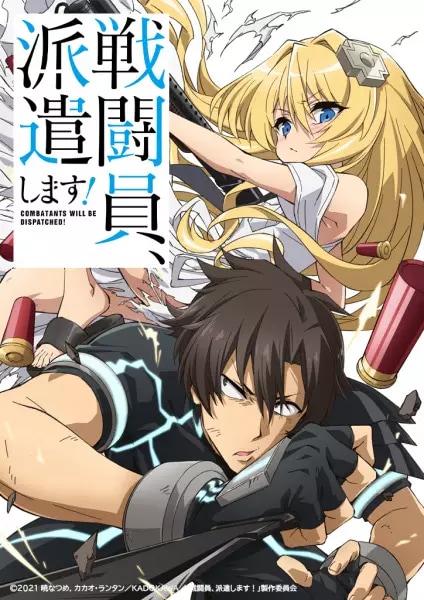 Studios:

 J.C.Staff

Source:

 Light novel

Genres:

 Action, Comedy, Fantasy
Synopsis: "Always bring a gun to a sword fight! With world domination nearly in their grasp, the Supreme Leaders of the Kisaragi Corporation—an underground criminal group turned evil megacorp—have decided to try their hands at interstellar conquest. A quick dice roll nominates their chief operative, Combat Agent Six, to be the one to explore an alien planet…and the first thing he does when he gets there is change the sacred incantation for a holy ritual to the most embarrassing thing he can think of. But evil deeds are business as usual for Kisaragi operatives, so if Six wants a promotion and a raise, he'll have to work much harder than that! For starters, he'll have to do something about the other group of villains on the planet, who are calling themselves the "Demon Lord's Army" or whatever. After all, this world doesn't need two evil organizations!"

-Yen Press, edited by MAL
First Impression:
Akatsuki, Natsume (the original creator of KonoSuba and Kemono Michi) is back at it again with a wacky plot and even wackier characters! Akatsuki sensei never fails to disappoint, especially with how scummy (and I mean that in a good way!) he can make his characters! There's a charm to how terrible they can be as people lol! Let's dive right in!
Right off the bat, I can tell that I'll be enjoying the characters quite a bit! The character designs are fantastic, I love the crisp line work and how photogenic these characters can be in any situation! Snow and Alice have peaked my interest so we'll see how this goes!
Help! I'm laughing and I can't stop! The facial expressions are enough to bring me to tears! The characters are so outrageous in their own way that each scene's is funnier than the last! Sentouin Rokugo (aka Agent 6) is out new lecherous main protagonist who is assisted by the "Kisaragi Company Pretty Girl Android" Alice! The dramatic Agent 6 and the calculating Alice make for one dynamic duo for taking over the world! Is it just me or does it seem like Akatsuki sensei likes to bully all of the blue haired girls…because here's Snow taking 70% of the abuse (Agent 6 takes the rest of it lol). And despite her docile appearance…looks like Princess Tillis has more authority than we think…scary!
This slideshow requires JavaScript.
I wonder why I'm getting deja vu? What is this strange urge to yell along side him and then collapse?! Jokes aside, I do enjoy these easter eggs in the show that poke fun at Akatsuki sensei's other works! Speaking of other works, the way that Sentouin, Hakenshimasu is set up, it's much similar his previous work. Start the protagonist off in a dire situation…and then make the situation worse LOL! There's a pleasure in seeing characters success but there's also another pleasure in seeing them fail miserably, and we'll probably be seeing more of the latter!
This slideshow requires JavaScript.
I kid you not, that moment Alice pushed the power button and the "mac" sound came on, I lost it! I couldn't stop laughing, what did they do to pull this one off?! And of course, we can't end the episode without at least one **** joke! The look on Alice's face dropped me to the floor! **** Festival! Hurray!
Recommendation:
YES
As a huge fan of Akatsuki's sensei's work, I highly recommend this show to everyone! Though it is a bit explicit and may not be for everyone…it doesn't hurt to try out a show like this once in a while! Two things that make the show great are the character dialogues and the character art (which includes design, facial expressions, and animation). If you can handle the over the top characters and their ridiculous thought processes…you're in for a interesting ride!
---
If you enjoyed this post, please consider buying me a
Or if you want to be on my Patrons page, you can become one on my