Dragon Ie wo Kau (First Impression)
---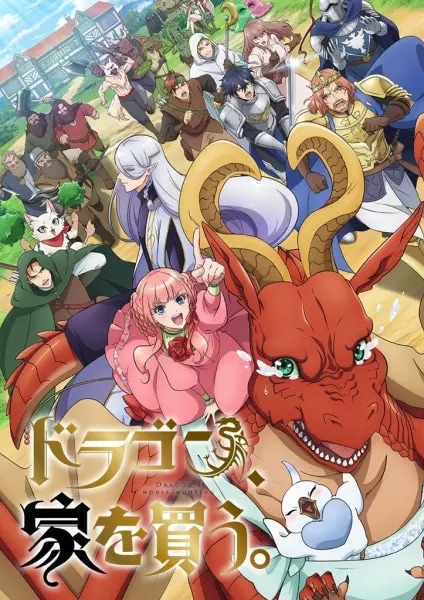 Studios:

 Signal.MD

Source:

 Manga

Genres:

 Comedy, Fantasy, Shounen
Synopsis: "When a dragon fails to live up to the fearsome standards set for him, his family kicks him out. He embarks on a quest to find a new home, but soon finds that life on the road is no place for a cowardly beast of legend. In a fantasy world full of elves, dwarves, and other mythical creatures, where everyone wants a piece of him—literally!—the frustrations of house-hunting reach a whole new level."

-Seven Seas Entertainment
First Impression:
As an aspiring architect and lover of the fantasy genre, I couldn't pass this interesting story up! A dragon that's house hunting while encountering a variety of problems like: hunters, heroes, kings, and monsters oh my! Let's dive in!
This slideshow requires JavaScript.
And this is the beginning of our friendly dragon's house hunting adventure! It's fun to have a character that's the opposite of what you would expect. Pair that with a number of straight man characters and that makes for a pretty entertaining comedic flow! The interactions between Letty the Red Dragon and the other characters of the show will be something to look forward to!
The fantasy aspect of the show is very apparent, but it's the little moments and different perspectives that really interest me! This show focuses on not only Letty finding a home but also showcases some other monster trying to find their forever home! Slimes for example were chased away from their previous home, a temple where heroes revive of all places! Now I feel little bad about farming all those monsters in Dragon Quest…
This slideshow requires JavaScript.
SPEAKING OF MONSTER HUNTER LOL! I love the little game references throughout the show and how it feels like an off-brand…the same…but different! I also think that Letty's reactions to the different ridiculous situation that he get himself into is a big part of why I like the show so much. The energy and reactions are pure comedy with it's timing and retorts!
Throughout Letty's house hunting adventures, he comes across a number of different creatures most you can recognize from any number of fantasy-based games. Their reactions to him as a dragon are quite fun and their personalities are even more so! I really enjoy the character designs, simple and sweet as I like to call it!
Recommendation:
NO
While the show has comedic value and the setting is quite interesting, there's not a lot of substance within the show. It's a light-hearted show with a mediocre animation style and predictable story elements. It's a fun show to watch if you have nothing else to do but there are so many other great shows this season that this one isn't worth it! A good one to put on your "To Watch List" when you get the time!
---
If you enjoyed this post, please consider buying me a
Or if you want to be on my Patrons page, you can become one on my