Selection Project (First Impression)
---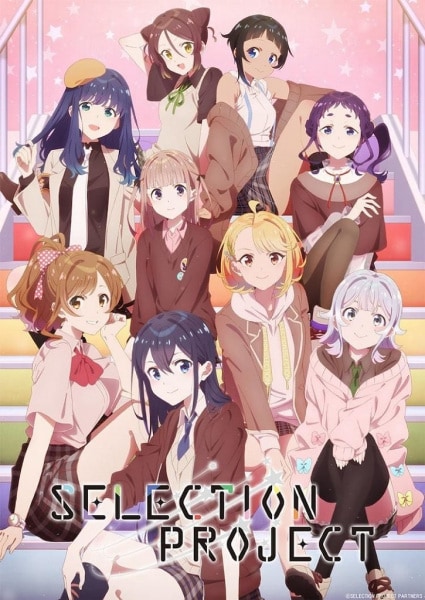 Source Material: Original
Studio: Doga Kobo
Genre: Music, Idol
Synopsis: "Held every summer, the national show "Selection Project" is the biggest gateway for girls who strive to be idols, and the place where the legendary idol Akari Amazawa was born. Suzune Miyama is also one who has longed for such a dream stage. Having been sick since childhood, she listened to the song of the light many times in her bed in the hospital room. Akari's singing voice gave her a lot of smiles and courage, inspiring Suzune to follow in her footsteps. In her last summer of junior high school, Suzune decides to challenge the 7th annual Selection Project to make her dream come true. The girls who challenge Selection all have strong feelings that are second to none, accumulated efforts, and extraordinary charm. Only nine stars are selected from among the thousands of candidates. Now, the hot and harsh "Audition Battle" of the girls begins to make their dreams come true." -MAL News
First Impression:
Selection Project honestly blew me away with its PV, which featured wonderfully character designs, dynamic animation for the performances, and an irresistible soundtrack. I'm really excited to see how the story and the characters will development and find out just what is this so called "Selection Project"?
Right off the bat we're introduced to one of the key characters of the story, Miyama Suzune. The different expressions that we see from Suzune throughout the episode shows just what kind of person she is. Friendly, determined, and always giving her best in any situation. This is a lot of development we're getting for Suzune, which is remarkable because Suzune hardly does anything in this episode as it's the introduction of the competition known as "Selection Project" which features 8 other regions with a winner from each region. That being said, Suzune didn't get that much screen time but we're able to quickly establish her character which is a good sign of a well paced story.
Before we get too deep into the story and characters, I wanted to take a step back and appreciate the background art (as always) because these are so slick. The scenes were mostly in the early morning or late afternoon so the peaceful tranquility that is captured in the scenery was quite nice. And these are actual places in the Saitama prefecture as you can see from the Omiya Station shot. I can't wait to see where else the show will show us next!
Ok, I know you're tiring of my screaming about backgrounds but check this out! So cool to see the streets of Saitama as Suzune make her way to the studio.
Throughout we do get a small introduction a minimal lines from the other regional winners but other than that, Suzune backstory, and a song by a past contestant…there really wasn't a lot going on. The biggest moment in the episode was the ending, what do you mean Suzune didn't win her region?! Isn't she the main character!? How will the story go forward?! Guess I'll have to watch the next episode!
Recommendation:
YES
It's a slow show, so don't expect the story to sprint right out of the gate. There is a lot of potential here in every aspect, artwork, music, and characters so I'm fairly confident that it'll be a worthwhile watch. It also seems to features a large number of rookie voice actors so I think it'll be fun to see their "beginning" so to speak with this show! That being said, if you're not into idol anime then you can pass on this one.
---
If you enjoyed this post, please consider buying me a
Or if you want to be on my Patrons page, you can become one on my