Anime to Look Out For during the Summer 2019 Season!
It's about that time again! As the Spring 2019 anime come to a close, the anticipation for the upcoming Summer season is rising. Here's a roundup of the shows that I'll be checking out in the new season!
The last two anime season previews I didn't have an order to it, so for this time, I'm doing it in alphabetical order! Let me know what you think in the comments!
---
Dr. Stone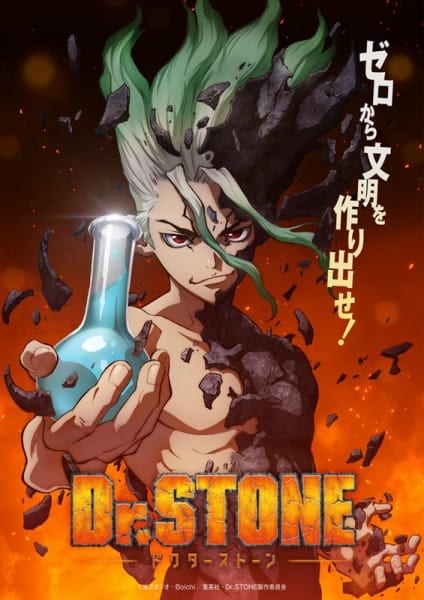 Source Material: Manga
Studio: TMS Entertainment

Genres:

 Sci-Fi, Adventure, Shounen
Synopsis: "One fateful day, all of humanity was petrified by a blinding flash of light. After several millennia, high schooler Taiju awakens and finds himself lost in a world of statues. However, he's not alone! His science-loving friend Senku's been up and running for a few months and he's got a grand plan in mind—to kickstart civilization with the power of science!" – Viz Media
First up is Dr. Stone, and what a way to start! The biggest thing that piqued my interest in the show is the artwork. There's something nostalgic about the art that gives me a 90s anime vibe yet the new and crisp animation from the preview trailer says 2019! The plot is interesting enough but it lacks the impact needed to hook an audience. I'm hoping that will change as we watch the show and the story will unfold and create something we would never expect.
---
Dumbbell Nan Kilo Moteru?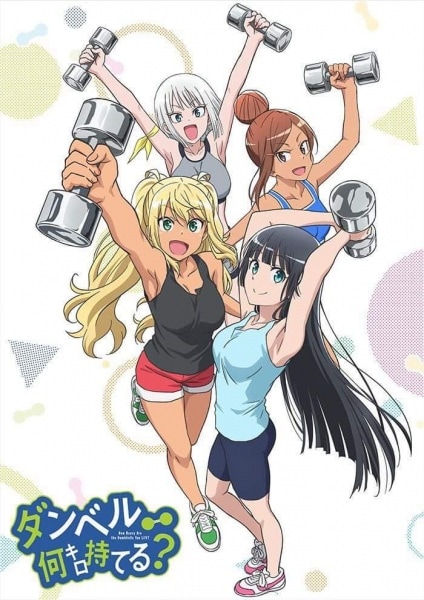 Source Material: Web manga
Studio: Doga Kobo

Genres:

 Comedy, Ecchi
Synopsis: "Sakura Hibiki is your average high school girl, with a voracious appetite. Noticing her clothes tightening in lieu of her slowly expanding waistline she decides to look into enrolling in the nearby gym. There she runs into a girl from her grade named Souryuuin Akemi. Akemi, who has a muscle fetish tries to get Hibiki to enroll in the gym despite its high ratio of macho men. Thankfully a beautiful trainer, Machio, appears and unknowingly convinces her to enroll and start her quest to a great body." -myanimelist
Ah yes, when I first heard about Dumbbell Nan Kilo Moteru? I was definitely intrigued. The art and animation look fantastic and the way it was presented in the preview trailer made it look like a funfilled show! I'm also interested in how in depth they'll get into exercising and the different techniques that are used when weight lifting. I imagine macho men being a constant gag throughout the show haha.
---
Dungeon ni Deai wo Motomeru no wa Machigatteiru Darou ka II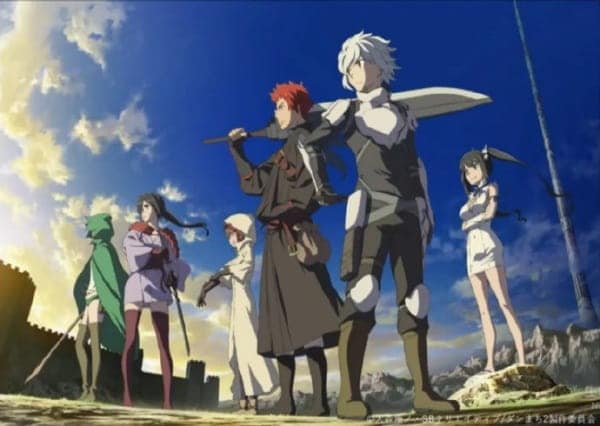 Source Material: Light novel
Studio: J.C.Staff

Genres:

 Action, Adventure, Comedy, Romance, Fantasy
Synopsis: Second season of Dungeon ni Deai wo Motomeru no wa Machigatteiru Darou ka.
So much hype for the second season of DanMachi! It's been a HOT MINUTE since we've had some new DanMachi. While the Sword Oratoria side story with, Aiz as the main focus, was good, it doesn't progress the show as it's just season 1 through her perspective. With a number of new characters and a mystery still left unsolve from season 1, this new season should be a bountiful one, indeed!
---
Enen no Shouboutai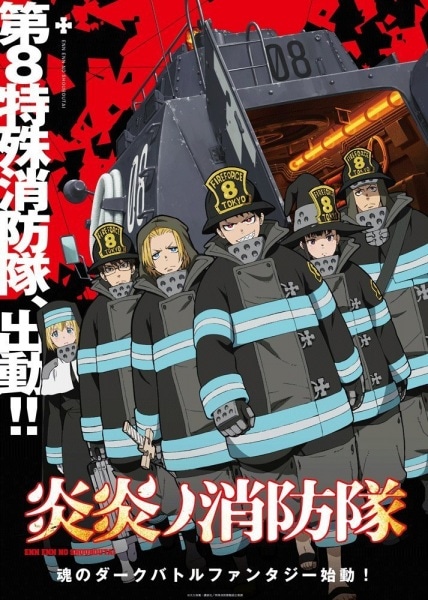 Source Material: Manga
Studio: David Production

Genres:

 Action, Sci-Fi, Shounen
Synopsis: "In the year 198 of the Age of the Sun, Tokyo is a crowded cosmopolis. But the world's most populous city is threatened by devils that cause people to burst into flame at random. The only ones who can stop it are the Pyrofighters, a team of specialized firefighters. The young Shinra, blessed with the ability to ignite his feet and travel at the speed of a rocket, wants nothing more than to be a hero, and knows that this is the place for him. But he's not the best at following orders." – Enen no Shouboutai (manga)
From the creator of Soul Eater comes a new action-packed anime with even more outrageous characters! Most likely the Shounen Anime of the season, as the premise of the show and the animation showcased in the preview trailer looks to be very exciting. The character designs and fighting animation are incredible and the story, while simple, gives a lot of opportunities for interesting development! Keep an eye out for this one!
---
Kawaikereba Hentai demo Suki ni Natte Kuremasu ka?
Source Material: Light novel
Studio: Geek Toys

Genres:

 Harem, Comedy, Romance, Ecchi, School
Synopsis: "A high school student whose year of not having a girlfriend is his age, Keiki Kiryuu, suddenly received a love letter. He is happy he can finally have a girlfriend, but is also surprised because not only there is no sender name but also includes a white underwear…??? The cute girls who gather around him are all weird and with reasons!? Who is the Cinderella who sent the underwear? The mystery called out mystery, even hentai was called out. A new feeling of love comedy that calls out hentei begins……!!" – MAL News

This will be my first exposure to Geek Toys and man, I'm pretty excited to see what they have in store for us. Kawaikereba Hentai demo Suki ni Natte Kuremasu ka? looks and feels really good, the art style has a really nice aesthetic. The plot is…interesting, and I'll leave it at that because I honestly have no idea where the story will end up being. Will it be To Love Ru ecchi shenanigans or Nisekoi well-developed heroines? Guess we'll find out when it gets here!
---
Isekai Cheat Magician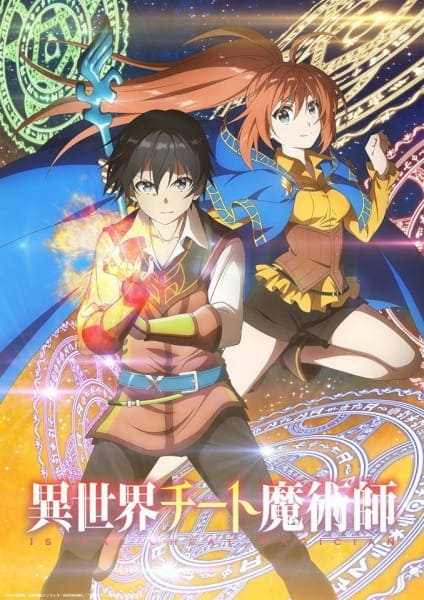 Source Material: Light novel
Studio: Encourage Films

Genres:

 Action, Adventure, Fantasy
Synopsis: "Taichi Nishimura and his friend Rin Azuma both get transported into a fantasy world. While in their previous world, Taichi is a normal person who just has higher than average reflexes, both he and Rin gain high levels of physical and magical ability, and begin their new life as magicians." – ANN
As a sucker for Isekai shows, it's a given that I'd be interested in Isekai Cheat Magician. First glance, this show doesn't seem that special but I'm hoping that there will be some good character and story development throughout the show to make this into something special. Biggest hook for me is the character designs, the animation, on the other hand, look decent at best.
---
Machikado Mazoku
Source Material: 4-koma manga
Studio: J.C.Staff

Genres:

 Slice of Life, Comedy, Magic
Synopsis: "Awakening her dormant abilities as a devil one day, Yuuko Yoshida aka Shadow Mistress Yuuko, is entrusted with the mission to defeat the Light clan's shrine maiden, a magical girl, by her ancestor Lilith. Yuuko meets magical girl Momo Chiyoda through her classmate Anri Sada, and challenges her to a duel, but loses quickly due to her lack of strength. Since then, Yuuko has struggled with her role as a devil and her duel with Momo, and borrowed help from her regularly. However, by a strange coincidence, Yuuko also weakens Momo by taking away her power to cooperate in protecting the peace of Tama city." – MAL News
I love reverse trope stories. where the "bad guy" of the show is just this helpless person who just wants to do a good job. And from the description, Yuuko seems like a huge cinnamon roll. The art and character designs both look great from the key visual as well as the PV, so I have high expectations for this show!
---
Nakanohito Genome [Jikkyouchuu]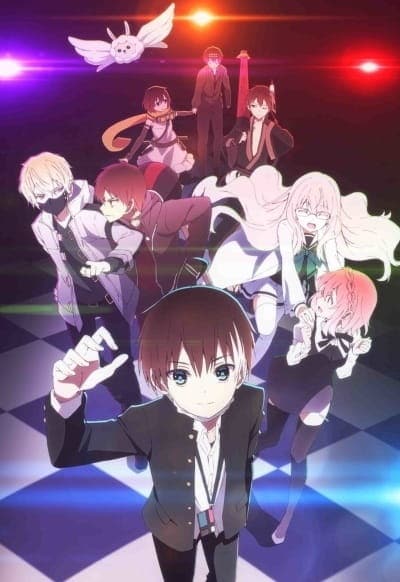 Source Material: Web manga
Studio: Silver Link.

Genres:

 Game, Drama
Synopsis: "Iride Akatsuki has unlocked hidden content in the game he's playing, 'Nakanohito Genome,' and it turns out that this content is a real-life game! He soon wakes up to find that he has been kidnapped and taken to a strange place, along with a number of other teammates. Each of them specializes in a certain sort of game, like cultivation games, fighting games, puzzle games, etc. A llama-headed 'teacher' gathers them after level 1 is cleared to explain how the game will proceed. Will this group of gamers succeed, and make it back to their real lives?" – 

Nakanohito Genome [Jikkyouchuu] (web manga)
This one looks….okay. I'm only watching this Nakanohito Genome [Jikkyouchuu] because that opening is by fhana which is one of my favorite bands in the world. However; I am slightly interested in how the story will progress throughout the show. It has this "Saw" vibe where there are tasks that they must complete and failure results in a punishment. Typically I enjoy Silver Link. art, but it just isn't working for me this time around.
---
Sounan Desu ka?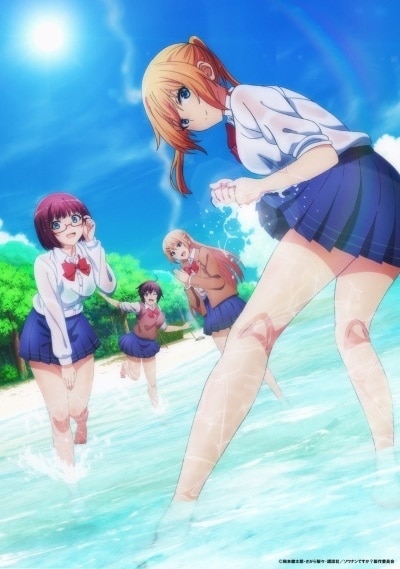 Source Material: Manga
Studio: Ezόla

Genres:

 Adventure, Comedy, Seinen
Synopsis: "Because of a plane crash … starting today, we're spending the springtime of our lives on a desert island!! There's nothing here, so we have to make everything!! And eat everything!! (Ugh!) Check out our high-school-girl survival story of courage and knowledge. We're actually doing pretty well! We learn how to eat cicadas, how to build traps, a simple allergy test, how to eat hermit crabs, etc." – Sounan Desu ka? (manga)
Sounan Desu Ka? is…for the lack of a better term…strange. Four students are stranded on a deserted island and have to survive until help arrives and the things that they do, get a little out of hand. It looks like a unique take on the survival type of stories and I'm curious to see where this takes us!
---
Tejina-senpai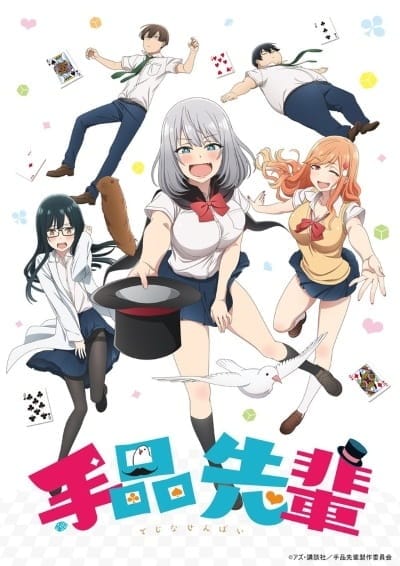 Source Material: Manga
Studio: LIDENFILMS

Genres:

 Comedy, Ecchi, School, Seinen
Synopsis: "Tejina is cute, weird, and loves stage magic. She also has crippling stage fright. The nameless male main character first meets her practicing parlor tricks in her club room alone. His high school requires that he join a club, and for some reason he can't take his eyes off Tejina and her fruitless attempts at magic." – Tejina-senpai (manga)
My guilty pleasure of the season. Tejina-Senpai is comedy and ecchi galore with great artwork and short simple episodes (12-minutes). As the poster girl of the show, Tejina-Senpai is the highlight of the show as well as her "magic tricks". This should be a fun one to watch!
---
Tsuujou Kougeki ga Zentai Kougeki de Ni-kai Kougeki no Okaasan wa Suki Desu ka?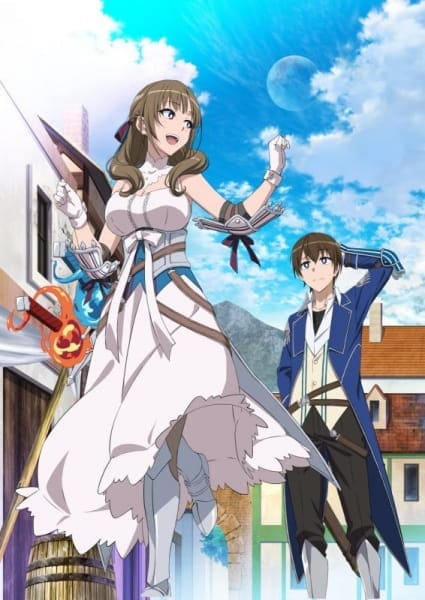 Source Material: Light novel
Studio: J.C.Staff

Genres:

 Adventure, Comedy, Fantasy
Synopsis: "Masato Ōsuki has been unwittingly thrown into an RPG world with his doting mother close behind as part of a secret government scheme. As an avid gamer, Masato is eager to show off his skills but that's hard to do when his mom is an insanely overpowered, dual-wielding, multi-target specialist." – ANN
Congratulations, you're finally being transported into a fantasy world but wait, you're mom came too?! Tsuujou Kougeki ga Zentai Kougeki de Ni-kai Kougeki no Okaasan wa Suki Desu ka? (that was a mouthful…) is a different take on the Isekai genre with the inclusion of the main character's mother joining in on the fray! Just the thought of a parent coming along with you on a grand adventure is something to laugh about, so I expect this one to be very entertaining!
---
Uchi no Ko no Tame naraba, Ore wa Moshikashitara Maou mo Taoseru kamo Shirenai.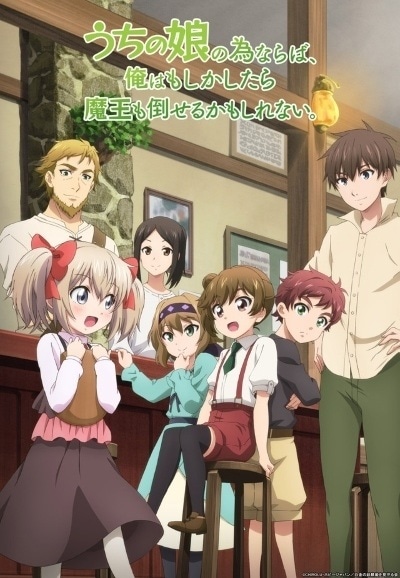 Source Material: Light novel
Studio: Maho Film

Genres:

 Slice of Life, Fantasy
Synopsis: "Dale is a cool, composed, and highly skilled adventurer who's made quite a name for himself despite his youth. One day on a job deep in the forest, he comes across a little devil girl who's almost wasted away. Unable to just leave her there to die, Dale takes her home and becomes her adoptive father. Devil or not, Latina is beyond adorable, and the adventurer soon finds himself head over heels with being a parent." – ANN
Another new studio, Maho Film makes its debut with Uchi no Ko no Tame naraba, Ore wa Moshikashitara Maou mo Taoseru kamo Shirenai! Doting anime fathers always have a place in the anime communities hearts and Dale is no exception! I'm excited to see the relationship that is forged by Dale and Latina. I imagine the moe levels from Latina will be extraordinary…my heart may not be able to handle it…but we will venture on for the sake of anime research!
---
Vinland Saga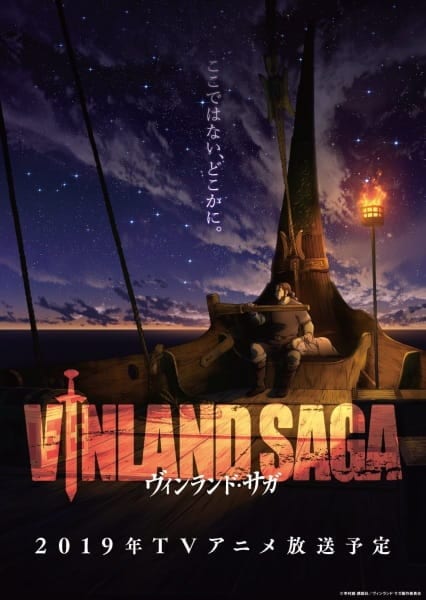 Source Material:Manga
Studio: Wit Studio

Genres:

 Action, Adventure, Historical, Drama, Seinen
Synopsis: "For a thousand years, the Vikings have made quite a name and reputation for themselves as the strongest families with a thirst for violence. Thorfinn, the son of one of the Vikings' greatest warriors, spends his boyhood in a battlefield enhancing his skills in his adventure to redeem his most-desired revenge after his father was murdered." – MAL News
Ah yes, Vinland Saga. I don't know much about this show, but all I really needed to know is that Wit Studio (Shingeki no Kyojin, Mahoutsukai no Yome, Koutetsujou no Kabaneri) is animating it and Aimer will be doing the opening theme. I'm sold on that alone! Wit Studio is known for its articulate and brutal fighting animation so I'm expecting this to be fairly violent. The Viking Age an interesting time for the show to take place and it's also new and fresh so I'm very excited to see that Wit Studio has in store!
---
And that's all of the anime I'll be watching in the summer season!
Did I miss something good?
What are you most excited about to watch in this Summer season?
Let me know in the comments below!