Hitoribocchi no Marumaru Seikatsu [Review]
---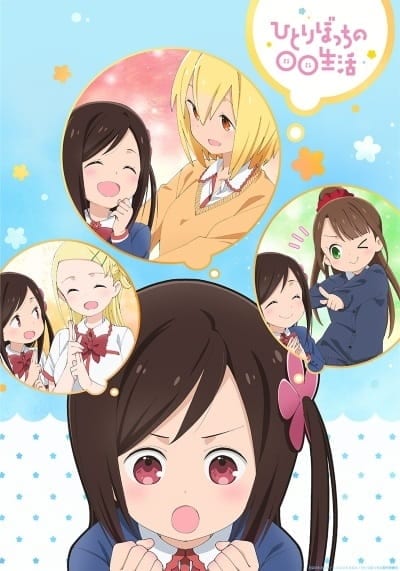 Studios: C2C

Source:

 4-koma manga

Genres:

 Slice of Life, Comedy, School, Shounen
Synopsis: "Hitori Bocchi suffers from extreme social anxiety, she's not good at talking to people, takes pretty extreme actions, is surprisingly adept at avoiding people, her legs cramp when she overexerts herself, gets full of herself when alone, will vomit when exposed to extreme tension and often comes up with plans. Now she is entering middle school and her only friend, Yawara Kai, is attending a different school. This leaves Bocchi alone, surrounded by new classmates with whom she must make friends before Kai will talk to her again." – Hitoribocchi no Marumaru Seikatsu (manga)
Story:
 Ah yes, another CGDCT show, filled with adorable characters and easy going day to day life!
The story itself is rather straight forward and focuses on our underdog, Hitori Bocchi, which is a funny pun herself as "Hitori Bocchi" (ひとりぼっち) means "alone"
.
The anime consists of Bocchi's life, inside and outside of school and the daily interactions that she has with her classmates
.
There are some things that aren't resolved at the end, like the deal that Bocchi made with Kai but that might mean we'll be getting another season
!
Artwork & Animation:
The artwork stays truthful to the source material, I enjoyed the color palette throughout the show as well as the fun chibi art that would pop up from time to time
. The animation wasn't as immaculate as I hoped it would be but it works for the show nonetheless.
Character(s):
While our main focus is Bocchi, the small friend group that she accumulates also get some character development
.
And even though it's implied rather than thrown in your face and it works wonders for the characters as it's like your making friends along with Bocchi
! And like Bocchi
all of
the character names are puns of their personality!
Sound (OST & Voice Acting):
The soundtrack is
unexpectedly
good.
There are a lot of details within each track and with oboes and french horns playing the main melody in some of the songs gives the songs a good oomph
. And don't even get me started with the opening theme song, I haven't been this excited for an opening in a hot minute.
Enjoyment:
Hitori Bocchi was an easy watch and while I wished that there were more details here and there, it was,
overall
, a great show
Another excellent CGDCT show with a fun cast of characters. Hitori Bocchi features punny names and lots of adorable artwork throughout the show!
---
Best Girl: Sotoka Rakita
Ah yes, the foreign ninja never fails to make me laugh when she appears.
Her pure yet serious dedication to becoming a full-fledge ninja as well as her unwavering friendship did it for me
.
---
If you enjoyed this post, please consider buying me a
Or if you want to be on my Patrons page, you can become one on my