Murenase! Seton Gakuen (First Impression)
---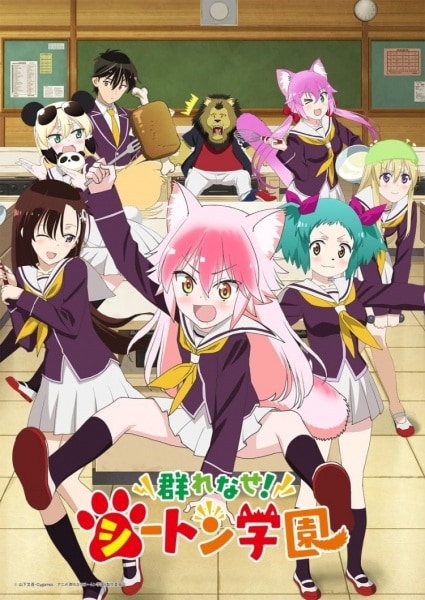 Studios:

 Studio Gokumi

Source:

 Manga

Genres:

 Comedy, School
Synopsis: "Seton Academy, a school full of animals where, thanks to population decline, there are fewer humans than any other creature. Mazama Jin, an animal hater and the only human male in his class, falls in love with Hino Hitomi, the only female human, the moment he lays eyes her. However, he soon finds himself entangled with various other creatures after he reluctantly joins the 'pack' of Lanka the wolf, the only other member of her pack." – Murenase! Seton Gakuen (manga)
First Impression:
I'm not going to lie, I'm actually really excited about this show as crazy as the story sounds. I think the most noticable thing in the show so far is that that all the male studetns are full on animals while the girls are half human, which I'm not complaining about.
LOL ARE THE TEACHERS DINOSAURS BECAUSE THEY'RE OLD?
Why…..is this an actual gorilla…?
AH LOOK AT HER SHE'S ADORABLE.
CUTIE ALERT.
Pros to watching this show. You learn things about animals that you never knew before. Also, the facial expressions are PRICELESS.
Recommendation:
YES
As strange as it sounds, Murenase! Seton Gakuen is actually a very entertaining show. Between the fun animal facts and the outrageous reactions to outrageous situations, there's hardly a boring moment in the show. At least for the first episode, I was intrigued and wanting to see more! This feels like a very easy watch though, maybe not for anime rookies as there are some things that may come off as "weird" if you don't have a lot of experience with other types of anime.
---
If you enjoyed this post, please consider buying me a
Or if you want to be on my Patrons page, you can become one on my