Anime To Look Out For in Winter 2020!!
With a new year means new anime! With more new anime than sequels, it's definitely the time to start something new!
Below are the anime that I'll be watching during the season (in alphabetical order).
---
Bang Dream! 3rd Season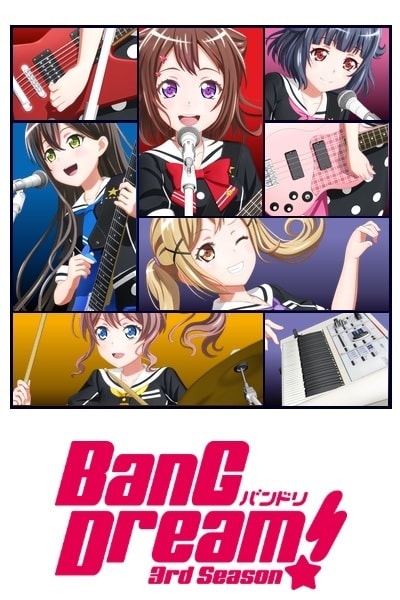 Studios:

 SANZIGEN

Source:

 Manga

Genres:

 Music
Synopsis: Third season of BanG Dream! series.
Being a fan of the mobile game as well as the first few seasons, it's a given I'd want to see what the third season has to offer! Looks like SANZIGEN will be continuing the CGI animation for the entirety of the show. Though, in all honesty, I'm surprised that BanDori even made it to a second season! It's popularity was very low when it was first starting up and to see the hype and excitement every where for this new season is great! If you like mobile music games and anime songs (let's be honest who doesn't?) be sure to run to your app store and try out the game!
FULL REVIEW OF SEASON 1 AND SEASON 2 (Season 2 review in the works!)
---
Darwin's Game
Studios:

 Nexus

Source:

 Manga

Genres:

 Action, Mystery, Shounen
Synopsis: "An unknowing Sudou Kaname is invited to try out a new mysterious mobile app game called Darwin's Game, but later realizes that he's in for more than he's bargained for when he finds out that there's no way to quit the game." -Darwin's Game (manga)
While the PV didn't give us a lot to work with. The premise of the story itself is actually quite interesting. I love the weird factors that are thrown in, like the whole "I was attacked by a man with a panda mask" thing. I'm expecting a dark story with lots of twists and turns. The character designs in the key visual doesn't look too appealing but I'm hoping that it's fixed by the time it airs.
Check out my first impression here
---
Eizouken ni wa Te wo Dasu na!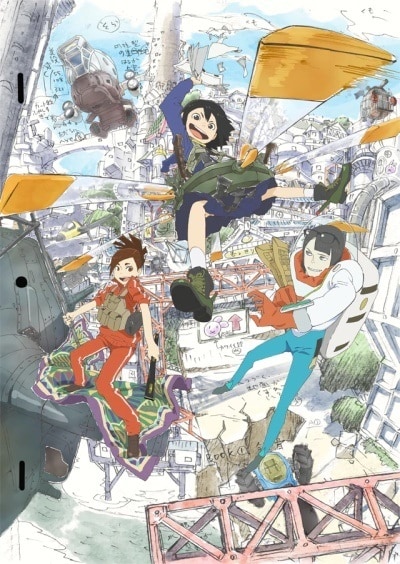 Studios:

 Science SARU

Source:

 Manga

Genres:

 Adventure, Comedy, School, Seinen
Synopsis: "Asakusa Midori wants to create an anime, but she's too disheartened to make that first step by herself. By pure chance, she meets Mizusaki Tsubame, an up-and-coming socialite secretly dreaming of becoming an animator. Together with Midori's money-loving best friend Kanamori Sayaka, the energetic trio slowly work towards making their "ultimate world" a reality!" – Eizouken ni wa Te wo Dasu na! (manga)
Oh! This one looks really fun! The animation is very fluid and dynamic giving the show a very child-like atmosphere. There's a studio ghibli aesthetic that I really enjoy and hope to see more of throughout the show. The sketchiness of the show really give it character as well. I'm curious how in depth they'll go into the whole anime making process, or is this just a conceptual idea and it's about the girls running rampant through their ideas and creations?
Check my first impression here
---
Haikyuu!! TO THE TOP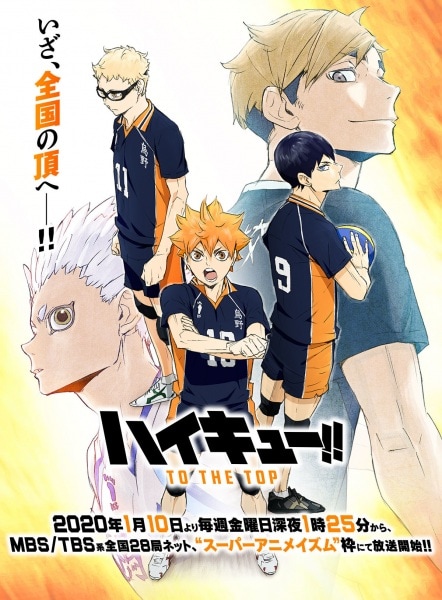 Studios:

 Production I.G

Source:

 Manga

Genres:

 Comedy, Sports, Drama, School, Shounen
Synopsis: The fourth season of Haikyuu!!
IF YOU KNOW, THEN YOU KNOW. It's been a long time coming, Haikyuu! is back for another season! One of my all-time favorite sports anime. Haikyuu! is actually the show that got me into to playing volleyball. From the key visual it looks like Kurasuno will be facing off again a new team as well as feature character development for Hinata, Kageyama, and Tsukiyama. I'm really excited to see where the story will take us next especially with how they ended the last season!
---
Hatena☆Illusion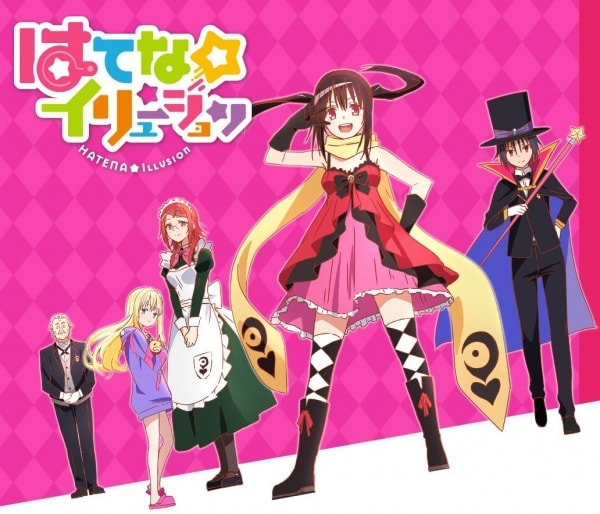 Studios:

 Children's Playground Entertainment

Source:

 Light novel

Genres:

 Comedy, Supernatural, Romance, Ecchi
Synopsis: "Makoto Shiranui is a boy who travels to Tokyo seeking to become the apprentice of Mamoru Hoshisato, a world-famous magician and friend of his parents. Ever since he had watched a show by Mamoru and his wife Maive, he had dreamed of being a magician. Their daughter Kana (nicknamed Hatena) has been Makoto's friend since childhood. Even though Tokyo has had a rash of burglaries by a beautiful woman thief, Makoto can rest easy as long as Hatena is there. When he arrives at the Hoshisato residence, a haunted mansion, the family butler Jeeves and the maid Emma greet him, and he is reunited with Hatena, only to find out that they don't really get along now." – Anime News Network
Hatena Illusion piqued my interest with it's plot and characters and let's not forget the great character designs! The synopsis from ANN doesn't really makes sense  (I think it's a literal translation of the Japanese synopsis) so I'll just give a quick one down here.
Makoto Shiranui wants to become a magician and so he seeks to be the apprentice of Mamoru Hoshisato, a famous magician as well as a friend of his parents. Making his way to Tokyo Mamoru reunites with his childhood friend Hatena Hoshisato, who is also Mamoru Hoshisato's daughter. Upon realizing that Makoto is, in fact, a boy and not a girl their relationship sours and Makoto is put in an awkward position. Amidst the excitement, a series of burglaries are taking place that lead to a greater problem.
Hopefully that makes more sense than the one above it. I'm really curious as to how story will unfold!
---
Infinite Dendrogram
Studios:

 NAZ

Source:

 Light novel

Genres:

 Game, Fantasy
Synopsis: "In the year 2043, <Infinite Dendrogram>, the world's first successful full-dive VRMMO was released. In addition to its ability to perfectly simulate the five senses, along with its many other amazing features, the game promised to offer players a world full of infinite possibilities. Nearly two years later, soon-to-be college freshman, Reiji Mukudori, is finally able to buy a copy of the game and start playing. With some help from his experienced older brother, Shuu, and his partner Embryo, Reiji embarks on an adventure into the world of <Infinite Dendrogram>. Just what will he discover and encounter in this game world known for its incredible realism and infinite possibilities?" -Myanimelist
Did I ever mention how much I enjoy VRMMO-esque anime? Infinite Dendrogram looks like it'll be right up my alley. I'm not going to lie, the art and animation look SUPER cheesy and generic BUT I'm craving it so I'm going to go ahead and dive head first into this show!
---
Itai no wa Iya nano de Bougyoryoku ni Kyokufuri Shitai to Omoimasu.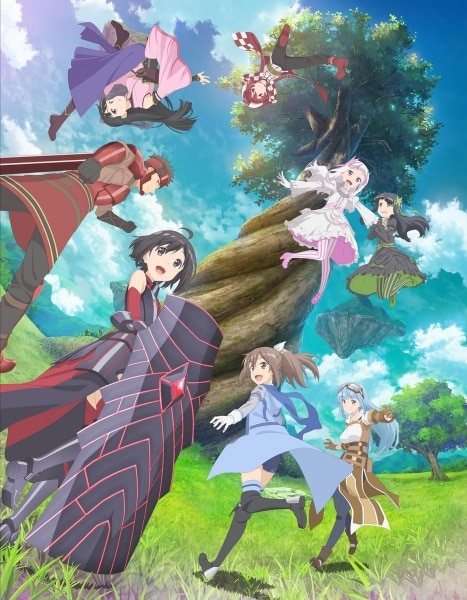 Studios:

 Silver Link.

Source:

 Light novel

Genres:

 Action, Sci-Fi, Adventure, Comedy, Fantasy
Synopsis: "Kaede Honjō is invited by her friend Risa Shiramine to play a virtual reality MMO game with her. While Kaede doesn't dislike games, what she really, truly dislikes is being in pain. She creates a character named Maple, and decides to put all her points in VIT to minimize pain. As a result, she moves slowly, can't use magic, and even a rabbit can get the best of her. But as it turns out, she acquires a skill known as "Absolute Defense" as a result of her pumping points into VIT, as well as a "Counter Skill" that works against special moves. Now, with her ability to nullify all damage, she goes on adventures." – Anime News Network
Ah ha! Another VRMMO anime (banzai!), but this time around the story seems to have a bit more substance and by substance I mean MOE. You can't go wrong with a character like Kaede who literally put all of her points into VIT/defense. Wherever this adventure takes Kaede, I'm sure it'll be fill with joy, laughter, and zero pain. Also…is that Klein (Sword Art Online) on the left?!
Check out my first impression here
---
Jibaku Shounen Hanako-kun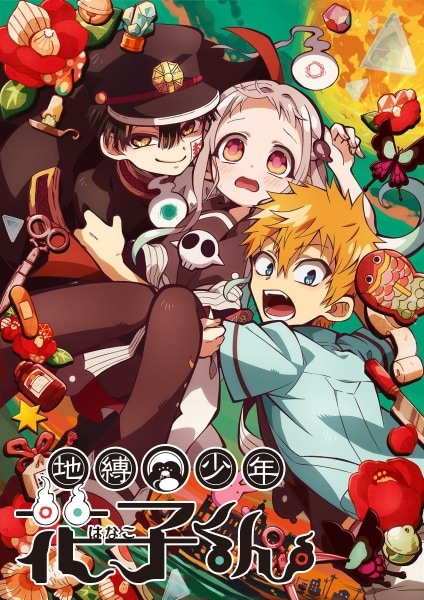 Studios:

 Lerche

Source:

 Manga

Genres:

 Comedy, Supernatural, School, Shounen
Synopsis: "At Kamome Academy, rumors abound about the school's Seven Mysteries, one of which is Hanako-san. Said to occupy the third stall of the third floor girls' bathroom in the old school building, Hanako-san grants any wish when summoned. Nene Yashiro, an occult-loving high school girl who dreams of romance, ventures into this haunted bathroom…but the Hanako-san she meets there is nothing like she imagined! Kamome Academy's Hanako-san…is a boy!" – Jibaku Shounen Hanako-kun (manga)
I'm sure we've all heard of the ghost story of Hanako-san by now! And if you haven't…look it up! The friendly/not friendly ghost that lives in a stall! Jibaku Shounen Hanako-kun is a different take on that ghostly encounter and the biggest twist? Hanako is a boy! This seems like a day-to-day type of story where the kids hang out and solves a different case or problem each day. Looks like a really easy show to watch without needing a lot of commitment.
---
Koisuru Asteroid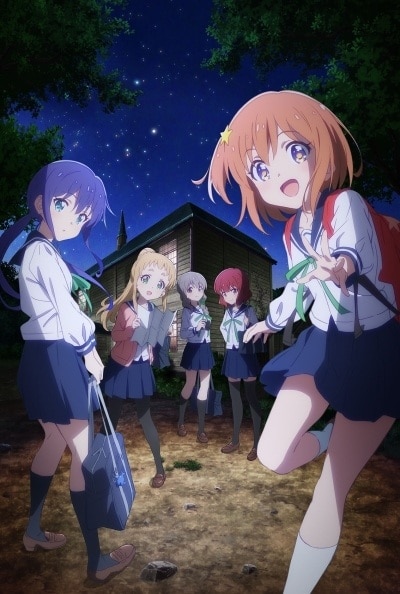 Studios:

 Doga Kobo

Source:

 4-koma manga

Genres:

 Slice of Life, Comedy, School
Synopsis: "When she was little, Mira Kinohata met a boy named Ao at a campsite in town. While gazing at the starry sky together, Mira learns that there's a star with the same name as herself, but no star named Ao. The two then promised to one day explore asteroids together and find a star to name it after him. Several years later, Mira enrolls at the Hoshizaki high school and decides to join the astronomy club to fulfill her promise. However, she learns that the astronomy club will be merged with the geological research society to form the earth science club. Reluctantly, Mira goes to the club room and is reunited with Ao Manaka—the person she made the promise to explore asteroids with—and is shocked to learn that she is a girl!" – MAL News
My CGDCT anime of the season. The preview showcased really great art and animation so I'm looking forward to seeing more of that! The plot suggests that there is a bigger event within the show rather than just daily life within the group of friends. Also as it's based off of a 4-koma manga, it'll be interesting to see how it translates into the anime world.
---
Kyokou Suiri
Studios:

 Brain's Base

Source:

 Manga

Genres:

 Mystery, Comedy, Demons, Supernatural, Romance, Shounen
Synopsis: "At the young age of 11, Kotoko Iwanaga was abducted by youkai for two weeks and asked to become their "God of Wisdom," a mediator between the spirit and human worlds, to which the girl quickly agreed but at the cost of her right eye and left leg. Now, six years later, whenever youkai wish for their problems to be solved, they make their way to Kotoko for consultation. Meanwhile, Kurou Sakuragawa, a 22-year-old university student, has just broken up with his girlfriend after he fled alone when the two encountered a kappa. Seeing this as her chance to become closer with him, Kotoko immediately makes her move, hoping to get married to Kurou one day. However, she quickly realizes there is something more to Kurou. With this knowledge, she asks for his help in solving the various issues presented by the supernatural, all the while wishing her newfound partner will eventually reciprocate her feelings." – MAL Rewrite
I'm going to be honest, the story for Kyokou Suiri is definitely out there for me. It's interesting that it incorporates youkai (they're like Japanese monster from folklore). With not much to go off of from the preview and the synopsis, this one is definitely a wildcard that could go either way.
---
Murenase! Seton Gakuen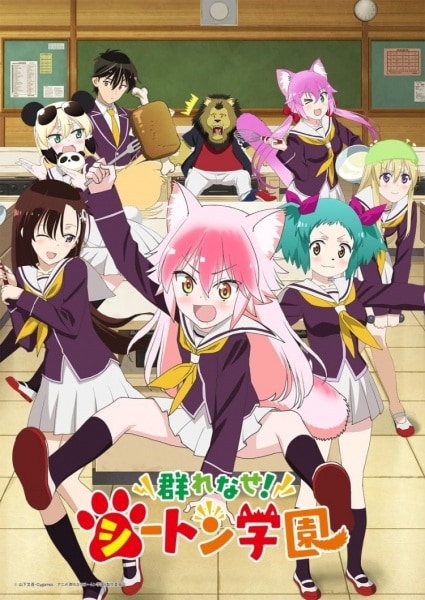 Studios:

Studio Gokumi

Source:

 Manga

Genres:

 Comedy, School
Synopsis: "Seton Academy, a school full of animals where, thanks to population decline, there are fewer humans than any other creature. Mazama Jin, an animal hater and the only human male in his class, falls in love with Hino Hitomi, the only female human, the moment he lays eyes her. However he soon finds himself entangled with various other creatures after he reluctantly joins the 'pack' of Lanka the wolf, the only other member of her pack." – Murenase! Seton Gakuen (manga)
This…….is my guilty pleasure of the season. I mean who can resist all of this moe/cuteness that practically oozes out of the key visual alone?! From the preview, this looks like it'll be a really fun show to watch with the cute characters and absolutely ridiculous story!
Check out my first impression here
---
Rikei ga Koi ni Ochita no de Shoumei shitemita.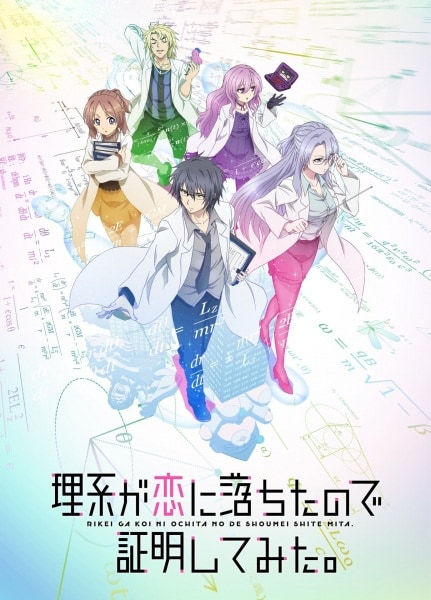 Studios:

 Zero-G

Source:

 Web manga

Genres:

 Comedy, Romance
Synopsis: "Yukimura Shinya and Himuro Ayame are two scientists that want to find out if love can be solved by a scientific theory. These two scientists also have feelings for each other and want to be able to solve their feelings through similar theoretical facts. With this perfect opportunity, these scientists will attempt to solve the theory of the love they express for each other." – Rikei ga Koi no Ochita no de Shoumei shitemitai (manga)
Now this one is probably one of my picks for the dark horse in the season. Just the set up with the characters and the idea of breaking down the concept of love into a form of science will, no doubt, be an entertaining watch. Whether this show actually goes into the actual composition of elements that make up love or not, I think it'll be an exhilarating time!
---
Runway de Waratte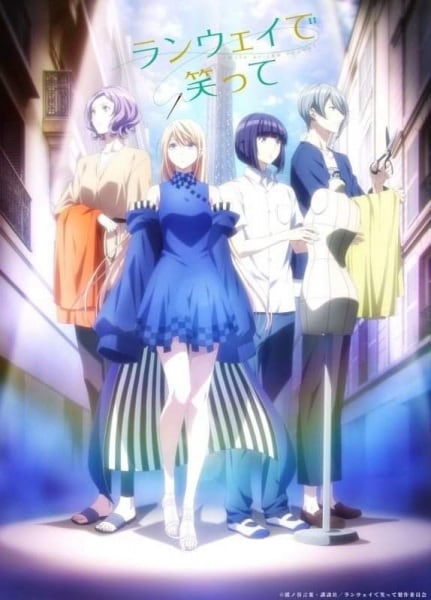 Studios:

 Ezόla

Source:

 Manga

Genres:

 Slice of Life, Drama, School, Shounen
Synopsis: "Chiyuki Fujito has a dream: to become a Paris Collection model. The problem is, she's too short to be a model, and everyone around her tells her so. But no matter what they say, she won't give up. Her classmate, a poor student named Ikuto Tsumura, also has a dream: to become a fashion designer. The two decide to combine their dreams and overcome the naysayers." – Runway de Waratte (manga)
I've recently got into fashion, understanding what exactly I'm wearing and how it creates a composition with my shoes, belt, etc. Haven't gotten around to understanding the runway fashion yet…but maybe this is my chance? Runway de Waratte looks like a really interesting drama about a boy who wants to be a designer and a girl who wants to be a model. Not sure how this will go but it's got my attention for sure!
---
And that's it for my anime selection for this season!
Is there something that I should be watching?
Which shows are you excited about?
Let me know in the comments below!