Eizouken ni wa Te wo Dasu na! (First Impression)
---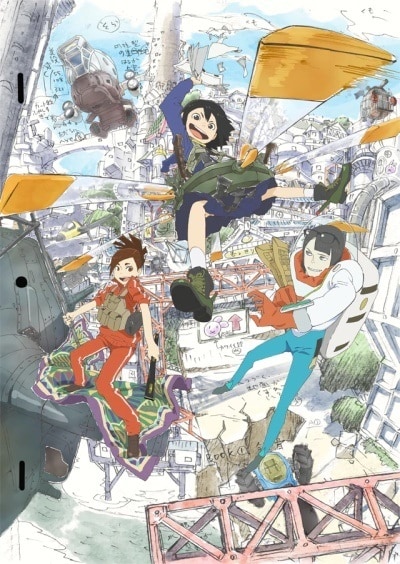 Studios:

 Science SARU

Source:

 Manga

Genres:

 Adventure, Comedy, School, Seinen
Synopsis: "Asakusa Midori wants to create an anime, but she's too disheartened to make that first step by herself. By pure chance, she meets Mizusaki Tsubame, an up-and-coming socialite secretly dreaming of becoming an animator. Together with Midori's money-loving best friend Kanamori Sayaka, the energetic trio slowly work towards making their "ultimate world" a reality!" – Eizouken ni wa Te wo Dasu na! (manga)
First Impression:
I've heard a lot of really good things about this show and I'm ecstatic to finally start watching it!
Just within a few seconds of the first episode, we're exposed to the incredible cinematography that the show has to offer! The proportions as well distinct foreground, middle ground, and background create a really dynamic scene, even if it's just driving toward the city.
I really love the sketches that are shown throughout the show.
While yes this scene is as plain as can be, it plain because of Akakusa's apathetic attitude to things outside of anime. A lazy approach that's intentional and relates back to its characters. This subtle allegory is one of many that appear throughout the show.
I really love the concept and message that this show offers. A small idea, with perseverance and some imagination, can develop into a world that can move people.
Recommendation:
YES
While on the surface, Eizouken ni wa Te wo Dasu na!, does seem like a kids anime about exploration and imagination, but there's a hidden layer to the show that's beautiful and profound. From the art and animation had me interested in the beginning but the characters and the story kept me here and I can't wait to see what happens next, the possibilities are endless!
---
If you enjoyed this post, please consider buying me a
Or if you want to be on my Patrons page, you can become one on my