Princess Connect Re:Dive (First Impression)
---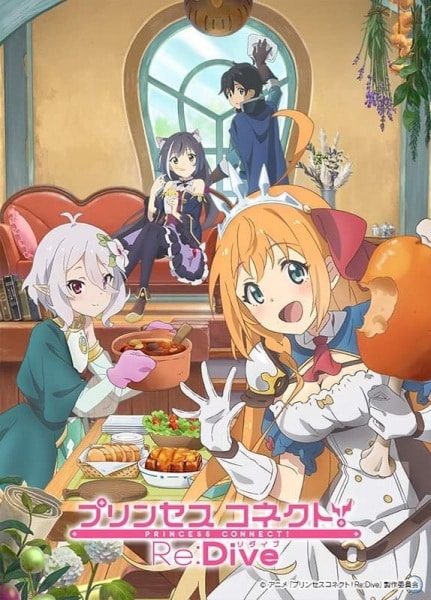 Studios:

 CygamesPictures

Source:

 Game

Genres:

 Action, Adventure, Fantasy
Synopsis: "Set in the lovely land of Astoria where a gentle wind blows, Princess Connect! Re:Dive follows the adventures of: Yuuki, an amnesiac young man; Kokkoro, a small guide who looks after Yuuki; Pecorine, a beautiful swordswoman who is constantly hungry; and Karyl, a

 cat-eared magical girl with a somewhat cool personality. These fateful four form a guild entitled "Bishoku-dono" ("Epicurean Hall") and embark on delicious adventures together."

 -Anichart
First Impression:
After I started playing the game about a year ago (I think?) I fell in love with the characters and the story of Princess Connect! Re:Dive. I'm probably more excited than I should be for this show, but let's get to it!
Man, CygamesPictures doesn't mess around, we're barely into the episode but the scenery is beautiful and not to mention the wonderful composition and balance in each frame. And the background music is straight from the game, which brings a flow of nostalgia…even though I just played it a few hours ago…
I usually don't have faith in anime adaptations based on games because most of the time, it doesn't work very well. Seeing Kokkoro animated….makes me start to believe that maybe there's a possibility that these adaptations can be good! I MEAN LOOK AT HER! I'M CRYING.
It's clear to see that the composition is fantastic and not only looks beautiful but are hints to the source material and its game mechanics. For those of you who don't know, Princess Connect! Re:Dive features visual novel style dialogue in between real-time battle gameplay. The position of the characters and some scenes hint at dialogue and CG scene often seen in the game itself.
Pecorinne is great as I remember (even though I just used her new 3-star to clear a quest…). The action scenes are VERY nice and fluid! The animation and art style are much better than I had hope and I'm ecstatic to see more!
Recommendation:
YES
While the anime is slightly geared more towards players of the game, it's actually very well put together than newcomers can easily get engaged within the story. It is a little bit fast for those that don't know the backstory but not so bad that it leaves you completely lost. This show is great for both anime veterans and rookies, so give it a go!
---
If you enjoyed this post, please consider buying me a
Or if you want to be on my Patrons page, you can become one on my