Listeners (First Impression)
---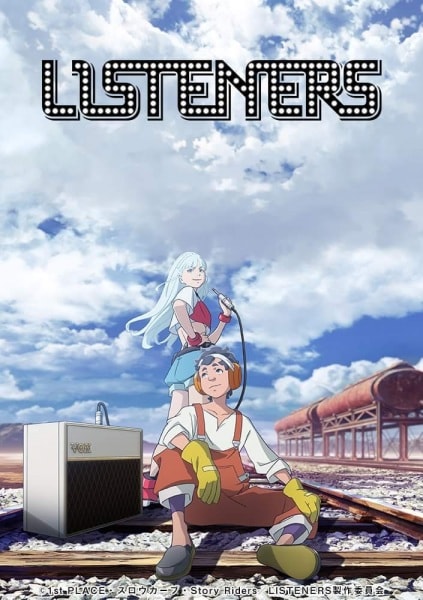 Studios:

 MAPPA

Source:

 Original

Genres:

 Sci-Fi, Music
Synopsis: "Set in a world where the concept of music ceases to exist. The story begins when a boy encounters Myuu, a mysterious girl who possesses an audio input jack in her body. The two intermingle with the history of rock music and embark on an unforgettable journey." -MAL News
First Impression:
Listeners is at the top of my list of anime to watch this season. The trailer was dynamic and expressive with the animation and the soundtrack, so I have high expectations!
The setting is intriguing and I'm curious to see how society functions without the concept of music in everyday life. I'm actually listening to music right now as I write this first impression…("Scream Saver" by Subtronics, if anyone is interested…).
Without context….this would be a completely different show LOL.
The mechs, or Equipment as they are called in the show, are going to take some time to get familiar with. I'm interested in how exactly the amp transforms into a big mech like this and, hopefully, the show will explain it later on.
The fight scene wasn't too bad, I expected a little more from it but as it's the first battle, I can let it slide. The biggest part of the show, as you can imagine, is the music. The music and sound design were done immaculately and coordinated well with the action sequence that was occurring on screen. The rise in the bassline when the Equipment was connected to Myuu was really exhilarating.
The soundtrack is my favorite thing about the show right now. How it matches well with whatever's happening on the screen as well as the ending theme song. I can't wait to hear the opening and the rest of the soundtrack!
Recommendation:
YES
There's a lot of potential here in the first episode and I'm excited to see what else lies beyond the town the Echo grew up in. The concept of the show is quite mindboggling and how it starts to get unraveled will make or break the rest of the show but I have a good feeling that it'll go well.
---
If you enjoyed this post, please consider buying me a
Or if you want to be on my Patrons page, you can become one on my