Yesterday wo Utatte (First Impression)
---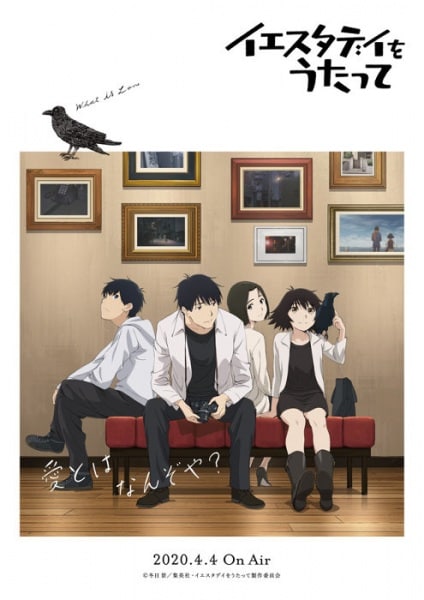 Studios:

 Doga Kobo

Source:

 Manga

Genres:

 Slice of Life, Drama, Romance, Seinen
Synopsis: "The coming-of-age story follows a university graduate named Rikuo who has not been able to find permanent employment after college, a mysterious woman named Haru who has a pet crow, and Rikuo's former university classmate Shinako." -MU
First Impression:
The trailer had me the moment it finished playing. The characters, the overall composition, and the presence of crows create an interesting atmosphere. Both calming and unnerving all at once.
The first few frames showcase the show's ability to create a place even with minimal information and abstract angles. While you don't get a full room, the different angles and objects are enough to create the space in your mind. The cinematography is excellent because it slows down the overall pace of the show.
Maybe I should think about adding more gifs to my first impressions….but the animation of how the water fills the cup blew my mind, a simple task felt so satisfying yet also metaphorical in a sense because of Rikuo mindset of my cup is already full and I can't add any more than this.
Again, the concept of foreground, middle ground, and background. The blur effect on the foreground and ambient lighting in the background.
Now, this is a smile that we want to protect!
Recommendation:
YES
Not only is Yesterday wo Utatte well put together artistically and graphically, but the story is something that you won't want to miss. The coming-of-age story normally occur in the earlier years but it'll be interesting to see how a college graduate handles the daily struggle and finding one's self. Maybe I'm more interested because I'm really close to Rikuo's age, but I have a feeling that this show has a message that you won't want to miss.
---
If you enjoyed this post, please consider buying me a
Or if you want to be on my Patrons page, you can become one on my