Digimon Adventure: (First Impression)
---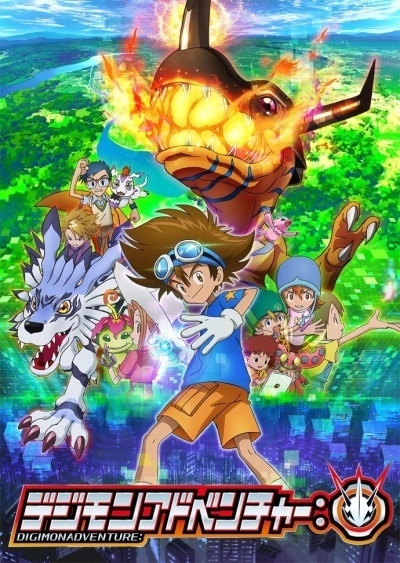 Studios:

 Toei Animation

Source:

 Original

Genres:

 Action, Adventure, Comedy, Kids, Fantasy
Synopsis: "The new anime will take place in 2020 and will feature an all-new story centering on Taichi Yagami when he is in his fifth year in elementary school. His partner is Agumon. The story begins in Tokyo when a large-scale network malfunction occurs. Taichi is preparing for his weekend summer camping trip when the incident happens. Taichi's mother and his younger sister Hikari get stuck on a train that won't stop moving, and Taichi heads to Shibuya in order to help them. However, on his way there, he encounters a strange phenomenon and sweeps him up into the Digital World along with the other DigiDestined." -ANN
First Impression:
I remember watching the original Digimon Adventure (dubbed) on Saturdays back in the day. I haven't had the chance to watch the Tri movies yet but that's on my "to-watch" list! Alright, what does this new show have in store for us?
Oh, I love this homage from the original 1999 Digimon Adventure opening!
THE SIGNATURE GOGGLES. The new Digimon season seems to start right before the crew gets lost in the Digital World during the training camp as Taichi is in the process of packing for that.
I really like this image…the architecture and perspective blur makes me happy!!
It's Pikachu!!! Jokes aside, It's great to see Agumon so soon in the show, though it may be faster than I would like.
HE ALREADY DIGIVOLVED INTO GREYMON
Ah looks like we get a sneak peek at Ishida
Recommendation:
YES
Any Digimon fan won't be able to pass up something like this! I haven't read too far into this and am not sure if this is a reboot with completely new story or if it will reanimate the original that we all know and love. So far it seems to add a little more to the original. I guess we'll have to find out on the next episode whether it's new or a remaster!
---
If you enjoyed this post, please consider buying me a
Or if you want to be on my Patrons page, you can become one on my