Dumbbell Nan Kilo Moteru? [Review]
---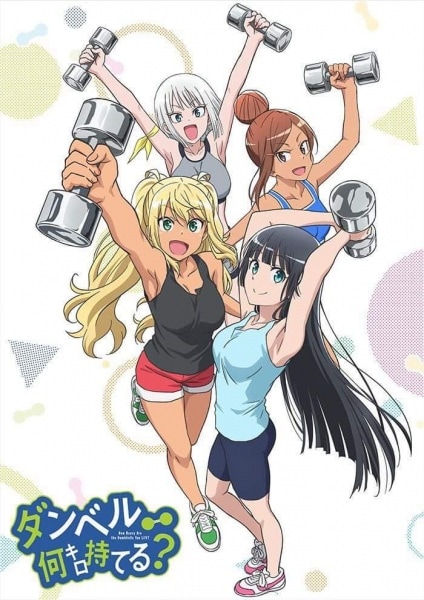 Source Material: Web manga
Studio: Doga Kobo

Genres:

 Comedy, Ecchi
Synopsis: "Sakura Hibiki is your average high school girl, with a voracious appetite. Noticing her clothes tightening in lieu of her slowly expanding waistline she decides to look into enrolling in the nearby gym. There she runs into a girl from her grade named Souryuuin Akemi. Akemi, who has a muscle fetish tries to get Hibiki to enroll in the gym despite its high ratio of macho men. Thankfully a beautiful trainer, Machio, appears and unknowingly convinces her to enroll and start her quest to a great body." -MyAnimeList
Story:
Well, it's not every day you get to see an anime that focuses solely on working out! Dumbbell Nan Kilo Moteru is more oriented towards the slice of life genre and typical follows Hibiki and Akemi and their daily training to become in the best shape as they can be, with surprises and detour of course! A funny yet educational show that doesn't ever get boring!
Artwork & Animation:
Dumbbell really surprised me with how great the artwork is! I wasn't expecting a lot but I was blown away at the articulation of the movement and the coloring throughout the show. Not to mention the different anatomy diagrams throughout that really help with understanding the purpose of each workout! Though to this day….Machio's absurdly ripped body still gives me nightmares…
Character(s):
While the characters remain static throughout the show, their personality and habits make for great gags! Hibiki's huge appetite, Akemi's muscle fetish, and Machio's tendency to go shirtless at a moment's notice is just a few of the things that liven up the show.
Sound (OST & Voice Acting):
As you can imagine the soundtrack is just as energetic as the show and characters themselves! There's also a big variety within the soundtrack expand from a formal orchestral piece (Akemi's Theme) to high energy electronic rock with string leads (Tension). It's an expansive soundtrack and really matches the eccentricity of the show.
Enjoyment:
What I love the most about the show is the tidbits of information within each of the different workouts. Like pointers on how to maximize the efficiency of each workout! The astronomical amount of both anime and real-world references were way too funny!
Overall: Score 8
Dumbbell Nan Kilo Moteru is both something you'd expect…and it's also not what you'd expect! An eccentric show about working out and the different techniques that work different parts of your body. Came for the cute characters stayed for the informative workout routine and ridiculous interactions between the characters.
---
Best Girl: Gina Boyd
While she looks serious in the image above…Gina's tendency to create chaos within the show is what made me love the show more than I did already! For all of my Kaguya-sama fans out there…she exudes Chika vibes LOL. Being voiced by Nao Touyama doesn't hurt either!
Bonus:
---
If you enjoyed this post, please consider buying me a
Or if you want to be on my Patrons page, you can become one on my