Deca-Dence (First Impression)
---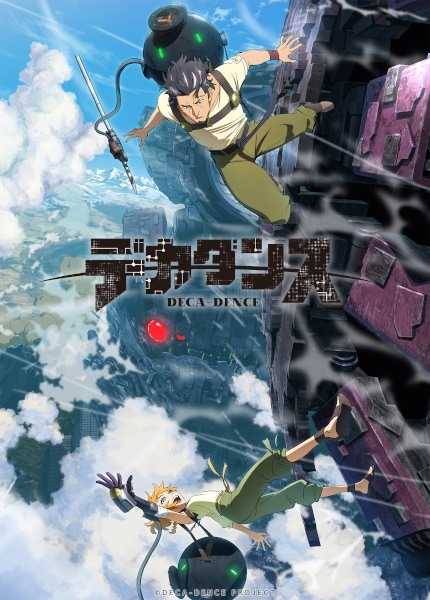 Studios: 

NUT

Source: 

Original

Genres:

 Sci-Fi, Action
Synopsis: "Many years have passed since humanity was driven to the brink of extinction by the sudden emergence of the unknown life forms Gadoll. Those humans that survived now dwell in a 3000 meter-high mobile fortress Deca-dence built to protect themselves from the Gadoll threat. Denizens of Deca-dence fall into two categories: Gears, warriors who fight the Gadoll daily, and Tankers, those without the skills to fight. One day, Natsume, a Tanker girl who dreams of becoming a Gear meets surly Kaburagi, an armor repairman of Deca-dence. This chance meeting between the seemingly two opposites, the girl with a positive attitude who never gives up on her dreams and the realist who has given up on his, will eventually shake the future course of this world."

-Funimation
First Impression:
From the animation studio that gave us Tanya the Evil, comes a brand new original anime! As I mentioned in my Anime to Watch list, an original anime is very ambitious for animation studio with such a small portfolio (it's a very good portfolio mind you!) so I'm interested in how they will handle the execution of the show. Let's get into it!
This slideshow requires JavaScript.
Starting off with a death flag?! While this may seem too sudden, the story quickly establishes just how dangerous the world outside of Deca-Dence is. Deca-Dence is a man-made fortress that the remaining 10% of humanity that survived the apocalypse live in. I'm still unsure if the warriors known as Gears are enhanced humans or if they're extraterrestrial beings that are helping the humans fight against the Gadoll, giant insects that roam the planet. And whether the Gadoll simply kill for amusement or consume humans for energy isn't made clear. The first few minutes condenses the lore of the world of Deca-Dence and the rest of the episode subtlely shows you all of those concepts in action.
Can we talk about how breathtaking the art is for this show? As important animation and the character design are to a show, the landscape serves an equally important whole in grounding the story. It's the little details in conjunction with the "bigger picture" that brings the fictional world to life. The scenery blows me away and gives me an urge to explore the rest of the world of Deca-Dence!
And I'll leave you with these two screencaps. And just like that, the world of Deca-Dence gets much bigger! The underlying plot opens up into infinite possibilities!
Recommendation:
YES
I left out a lot of good screenshots, just because I believe seeing the Gadoll and how the Gears defend themselves is should be seen with no knowledge beforehand! The huge world that Deca-Dence has already established in just the first episode is extraordinary and I have a gut feeling that it's just going to get bigger! You definitely won't want to miss this one!
---
If you enjoyed this post, please consider buying me a
Or if you want to be on my Patrons page, you can become one on my