Anime to Watch in Summer 2020!!
Hello reader and fellow anime watchers!
Welcome back to another post of new anime that I'll be watching! With COVID-19 pandemic still lingering, it isn't surprising that the number of anime shows that are airing would be much less than what we've seen in the previous season (from 41 full-length anime to about 18). With that being said there are still a lot of exciting shows that will be airing!
P.S. I'm debating what the name of these posts should be…I've been switching between "Kirito's Anime Selection" and "Anime to Watch!". Anyone have a preference or advice?
And without further ado, let's get into it!
*The list is in alphabetical order!*
---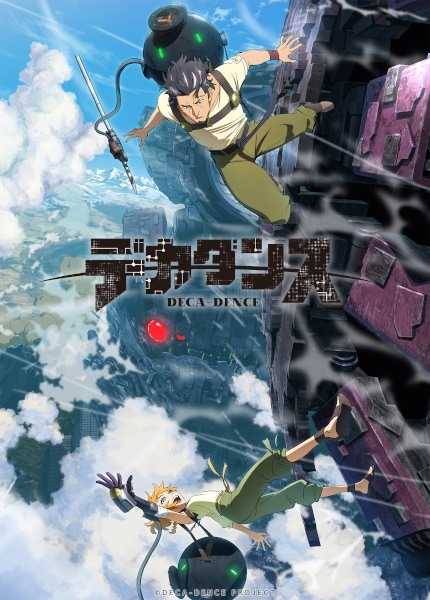 Studios:

NUT

Source:

Original

Genres:

Sci-Fi, Action
Synopsis: "Many years have passed since humanity was driven to the brink of extinction by the sudden emergence of the unknown life forms Gadoll. Those humans that survived now dwell in a 3000 meter-high mobile fortress Deca-dence built to protect themselves from the Gadoll threat. Denizens of Deca-dence fall into two categories: Gears, warriors who fight the Gadoll daily, and Tankers, those without the skills to fight. One day, Natsume, a Tanker girl who dreams of becoming a Gear meets surly Kaburagi, an armor repairman of Deca-dence. This chance meeting between the seemingly two opposites, the girl with a positive attitude who never gives up on her dreams and the realist who has given up on his, will eventually shake the future course of this world."

-Funimation
The last time I got this excited about a certain animation studio making a new anime it was Kyoto Animation animating Violet Evergarden! I've fallen in love with the work that NUT has produced (and that's saying a lot because they're fairly new and only have about 3 productions that have aired) so I'm ecstatic that NUT is coming out with another anime! Let's also appreciate the fact that this will an original show! Very ambitious and quite frankly…I'm all for it! Deca-Dence looks too be a unique and interesting show from the use of these mechanical cities and the character defending it from monsters that live outside in what looks like a decaying Earth. It'll be interesting to see what the Gadoll are and how the technology works in this fortress city that humanity lives in.
---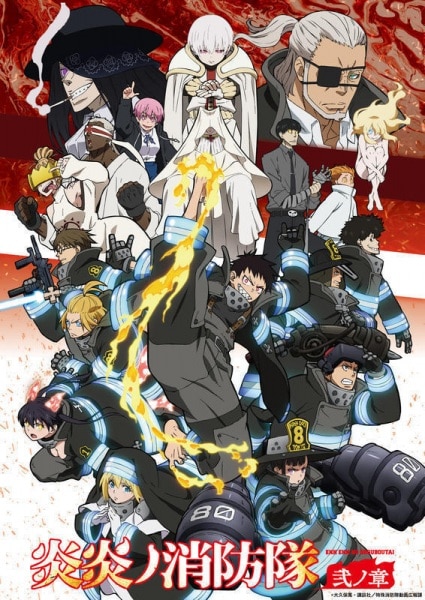 Studios:

David Production

Source:

Manga

Genres:

Action, Supernatural, Shounen
Synopsis: Second season of Enen no Shouboutai.
Easily one of the most anticipated sequels in this season! Enen no Shouboutai brought a lot of excitement as it was created by Atsushi Ōkubo (the mangaka of Soul Eater) and being animated by David Productions (Cells at Work, Jojo's Bizaree Adventure, Hyper Dimension Neptunia). As you can imagine the theme surrounding the show is fire, how it's the definition of both life and death. Enen no Shouboutai was my favorite show of 2019 and I would recommend it anyone (AND YES THAT INCLUDES YOU READING THIS). The wonderful world-building, dynamic action sequences, and complex characters make Enen no Shouboutai a must watch!
---
Studios:

TMS Entertain

ment




Source:

Manga 

Genres:

Comedy, Romance, School, Shounen
Synopsis: "Dumped by his girlfriend, emotionally shattered college student Kazuya Kinoshita attempts to appease the void in his heart through a rental girlfriend from a mobile app. At first, Chizuru Mizuhara seems to be the perfect girl with everything he could possibly ask for: great looks and a cute, caring personality. Upon seeing mixed opinions on her profile after their first date, and still tormented by his previous relationship, Kazuya believes that Chizuru is just playing around with the hearts of men and leaves her a negative rating. Angry at her client's disrespect towards her, Chizuru reveals her true nature: sassy and temperamental, the complete opposite of Kazuya's first impression. At that very moment, Kazuya receives news of his grandmother's collapse and is forced to bring Chizuru along with him to the hospital. Although it turns out to be nothing serious, his grandmother is ecstatic that Kazuya has finally found a serious girlfriend, which had always been her wish. Unable to tell her the truth, Kazuya and Chizuru are forced into a fake relationship—acting as if they are truly lovers."

-Myanimelist
OMG. I CAN'T TELL YOU HOW EXCITED IT AM FOR THIS SHOW. THERE ARE SO MANY GOOD THINGS HAPPENING FROM THE QUALITY OF THE PV, THE VOICE ACTORS, THE STORY IN GENERAL AHHH! *Ahem* Sorry I lost my composure there for a second, let's take that from the top! Kanojo, Okarishimasu definitely hooked me from the PV video that was released. The pretty color palette and character designs really had me going, if you didn't already notice. Have you heard of the following voice actors: Amamiya Sora, Yuuki Aoi, Touyama Nao, Takahashi Rie? Let me break it down for you…
Amamiya Sora voices

Aqua (Konosuba)
Miia (Monster Musme)
Elizabeth Liones (Nanatsu no Taizai)
Kirishima Touka (Tokyo Ghoul)

Yuuki Aoi

Hanabatake Yoshiko (Aho Girl)
Hinazuki Kayo (Boku dake Machi ga Inai)
Asui Tsuyu (Boku no Hero Academia)
Kotatsu Tamaki (Enen no Shouboutai)

Touyama Nao

Kirisaki Chitoge (Nisekoi)
Aoki Clair (Gleipnir)
Shima Rin (Yuru Camp)
Kujou Karen (Hello!! Kiniro Mosaic)

Takahashi Rie

Megumin (Konosuba)
Emilia (Re:Zero)
Naoki Miki (Gakkou Gurashi)
Kyrielight Mash (Fate/Grand Order)
So as you can see this anime is going to be waifu central and will be the cause of the 3rd Great Waifu War. Thanks for listening to my Ted Talk.
---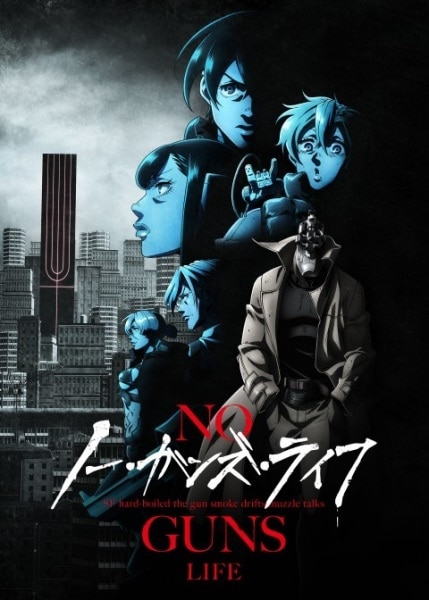 Studios:

 Madhouse

Source:

 Manga

Genres:

 Action, Sci-Fi, Drama, Seinen
Synopsis: The second season of No Guns Life
As No Guns Life 2nd Season was delayed I will post what I said about it in the previous "Anime to watch!"
Madhouse really pulled through with No Guns Life! The first season was very gritty and hardboiled and I just couldn't get enough of it! Can't wait where the story takes Juzo next!
---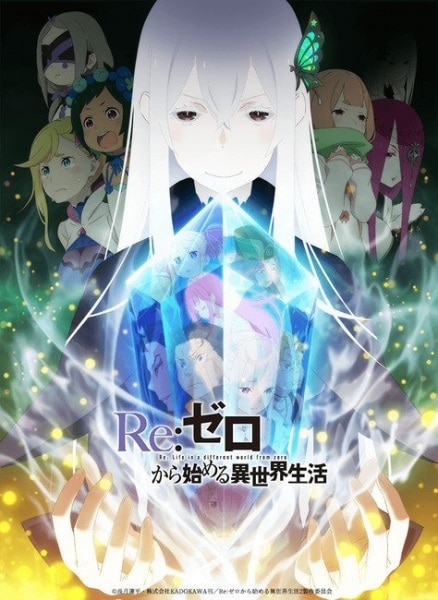 Who could forget the insane journey that Re: Zero's first season took us on back in 2016? Has it already been 4 years since this last aired?! Can you imagine dying a horrendous death like have your guts pulled out of you, getting beheading, or bleeding out due to losing a limb only to wake up to go through all of over and over again? Re: Zero's descriptive and gruesome storytelling will have your skin crawl episode after episode. Subaru's adventure (or is more torture at this point?) continues as yet another force of evil appears before him and his (our?) beloved Emilia. From the PV it looks like we'll finally meet the witch that has her claws around Subaru's heart, will this be the end? What will Subaru do? There are so many questions going through my head and I hope that this new season will answer all of them!
---
Sword Art Online: Alicization – War of Underworld 2nd Season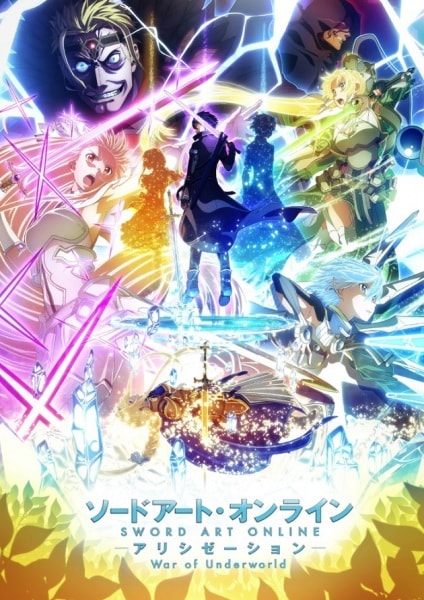 Studios:

 A-1 Pictures

Source:

 Light novel

Genres:

 Action, Game, Adventure, Romance, Fantasy
Synopsis: The second season of Sword Art Online: War of the Underworld
As SAO: Alicization was also delayed, I will include my thoughts from the previous "Anime to Watch!!"
I've said it once and I'll say it again. Alicization is the best installment in the SAO franchise and it keeps getter better and better. There's a lot of anticipation for this second half of war of the underworld and it's clear to see why! If you haven't caught up….go do it now!!!
---
Studios:

MAPPA




Source:

Web Manga




Genres:

Action, Sci-Fi, Adventure, Comedy, Supernatural, Martial Arts, Fantasy
Synopsis: "It all began as a fighting tournament to seek out for the best fighter among all high school students in Korea. Mori Jin, a Taekwondo specialist and a high school student, soon learns that there is something much greater beneath the stage of the tournament."

-LINE Webtoon

Alright so I'm not a big fan of Webtoon (is it that good?!). But after seeing the Kami no Tou (Tower of God), I am starting to garner an interest for the medium. God of Highschool is also based off of a webtoon and was recommended to me by a friend. It does look interesting and the soundtrack from the PV alone definitely has my attention. All I could put together from the PV and the context that I know from the story is the Mori Jin joins a high school where they have a tournament to determine the strongest student. The students each have their own unique fighting styles and while it sounds interesting, I somehow feel like it's lacking something though I can't pinpoint it just yet.
---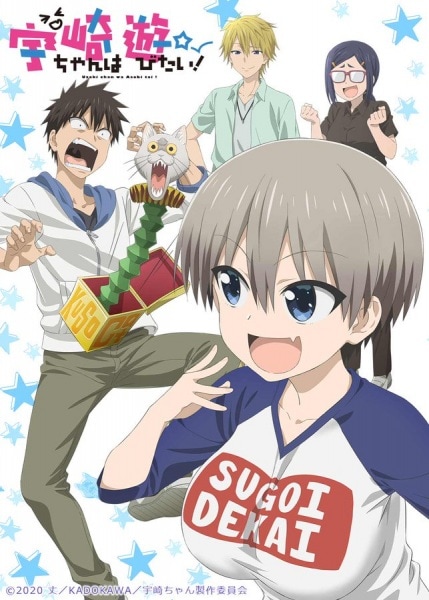 Studios:

ENGI

Source:

Manga

Genres:

Slice of Life, Comedy, Ecchi
Synopsis: "Sakurai Shinichi's one wish is for a little peace and quiet. But Uzaki Hana–his boisterous, well-endowed underclassman–has other plans. All she wants is to hang out and poke fun at him. With the help of her chipper charm and peppy persistence, this might just be the start of a beautiful relationship! "

– Seven Seas Entertainment

"SUGOI DEKAI". IF THAT DIDN'T TELL YOU WHAT YOU'RE IN FOR THEN THIS PROBABLY ISN'T FOR YOU. But jokes aside, the story is pretty straight forward, as you can imagine. It will feature the poster girl, Uzaki Hana, and her interactions with Sakurai Shinichi with a lot of fan service (if you're into that kind of stuff). This will be my happy show for the season with the comedy and PLOT, it is sure to make for a great show!
---
Yahari Ore no Seishun Love Comedy wa Machigatteiru. Kan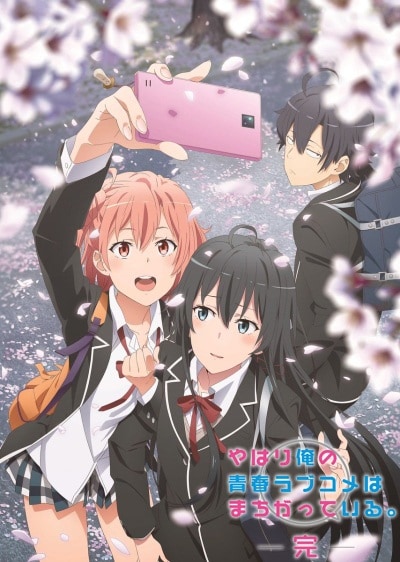 Studios:

feel.




Source:

Light Novel




Genres:

Slice of Life, Comedy, Drama, Romance, School
Synopsis: Third season of

Yahari Ore no Seishun Love Comedy wa Machigatteiru.
Oregairu! Now, this is a trip down memory lane! Let's see if I remember right the first season aired back in 2013 and was animated by Brain's Base and then in 2015 it was renewed for a second season and when through a complete design overhaul when it was handed over to the animation studio feel. At the time I remember being really disoriented because of the new art style because it was so different. And quite frankly after 5 years…I don't really remember the details of the show so I may need to do a quick refresher before the show starts. But for those of you who haven't heard of the show, Hikki, our protagonist, is sort of anti-social that solves well….social problem! Most of which results in him taking the downfall, even if he isn't the problem. While taking "one for the team" can be an admirable thing, it can lead to self-destruction when not restrained. One of the more unique romantic comedies that I've seen through the years as the main characters is quite literally a background character, only interjecting when necessary. Not quite an underdog story but it's similar in a sense.
---
Umayon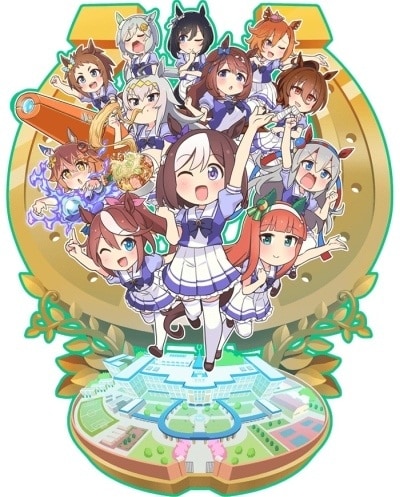 Studios:

CyGames




Source:

4-koma Manga




Genres:

Slice of Life, Comedy, Sports
Synopsis: "It's a "pop" and cute everyday anime based on the 4-koma manga featuring the characters from Uma Musume: Pretty Derby."

-Myanimelist
If you loved Uma Musume's anime, there's a good chance that you'll also love this short anime! Though the real question that we're all asking is…WHERE IS THE MOBILE GAME?! IT'S BEEN 4 YEARS (it was announced in 2016 for reference). And these are also short episodes so it won't take a lot of commitment to watch these each week! And for those of you who haven't even heard of Uma Musume! You can check out my review riiiiiiiiiight
---
And that's it! A much smaller list than I usually do but what can you do when there are only 18 shows to choose from this season. Regardless I'm very excited about these shows and can't wait until they start airing!
Side Note: I've been thinking about adding links to the PVs, but I don't want to clutter the post too much since I'll also be linking my first impressions later on…any suggestions?
Thanks for reading this far! I hope this helped narrow down your anime search!
---
If you enjoyed this post, please consider buying me a
Or if you want to be on my Patrons page, you can become one on my