Yahari Ore no Seishun Love Comedy wa Machigatteiru. Kan (First Impression)
---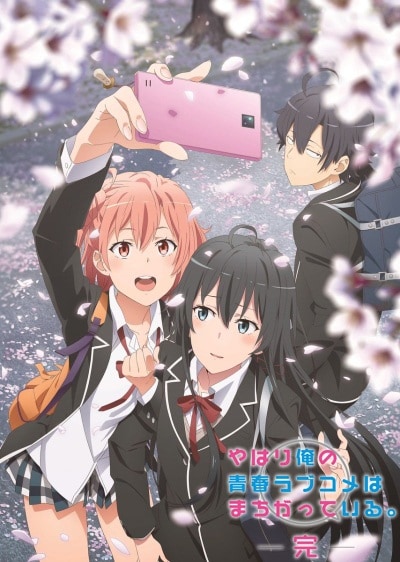 Studios: 

feel.




Source: 

Light Novel




Genres:

 Slice of Life, Comedy, Drama, Romance, School
Synopsis: Third season of 

Yahari Ore no Seishun Love Comedy wa Machigatteiru.
First Impression:
To be completely honest…it's been so long since I've seen the second season that I'm not quite sure if I'm ready to watch this season. But we're going to do it anyway since the studio feel, ideally, should've taken this into consideration when making this third season after 5 long years.
Right off the bat, I was really confused so I went back to the last portion of the second season and this is the last scene that we see before it ends. I'm not sure how I feel about this show jumping right into the part where it left off after such a long hiatus. Before I move on to the next episode I'm going to have to binge the first two seasons again…Oh boy.
This slideshow requires JavaScript.
Even if it's been a while since I've seen Oregairu…there's no way I'd forget any best girl of any series! Kawasaki Saki is, indubitably, my one and only best girl for the show. From the back of my brain, I remember that she didn't have a lot of screen time in the second season. Let's hope she gets it this season!
This slideshow requires JavaScript.
Ok so this is a long set of screenshots, but even though I didn't remember the specifics of the show, this scene still hit me pretty hard. I have a weak point towards familial bonding scenes (DOUBLE DAMAGE if it's about being taken care of or how grateful they are, DOUBLE AGAIN if they bow).
Recommendation:
YES
It's hard to write a first impression when the show gives little to no introduction to the happenings that lead up to its new season. While I highly recommend this show and its new season, I would also suggest giving the previous two seasons a skim or binge. Oregairu is one of those shows where you need to understand the interpersonal relationships between the characters and where they stand to fully appreciate the meticulous storytelling that it offers.
---
If you enjoyed this post, please consider buying me a
Or if you want to be on my Patrons page, you can become one on my