Munou na Nana (First Impression)
---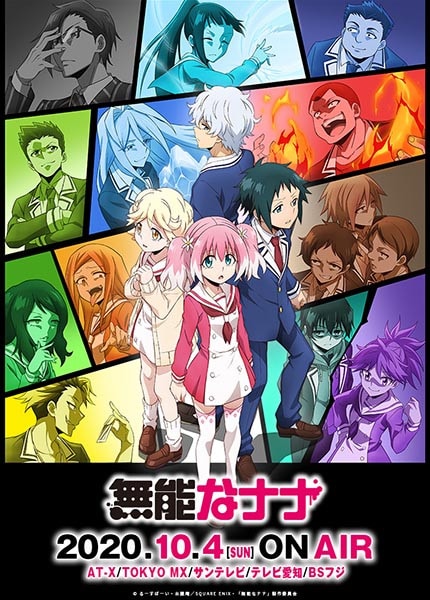 Studios: Bridge
Source: Manga
Genres: Psychological, Supernatural, Thriller, Shounen
Synopsis: "It is the year 20XX. Earth was assaulted by monsters that would come to be known as "the Enemy of Humanity." In order to deal with this threat, special schools composed of teenagers with extraordinary abilities were formed. These people, who came to be known as "the Talented," had abilities that could defy the rules of reality. Among these people with supernatural powers was an outlier, an individual who was sent to one of these schools despite having no innate special abilities whatsoever. This is the story of our protagonist, who attempts to defeat the Enemies of Humanity through the use of intelligence and manipulation alone."

-MU
First Impression:
Munou na Nana really caught my eye with its artwork. There's an Assassination Classroom aesthetic with all of the colorful character designs and the tension that is present inside of the classroom. Let's dive in!
This slideshow requires JavaScript.
Will there ever be an anime character that can surpassed this pun? I highly doubt it! And right off the bat we're introduced to one of main characters of the show. There are others that are shown throughout but only a handful have a character design and look like they have a bigger part in the show. Is there a reason for this? It feels kinda weird to not completely design the class if this is supposedly consisted of only students with special abilities…?
I really can't get enough of these color palettes featuring the signature Nana pink along with oranges, whites, and purples. While these are associated with certain moments in the show. The coloring overall has quite a pop, much like the key visual. There are color tones associated with the different characters, their respective abilities, and personalities so whether it sticks to a certain range or varies depending on the situation is something to look forward to!
There are a number of facial expressions that I find entertaining! Nana acting as the wild card in a classroom with an already structured hierarchy…is asking for mischievous trouble!
This slideshow requires JavaScript.
But Nana's cute personality aside, there's a thing that has been bugging me throughout the episode. The ambiguity that surrounds the "Enemies of Humanity". Sure, we see examples throughout the episode but no clear cut description of what we're up against! The presence of the "enemy of humanity" will make it or break it for the show in my opinion.
Recommendation:
YES
If you liked Assassination Classroom then you'll enjoy watching this one, it's a show with a lot of twists and turns. And remember what Koro Sensei heartfelt story taught you, never judge a book by its cover. It's got a colorful and punchy art paired with a just as dynamic cast of characters. There's no telling where this story will take us but I have a good feeling it'll be an adventure you won't want to miss!
---
If you enjoyed this post, please consider buying me a
Or if you want to be on my Patrons page, you can become one on my