Iwa Kakeru!: Sport Climbing Girls (First Impression)
---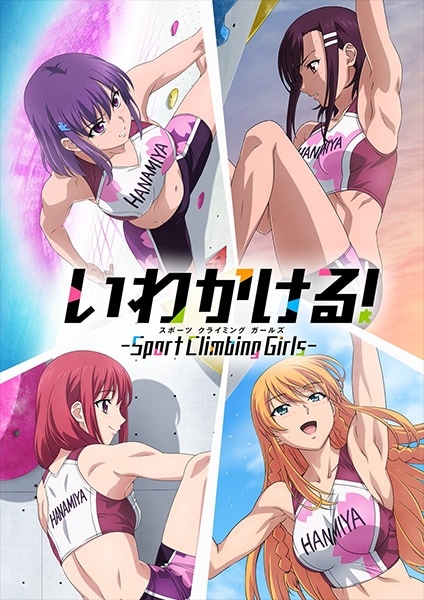 Studios: Blade
Source: Web manga
Genres: Comedy, Sports, School
Synopsis: "Konomi Kasahara, a junior high school girl, has made a big name after winning numerous competitive puzzle game tournaments. The story begins when she finds a sports climbing club in her high school. Using special skills other than that of puzzle games, Kasahara becomes fascinated with climbing."

-MAL News
First Impression:
At this point, I'm neck deep into sports anime and an anime about literally any sport will grab my attention. But I do find rock climbing an interesting sport, though I have no idea about the technicalities of it but I'm excited to learn! Let's dive in!
The classic intro explaining the intensity and dedication that it requires to pursue the sport of rock climbing. Though what caught my eye was the first character that appears on the screen. Compared to the key visuals and that's usually a hint that the character is based off of a real person! So I did a little bit of research…and Noguchi Akiyo is indeed a Rock Climbing/Bouldering Olympic champion! Imagine have a cameo in an anime! I thought that was a cool bit for those that are familiar with the athletes in this intense sport.
On another note, paired with the great character design is the start studded voice cast! Uesaka Sumire, Ishikawa Yui, Tomita Miyu, Suzuki Aina, Tamura Yukari, and Koshimizu Ami JUST TO NAME A FEW. It's hard to wrong with any of these voice actors and I'm excited to see how they bring the characters to life!
This slideshow requires JavaScript.
I like the way that Konomi has her eureka moment, when everything start to click. As a hardcore gamer she uses that as a way for her to understand concept of rock climbing which is interesting. Will she be the only to have this type of mentality or will there be other characters that use similar metaphors to conquer the daunting rock wall?
This slideshow requires JavaScript.
And with that note, the episode ends! There wasn't a lot happening here, we have a general sense of what the character personalities are and the fundamentals of rock climbing. And in the next episode we're in a competition?!
Recommendation:
YES
Sports anime tend to be a hit no matter when sport it ends up being. The technicality of the dialogue and the dynamic artwork usually pulls in a good crowd. I wouldn't be surprised if this was one of the favorites of the season. There are some awkward animations here and there but there are moments where it really shines. Time will tell if the consistency can stay the same throughout the season. I'm hoping that it doesn't turn into another Hanebado.
---
If you enjoyed this post, please consider buying me a
Or if you want to be on my Patrons page, you can become one on my