Maoujou de Oyasumi (First Impression)
---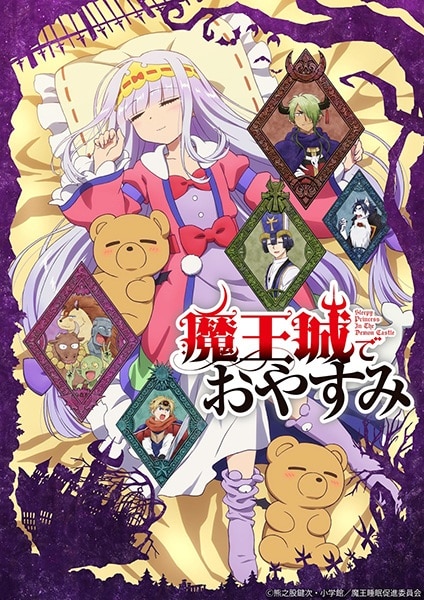 Studios: Doga Kobo

Source:

Manga
Genres: Slice of Life, Comedy, Supernatural, Magic, Fantasy, Shounen
Synopsis: "Sshhh! Princess Syalis is trying to get a good night's sleep. Some shut-eye. Forty winks. Catch some Z's. Long ago in olden times when people and demons lived together in—well, disharmony, really—a demon king kidnaps a human princess and imprisons her in his castle. Bereft, the princess's subjects beat their chests in anguish…until a hero arises to spearhead Project Rescue Our Princess! While waiting for her knight in shining armor, what's an imprisoned princess to do…? Teddy-bear guards with bat wings are all very well, but her dungeon cell is bo-o-o-ring! So, she decides to wile away the long hours by sleeping. Now if only she could get comfortable…and didn't suffer from insomnia…"

-VIZ Media
First Impression:
With a stellar voice cast and an adorably funny plot line, there's no way that I'll be missing out on this one! If you're curious about the voice actors, here's a little snippet of what I wrote in my Anime to watch post!
"Inori Minase (Nakano Itsuki, Hestia, Kafuu Chino) will play as our sleepy princess Syalis and Matsuoka Yoshitsugu (Kirito, Soma, Bell) will be the evil Demon Lord! Other notable voice actors include: Sakura Ayane, Kuroda Takaya, Ishikawa Kaito, Ohara Sayaka, and Ohashi Ayaka!"
This slideshow requires JavaScript.
There is this funny juxtaposition between the Princess Syalis' kidnapped situation and her attitude about getting a goods night rest. It's hilarious to find out that her serious and dreaded expression is more about her insomnia and not her captivity.
This slideshow requires JavaScript.
I love this RPG aesthetic that prompts Princess Syalis and her adventures in exploring the dungeon and acquiring more materials for her good night's rest. It's also an excellent segway into introducing a number of interesting creatures that call the Demon Realm home. Though half will meet their demise at the hands of the insomniac princess!
This slideshow requires JavaScript.
Don't take our eyes of the princess…especially if you make good bedding…
This slideshow requires JavaScript.
Yoshitsugu Matsuoka as the Demon Lord is the best casting decision this entire season. The authority and evilness that he can bring out of his voice matches the Demon Lord character well, but it's also really funny to see the awkward and hesitant side of the Demon Lord. At this point…I feel like the princess is a better threat in the castle than the Demon Lord will ever be…
And we'll end with some Princess Syalis aesthetic screenshots! How can you not love this small sleepy cinnamon roll?!
Recommendation:
YES
The story is straight forward as it gets, Princess Syalis is captured by the Demon Lord but ends up taking advantage of the situation to get some much needed rest! The art captures the cute aesthetic that the princess exudes as well as the fantasy world that the story takes place in. A very enjoyable show about insomnia, which I'm sure all of use can relate too (at least I can!).
---
If you enjoyed this post, please consider buying me a
Or if you want to be on my Patrons page, you can become one on my