Majo no Tabitabi (First Impression)
---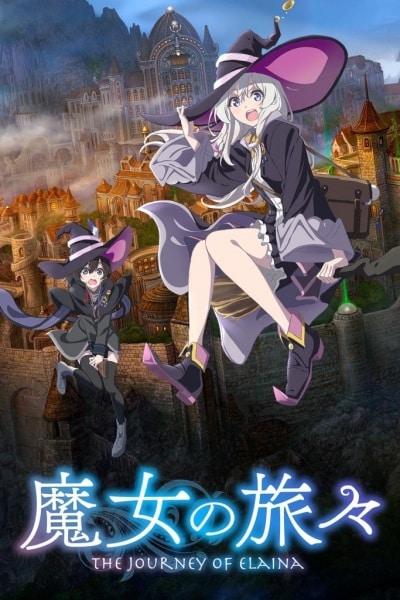 Studios:

C2C
Source: Light novel
Genres: Adventure, Fantasy
Synopsis: "Once upon a time, there was a witch named Elaina, who set off on a journey across the world. Along the way, she would meet all kinds of people, from a country full of witches to a giant in love with his own muscles—but with each meeting, Elaina would become a small part of their story, and her own world would get a little bit bigger. "

-Yen Press
First Impression:
The PV very quickly sold me on the magical and lustrous world of Majo no Tabitabi through the wonderful artwork and animation as well as the emotionally heavy bits of story and dialogue that were shown to us. I'm beyond excited to start this show so let's dive in!
Let's talk about the really nice atmosphere that the has already been in within the first 5 minute of the show. The aesthetic oozes a European setting: from the water canals, to the fruits on sale, the architecture, and most importantly, the witch sign. It doesn't need any dialogue to describe the nature of the town and the relationship it has with magic. We've barely passed the 5 minute mark and I'm already excited!
This slideshow requires JavaScript.
Elaina's quest to find a witch that will take her as apprentice leads her to the Stardust Witch, which as you can see is pretty aloof in her own way. But it's fun to see Elaina's different reactions throughout the episode, not are only are they cute but we also get a sense of her personality. Elaine's a logical thinker and likes to work smarter not harder but also can push through it when needed. It's an important trait in anything really, but that also becomes one of her weaknesses. Why do you ask? Well, you'll just have to go and watch it now don't you?
Again, the aesthetic is so well done! I love the compositions but I also love the little moment to take in the "place" that these events occur. Anime, mostly shounen anime, tend to more on WHAT is happening in the story and less about WHERE it is happening. They'll throw a name and a background and call it a day. I think it's imperative that story take a second to just take in the moment, not too different on how we should live life though that's probably a lesson or story for another post.
This slideshow requires JavaScript.
And just like that Elaine becomes a full fledged witch that she's always dreamed of becoming. This first episode is more of a prologue than it is the actual story itself. I'm not a fan of prologues but man, did this one really hit the spot. Not only did it show off the wonderful world of Majo no Tabitabi but it also brought the emotional weight that I was asking for, all within one episode that didn't feel rushed at all. I'm excited to see where Elaine takes her adventures and if there will be a bigger plot line!
Recommendation:
YES
Majo no Tabitabi is not only beautifully rendered in an anime format but the story is also deep and profound. If you're a fan of a certain wizard with a lightning bolt scar on his forehead then you're very likely to enjoy Elaine and her adventures. For those that aren't into this type of show but are still interested, this is definitely the one to try. There's a lot good thing going on and you'll regret not starting this one sooner.
---
If you enjoyed this post, please consider buying me a
Or if you want to be on my Patrons page, you can become one on my