Tenchi Souzou Design-bu (First Impression)
---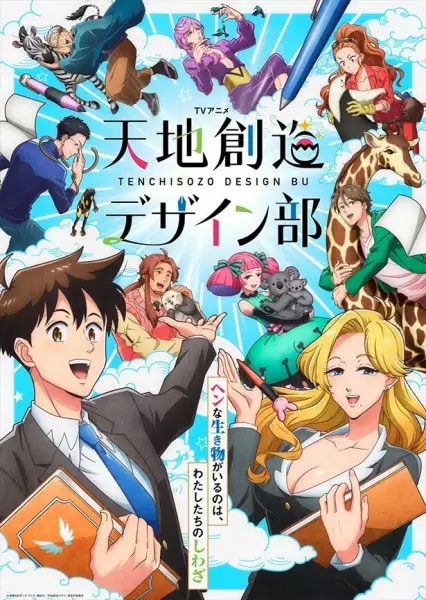 Studios:

Asahi Production

Source:

Manga

Genres:

Slice of Life, Comedy, Fantasy, Seinen
Synopsis: "In Heaven's Animal Design Department, designers create a variety of new animals daily while contending with the unreasonable requests of their client: God. This series answers questions such as, 'Why can't unicorns exist?', 'What makes an animal taste delicious?', 'What's the most powerful creature in the ocean?', and, 'Bird versus snake: who would win?'"

-Kodansha Comics (edited by Myanimelist)
First Impression:
As a person in the design profession (architecture) I'm always curious about the design process in other things like fashion, toys, games etc. Though I didn't expect an anime to revolve around angels designing animals for God himself, but here we are! Let's get right into it!
This slideshow requires JavaScript.
GOD OUTSOURCED THE CREATION OF LIFE ON EARTH?! I couldn't help but laugh out loud when that last line was delivered!
Can we appreciate the wonderful character designs of the show? I love the fact that each of the characters have their own style of design, which also translate into rivalries between designers and their creations! It's hilarious to see how the "thought" behind the animal ends up changing it to what we see today!
The show overall has a very nice graphical aesthetic that presents the characters and animals in bright and vibrant colors. The dragon scene makes me curious about how they go around mythical creatures! Are they lost prototypes they were accidentally left on Earth? Is there a crazy rogue angel that releases ridiculous animals for laughs?! I NEED TO KNOW.
This slideshow requires JavaScript.
The show presents itself in short bits focuses on a certain type of animal, in the case of this first section it was a giraffe! The segment is then wrapped up with fun facts about said animal from the prospective of the designers and their chibi character designs!
This slideshow requires JavaScript.
Someone please tell me that I'm not the only one that thought Mizushima was trying to be Steve Jobs LOL. I just think this show provides such a intriguing perspective of animals! While it's farfetched, the ideas and thoughts are hilarious and if you take the show with an open mind, it's quite entertaining!
Recommendation:
YES
Tenchi Souzou Design-bu is a fun little show about angels designing animals for God's behalf in their own unique and intricate style. The show cuts itself in short segment which focus on a variety of animals and filling in short fun facts in between segments. An easy show to get into that doesn't involve a lot of commitment as it seems like there isn't much connection between the episodes and the characters are already well established in the beginning. A good show if you need a fun show to fill in the void when you have a some free time.
---
If you enjoyed this post, please consider buying me a
Or if you want to be on my Patrons page, you can become one on my