Mushoku Tensei: Isekai Ittara Honki Dasu (First Impression)
---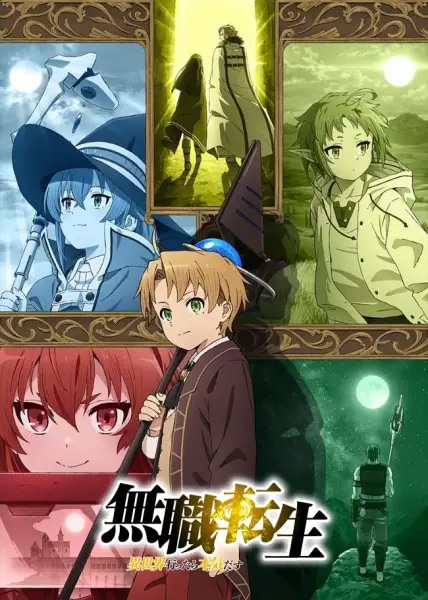 Studios:

Studio Bind

Source:

Light novel

Genres:

Drama, Magic, Fantasy
Synopsis: "A 34-year-old virgin NEET who is kicked out of his house when he runs out of money. He's regretting his life when he's suddenly killed in a traffic accident, and he's reborn in another world full of swords and sorcery. As a newborn baby, he resolves to live his life without regrets and make the best of his knowledge from his previous life. While developing his skills in magic, he meets a small girl who is a magic tutor, and a beautiful quarter-elf with green hair."

-ANN
First Impression:
To be completely honest, I'm not 100% invested into this story/synopsis, seems like an awkward story from the get go (34-year old virgin NEET in a child's body are red flags LOL). But I do want to give this one a try as I'm curious about Studio Bind and what they are capable of as this is their first as a lead studio, so let's get right into it!
I'm blown away immediately by the background of the show. I like the color and textures that are being used because it creates this sort of atmosphere that a lot of other anime don't evoke. The oil painting aesthetic matches quite well with the fantasy theme!
This slideshow requires JavaScript.
This slideshow requires JavaScript.
ANIMATION CHECKPOINT!
There's a double feature for the animation because it's THAT GOOD. The first animation is a simple zoom out and the formation of water magic but the slight deformation because of the distance of the camera as well as the distortion behind the water as it begins to accumulate is phenomenal! It's the little details that really brings the 2D to life and give it that "WOW" factor! That second animation's strong point is the same as the first one but with multiple perspectives, the amount of detail as the "camera" rotates around Rudy as well as the formation of the water magic, all the way up to the fluttering of the book pages as the magic gets bigger. It's mesmerizing to see these still frames come together into a continuous movement. I even skimped on some of the frames because I thought that anything more that 18 images would get too long…so it's actually much more fluid than what you see here!
This slideshow requires JavaScript.
The reason why I love the comedy of Mushoku so much? Because the KING of comedy himself, Sugita Tomokazu is narrating Rudy's inner voice! The sound and timing of Sugita-san's voice is immaculate in creating a very "NEET" sound and personality for Rudy (pun completely intended). And let's not forget about smug anime mom, Zenith! Rudy's got quite the parents but I really enjoy her personality! I can't get her smug out of my head!
As it's Studio Bind's first show as the lead animation studio, I was a little bit worried about how they would handle the huge responsibility and workload but after seeing the first episode (and also finding out that the second season has already been confirmed!) I'm very thrilled to see what they have in store for us next!
Recommendation:
YES
This show is a MUST if you like the Isekai and Ecchi genre as it looks like it'll be an interesting story with immaculate artwork and animation. Though this isn't for those that don't enjoy even a little ecchi. Rudy was a 34-year old virgin NEET before because the child prodigy that he is now so you can expect some a few dirty thought and actions made by him. But if you can get past that socially awkward and desperate side of the show, it'll most likely show you a story you won't be able to forget!
---
If you enjoyed this post, please consider buying me a
Or if you want to be on my Patrons page, you can become one on my