Bokutachi no Remake (First Impression)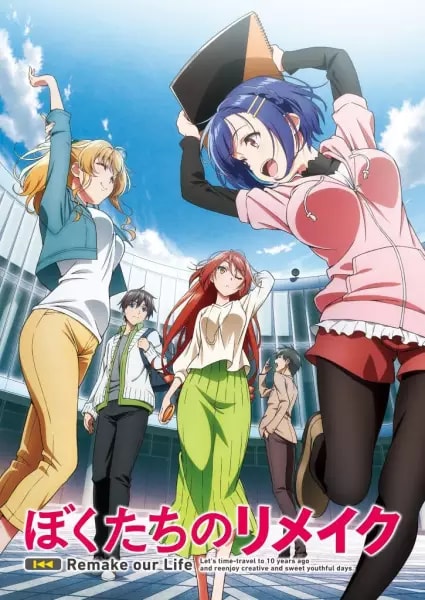 Studios: feel.
Source: Light novel
Genres: Comedy
Synopsis: "Hashiba Kyouya is a 28-year-old game developer. With his company going bankrupt, and him losing his job, he returns to his hometown. Looking at the success of creators of his age, he finds himself regretting his life decisions as he lay distressed on his bed. As Kyouya wakes up, he discovers that he has traveled ten years back to the time before he entered college. Will he be able to finally make things right? This is a story about a failed person who is given a second opportunity to follow his dreams." -MU (edited by MAL)
First Impression:
By now, I'm sure we're all familiar with the "time travel" / "redo" trope in anime but it is interesting to see it used in a "normal" setting. With no sense of urgency or tension, it really as simple as just being fortunate enough to go back in time? Is there someone controlling this beyond the scene or are we going to slap the "anime logic" sticker on it an call it a day? Well let's dive in and find out!
First of, I LOVE the background art. The details that each of the streets and buildings that the characters visit are detail, vibrant, and beautiful! The scene where Hashiba is standing in front of Osaka University of Art, looked sorta surreal to me and after a bit of research, that's exactly what the real university looks like! So, it's probably safe to say that the scenery throughout the show probably reference real spots around Osaka! It would explain the immaculate details and quality of the backgrounds overall.
Being a creative is…quite an undertaking. It's a job that is, for the lack of a better term, excessive. It's not needed to live as it's simply entertainment (if we focus on games, movies, anime etc). But there's a yearning for these types of things and it's what makes life interesting and eventful! Putting comments about the "rough" artwork aside, I really like the message of the show, all creatives love doing what they do and they love seeing others enjoy what they do! If you're working on an art project whether that's music, writing, drawing…KEEP GOING! You're doing great and your fans can't wait to see your hard work!
And yet another message that really hits you in the chest. Sometime when you're stuck in your own world you forget that other people also have faults of their own. It's easy to get absorbed into comparing yourself to your peers or celebrities but know that everyone has their own problems that they are dealing with and that we all have our own pace that we're meant to go. You're doing just fine, keep pushing! Lol I didn't mean for this first impression to turn into a life lesson but I guess that's what I like about this show. The dialogue and characters are extremely relatable and each interaction feels worthwhile and fulfilling to see! I can't wait to see what our favorite group will create!
Can't end the first impression without talking about the wonderful character designs now can we? I love that our girl trio has uniquely colored haired. It's pretty funny to see a classroom or lecture hall scene and be like "ah I see the main characters" LOL. Other than that the designs are quite nice, though they do steal the spotlight from their male counter parts are a more on the plain side aside from their personalities. And with voices like Koga Aoi, Touyama Nao, and Terakawa Aimi, it's hard for these characters to NOT stand out!
Recommendation:
YES
Bokutachi no Remake is a softer and more relaxing take on the time travel trope. While we don't know if there's a supernatural aspect to the show, we do know that we love seeing the great background artwork and wonderful character design. While there are some moments where the artwork quality takes a steep dip, the narrative of the show levels it out with its meaningful dialogue through the lens of a group of college art students. If you're a fellow creative or just love the behind the scenes look at how your favorite media of art is created, this is a must watch!
---
If you enjoyed this post, please consider buying me a
Or if you support me, you can become one on my