Tsuki ga Michibiku Isekai Douchuu (First Impression)
---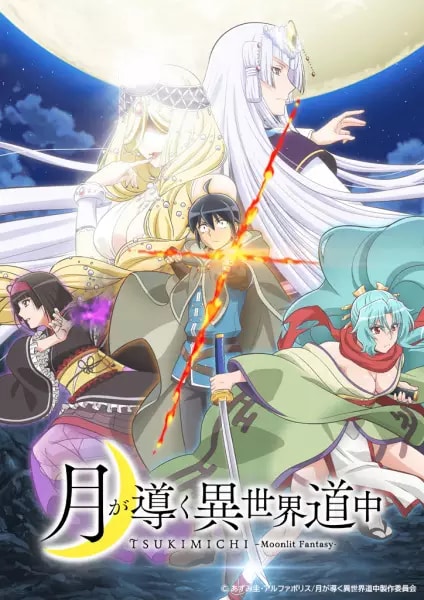 Studios: C2C
Source: Light novel
Genres: Adventure, Fantasy
Synopsis: "The fantasy centers around Makoto Misumi, an ordinary high school boy summoned to an alternate world as a brave warrior. Unfortunately, the goddess of the world said with disdain, "Your face is ugly," stripped him of his title, and banished him to the outermost fringes of the wilderness. human species. Due to differences in the environment from his home world, Makoto now exhibits extraordinary powers in magic and combat. Thus, he survives in this world while dealing with various encounters. The curtain rises on the alternate-world social reform fantasy of a boy forsaken by gods and humans.
First Impression:
I am really excited to start watching this show because of the voice cast (Hanae Natsuki, Hayami Saori, Sakura Ayane, and Kitou Akari just to name a few..) as well as the art style! The concept of the show is quite intriguing and I'm curious as to how it will all unfold! Let's dive in!
It hasn't even been 5 minutes and I'm already on the floor laughing! The jab at the Isekai genre was great but then the "I am Misumi Makoto, and my life is a joke" line took me out! The last time I laughed this hard was when I watched KonoSuba for the first time! Mob characters aside, the artwork is pretty slick and I love Makoto's expressions throughout this funny montage lol.
Tsukuyomi really is god! Remember to delete your internet history before you set off on your isekai journey!
Tsukuyomi-sama did mention that Makoto would be strong since his magic powers and physical body were under considerable strain in his old world, but this is ridiculous! Being able to kick a monsters head off is completely absurd but at the same time it's also comedic! His reaction to the gorey mess that he left behind makes it even better!
I love the contrast that the show has, from the adventurous nature of Makoto to his realization of his dire situation. Even Shen the dragon has a side to her that warm and fluffy against her cold and scaly first appearance.
Recommendation:
YES
This is a "not so typical" isekai show about poor Makoto who is forsaken by the same goddess that dragged him into this world. This show will require a basic understanding to Isekai to really appreciate. The art and animation are quite nice and I'm excited to see how far they take it, especially with the fighting scenes! Back it up with a stellar voice cast and we've got an interesting show that may actually take this entire season!
---
If you enjoyed this post, please consider buying me a
Or if you support me, you can become one on my