Jahy-sama wa Kujikenai! (First Impression)
---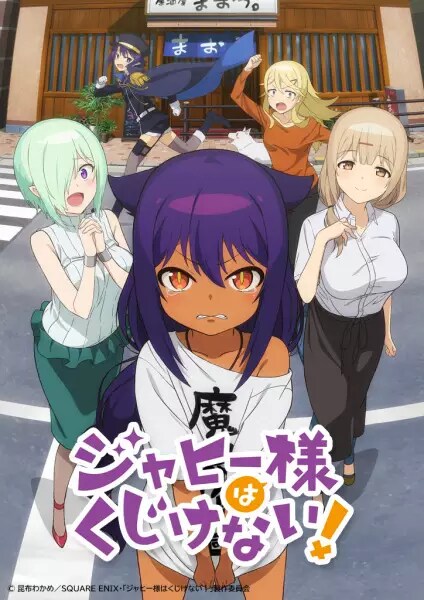 Studios: SILVER LINK.
Source: Manga
Genres: Comedy, Supernatural, Shounen
Synopsis: "Once respected as the Demon Realm's second greatest authority, the Demon King's aide, Jahy, ruled her subjects with fear. But when a magical girl attacks and destroys a mystic gem containing massive power, the Demon Realm is destroyed. Although she survives, Jahy has lost almost all of her powers and finds herself stranded in the human world with a childlike appearance. In order to gather more mystic gems so that she can permanently restore both her original form and the Demon Realm, Jahy will have to adjust to her new life and deal with everyday problems that she has never experienced before. From working to pay for living expenses to arguing with her landlord whenever her rent is late, the great Jahy will not be discouraged!" -MU (edited by MAL)
---
First Impression:
Jahy-sama wa Kujikenai! emits a lot of Hatarako Maou-sama vibes and honestly I love it! I've been waiting for another show with this type of aesthetic and while it's not perfect, it has its moments! Let's dive in!
Wait hold on a minute…the antagonist of the show…is a magical girl?! I was fully expecting a human hero of sorts but not a magical girl! I guess we've seen the magical girl and demon dynamic in Machikado Mazoku…but it was caught me off guard! And she totally ignored Jahy and destroyed her Mana Crystal! If every "hero" in the story did this, we'd probably have pretty bland stories LOL.
The best part about this show is seeing all of Jahy's reactions! The sheer panic in her eyes when it finally hits her had me rolling on the floor! Let's not forget the dead fish eyes right before the reaction either! The comedic timing of the show with the amazing talent of Oozora Naomi (also voiced Satania and Uzaki!) to really make this an enjoyable watch. And while I'm on the topic of voice actors…Jahy has quite the star studded cast which Kayano Ai, Hanazawa Kana, Uesaka Sumire, Hikasa Yoko, Komatsu Mikako, and Ogura Yui!
I love the dynamic between Jahy and the rest of the characters, while Jahy is looking ahead and planning her return to an all powerful demon her friends are more nonchalant and laidback. Jahy's over the top reactions and the normal reactions that she gets in return create such a fun atmosphere that it started to give and 8th grader syndrome vibe to Jahy which fits her well, especially her child form!
While the animation of the show isn't the greatest, the character designs are pretty good! I mean I don't think I've seen a bad shot of Jahy! Her character design and her reactions all look great and keep the show entertaining from beginning to end!
Recommendation:
YES
Jahy-sama is a pretty simple show about a once powerful Demon trying make it through next months rent! A nice comedy that will keep you laughing all the way through the episode! I can't wait to see the other characters!
---
If you enjoyed this post, please consider buying me a
Or if you support me, you can become one on my