Tantei wa Mou, Shindeiru (First Impression)
---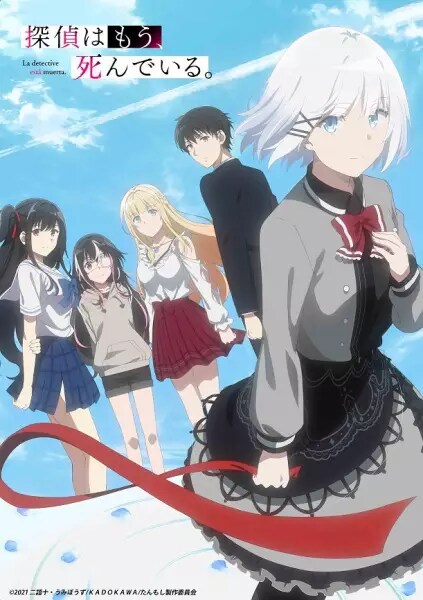 Studios: ENGI
Source: Light novel
Genres: Mystery, Comedy, Drama, Romance
Synopsis: "Kimizuka Kimihiko is a crisis-magnet. From getting caught up in a crime scene to accidentally witnessing a drug deal, trouble seems to find him around every corner. So it is no surprise when his rather mundane flight suddenly enters a state of emergency with a dire need of a detective onboard. Unfortunately, his attempt at avoiding trouble is foiled by a beautiful girl with silver hair who goes by the codename Siesta. Declaring herself a detective, she unceremoniously drags Kimizuka into the case as her assistant. That incident spelled the beginning of an adventure around the globe that went beyond his wildest imagination. Putting their lives on the line, the two took down criminal organizations, prevented disasters, and saved thousands. But the curtain closed to their epic journey with Siesta's untimely death three years later. Resolving to live an ordinary high school life this time, Kimizuka spends a year maintaining a low profile. However, as fate would have it, a girl with an uncanny resemblance to Siesta comes crashing into his life, threatening to throw his peaceful days into disarray. -MAL Rewrite
---
First Impression:
One of the biggest reasons why I'm watching the show is because ENGI will be animating it and ENGI's got a pretty solid track record in the last few anime seasons. And while that's mainly the reason, I did (in the last few weeks) get my hands on the light novel for Tantei wa Mou, Shindeiru and have been slowly reading through it. I may be a bit behind when it comes to catching up with the anime as it airs but I hope to read the chapters as the anime episode airs. But enough about me, let's dive in!
ANIMATION CHECKPOINT!
As this IS a detective story, I'm going to refrain from talking too much about the story itself as the entire episode (which is also a 1 hour special) is full of little subtle hints throughout, so keep your eyes and ears open! Anyway it's an animation checkpoint! The sheer number of frames is staggering for Siesta to simply chuck a pen but what you see I've uploaded…you're gonna wanna double that if you actually count out the frames. I only took screenshots of the frames that had a significant change. There are subtle movements in the background to give more depth and dynamic to her movement but that would've made this slideshow around 50 photos! Note the squiggly lines on Siestas are as she is about to launch the pen, while staring at it alone looks weird, the squiggly lines in conjunction with the other frames in rapid succession creates a really impactful scene! It's also nice to see that the rest of Siesta doesn't deteriorate in quality either as frames go by! And let's appreciate subtle blurring and refocus on the pen as it flies through the air toward its target!
ANIMATION CHECK POINT PART 2
If you thought the pen throwing scene was cool, oh boy take a look at this part! Siesta runs down the aisle, gun in hand, and parries a tentacle (Lol you just need to watch the episode to make sense of that part!) and aims her gun at her target! This scene made my jaw drop and really hooked me into the show. The CGI interior of the plane is pretty hard to notice especially when you're actually watching the anime, so kudos to ENGI for being able to hide it so well! The dynamic line work and coloring plays a crucial part in making this an extremely powerful scene, not only showing Seista athleticism but the accumulation of her cunning and wit. They do milk this scene again later in the episode but hey, it's THAT GOOD.
Animation aside, the background are is…decent. Nothing really to write to home about and while the colors are there, the line work and shading are pretty boring with little texture.
And while the background art isn't great, the character designs are! Staying true to the light novel (with some modification for ease of animation) Siesta is just as pretty in the anime as she is in the light novel!
Recommendation:
YES
The story of Tantei wa Mou, Shindeiru is quite complex with a lot of foreshadowing throughout. I do love the logical explanations that Siesta gives as well as her spontaneous nature! That being said, we know from the title that she's already dead…but how? And why?! I guess if you're curious it's time hop on the train!
---
If you enjoyed this post, please consider buying me a
Or if you support me, you can become one on my